Your Best Online Wedding Planner – Pinterest!
On 27 Aug | '2020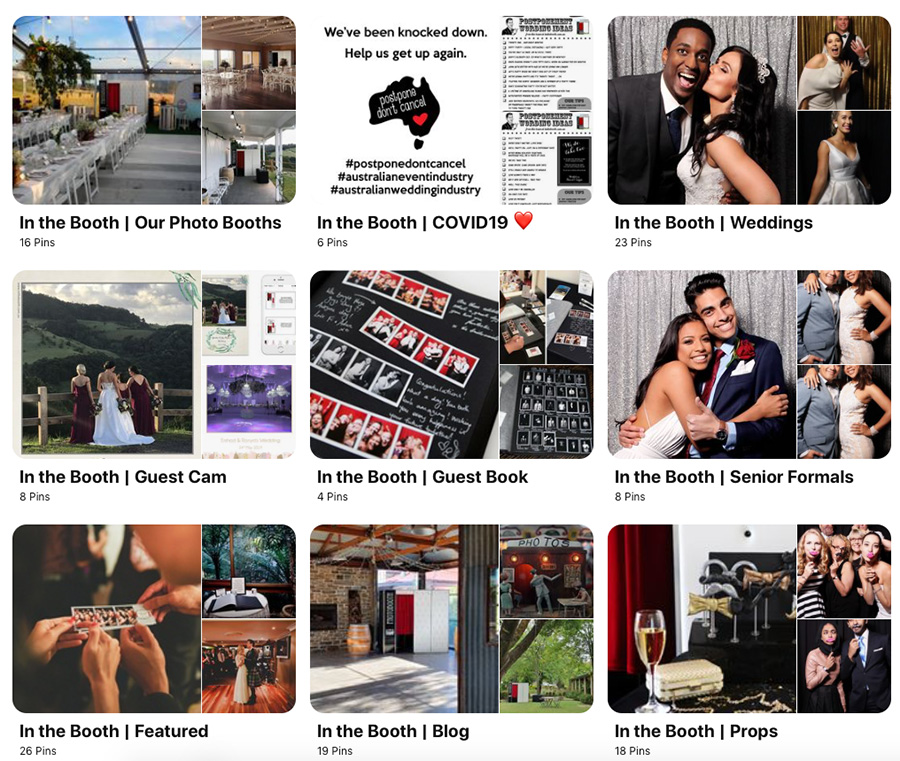 If you're a wedding planner or a bride to be, chances are you've heard of Pinterest! Pinterest is a great way to save inspirational images. Organising your images and topics is easy using Pinterest's 'boards' feature. You can create as many boards as you like for your relevant topics. Additionally, you can even create secret boards (great for those surprise celebrations!).
Pinterest – your online Wedding Planner!
The trick with Pinterest is starting organised. Make a list of the tasks you need to accomplish, for example, selecting your table centrepieces. Then create a Pinterest board to help inspire each task.
Moving forward, all you need to do is find pins to fill your boards! Follow some other accounts that match your style. This way, Pinterest will automatically show you pins you're sure to like in your feed. Pinterest's search is a handy tool. You can search specific terms such as "wedding vow ideas" for an overload of inspiration. The best way to get started is to just start pinning!
We've put together some great ideas for your Pinterest boards so all aspects of your wedding or party planning are covered.
Invitations & Stationery
The invitations to your event set the scene and style for your guests. It gives friends and family an idea of what to expect. Furthermore, an invitation is the perfect keepsake from your celebration. Pinterest will show you every theme under the sun from rustic or romantic to modern and monochromatic. Pin ideas that inspire you for place cards, menus and thank you cards.
Wedding Gowns
Is there anything better than Pinterest for creating your own personal style board? A wedding gown Pinterest board is super handy when you're dress shopping. You can refer to it frequently to remind yourself of styles and gown features that you love. Show your favourites to your dressmaker if your gown is being customer designed.
Bridesmaid Gowns
Search Pinterest using your desired colour scheme to find your ideal bridesmaid gowns. For example a search for "blush pink bridesmaids" may do just the trick! A gorgeous array of gowns coupled with bridesmaid bouquet inspiration may be just what the wedding planner ordered.
Table Settings
There's so many choices when it comes to your guests' table arrangements. Should you go with white Tiffany chairs or country style timber? Charger plates or table runners? Candles or flowers? Pinterest is a veritable treasure trove of table arrangement ideas. You will be amazed how simple items can be transformed into meaningful table centrepieces.
Photo Booth Backdrops
Your photo booth backdrop is the most important styling element of your photo booth hire. After all, your guests are going to be in front of it in every photo! Classically style, non-fussy backdrops are best and are less likely to date. Pinning backdrops that inspire you will remind you to chat to your photo booth hire company about the best choice for you. (In the Booth offers a rainbowof backdrops if you'd like to check them out!)
Wedding Cakes
We're drooling already! Perhaps you have your heart set on a rustic 'caked' cake or a delectable sugar flower affair. Sooner or later you're going to scroll by the perfect wedding cake for you on Pinterest, we guarantee it. Now, we've all fallen in love with something on Pinterest that isn't in reality for our budget. That's okay. Take you cake board along to your wedding cake appointments to give your cake supplier a clear idea of what you like.
Wedding Vows
Writing vows can be a struggle for lots of people. There's a lot of pressure to get it right (whatever that means!). Granted you will want them to be heartfelt and to illustrate your love for each other. But sometimes it can be hard to put emotions into words. Pin some of our favourite phrases or sentences to help your vows be a work in progress.
Walking Down the Aisle Songs
Any wedding planner will tell you the walking down the aisle song is one of the big decisions every bride makes. The song you approach your betrothed with on your wedding day is one for the history books, so you'll definitely want to choose well! Pinterest has lots of great suggestions including lyric quotes. By the same token you could incorporate lyrics from your aisle song into the ceremony program for your guests.
Wedding Ceremony Ideas
Without a doubt there's unlimited ways you can incorporate special touches into your wedding ceremony. For example, sun shades for guests if you're hosting your ceremony outdoors. Likewise, blankets may be a lovely touch if your wedding is held in the winter months. Search 'unique ceremony ideas' on Pinterest and you'll be amazed what will come up!
The best part about Pinterest is that there's no limit to how many boards you make. You can make a board for any conceivable topic in order to organise your wedding planning.
Need someone to follow? Check out In the Booth's boards right here. We'd love to be Pinterest buddies!