Woodburn Homestead wedding for John & Jess
On 18 Nov | '2021
A Woodburn Homestead wedding needs no introduction. Situated on the Fleurieu Peninsula the stonework of their open air chapel has graced many a wedding feature. Their unique ceremony locations carries the air of being married in ruins with its limestone crush floor and open air appeal. In the Booth Adelaide travelled down for the occasion and it was a privilege celebrating with Jess and John on their once in a lifetime day.
Woodburn Homestead at Langhorne Creek
Woodburn Homestead at Langhorne Creek, South Australia rests on a stunning 42 acre property. It's like something out of an Australian history book as you amble down the gum-lined driveway toward the homestead. The homestead was built in 1864 and is rich in history. In fact, the founder Matthew Rankine's father settled Strathalbyn. Now owned by the Westphalen family is has been tastefully renovated and is a premium destination wedding venue.
John and Jess' dreamy ceremony in the chapel was the stuff Pinterest dreams are made of. Guests then made their way to the clear marquee complete with twinkle lights to while away the evening. John and Jess' colour scheme featured a rich burgundy which carried through to their Australian native florals and serving ware. Their two-tier cake with fresh burgundy blooms and gold leaf took centre stage. Jess' bridesmaids wore cocktail length, halter style gowns in matching burgundy. On the other hand the boys were dapper in navy with Australiana arrangements for their buttonholes.
Guest Cam almost stole the show at this wedding! John and jess chose one of our favourite classic designs for their prints. The gold backdrop communicated their theme perfectly and the bridesmaid's gowns looked amazing in front of it! One of our favourite snaps of the day is Jess looking through her Guest Book before they departed for the night. Did you know the guest book is yours to take home at the end of your hire? So many of our customers tell us it's one of the favourite items from their all-inclusive package. Besides being the first photos our couples see from their day, imagine spending your first morning as a married couple thumbing through memories from the night before!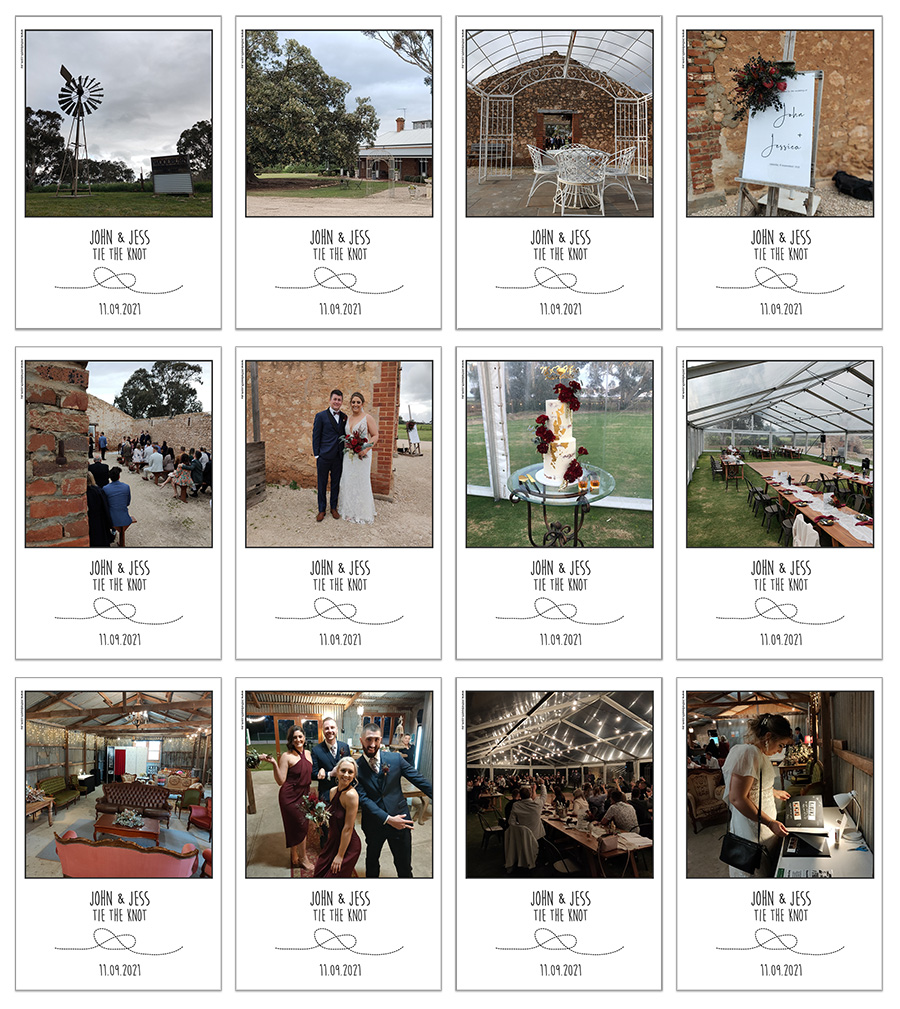 Thank you from In the Booth Adelaide!
Finally, congrats John and Jess for creating the epitome of a gorgeous Australian country wedding at Woodburn Homestead. We know it will be one you can look back on with joy in years to come. Not to mention, thank you for having In the Booth Adelaide along – it was simply a pleasure!