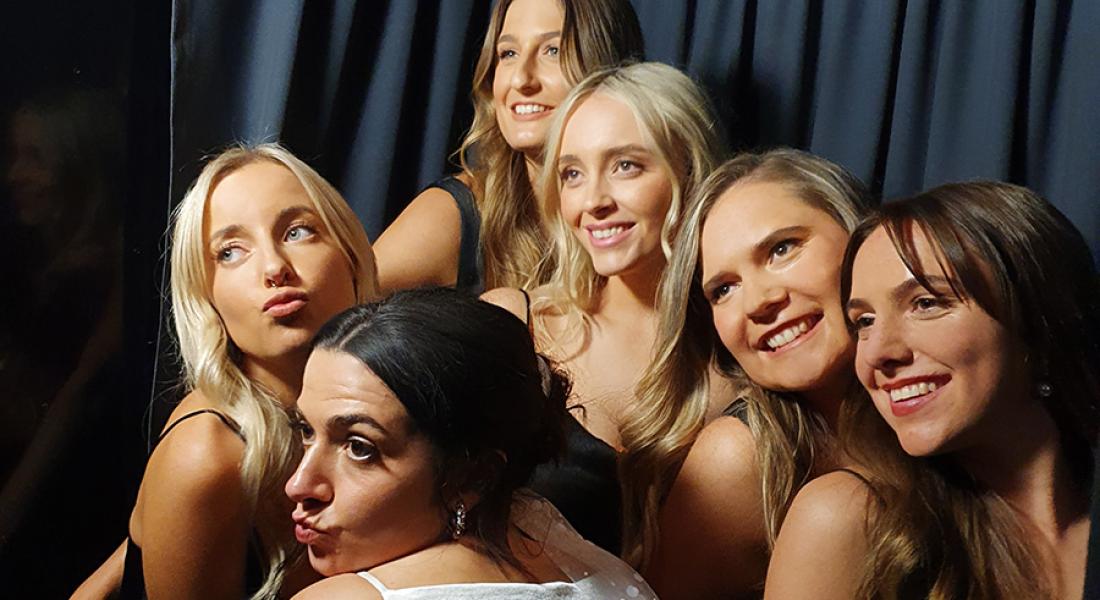 Why Hire A Photobooth?
On 7 Jul | '2022
If you're wondering why hire a photobooth, you've come to the right place! It's a good question if you haven't experienced a photo booth at an event before. After all, how do you know what you haven't tried?
We frequently hear from our customers that their significant other had asked why hire a photobooth when they already have a photographer etc. By comparison it's also the significant other who emails us afterwards to say it was the best decision they made! In any case it's important to understand why so many functions hire a photobooth. Let's look at the top ten reasons we reckon a booth will be your favourite part of your function!
1. Endless Entertainment
Our number one reason, every time. So many people get the wrong idea and think a photo booth is just more photos. Not so! Photo booths are fifty percent photos and fifty percent fun! We've all been to those weddings and parties that were just…dull! After all, if guests aren't eating and they're not dancers, what do they do? We guarantee that even the non-dancing introverts love the photo booth. Our enclosed space gives people a moment to truly be themselves. A photo booth just has that magnetic attraction! Your guests will be truly drawn in by The Photobooth Force 😂
2. For endless Memories
Ok, so we had to come back to photos for our #2! Maybe 1# and 2# are actually interchangeable. Photo and photo booths go hand in hand for obvious reasons. Your USB of memories is what you can hold on to after your magical day has passed. Photo booths have a way of keeping time in a bottle. We often have customers contacting us many years after their events due to misplaced digital files to see if we can help (spoiler: we usually can!). Our booths will capture non-stop photos, videos, Gif, Slo-Mo and Guest Cams for the duration of your hire.
3. Gifts for guests
A take home photo – what's not to love? Most budget friendly take home gifts either don't make it home (i.e. get eaten), get forgotten or thrown away. Photo booth strips are a true keepsake. That's why they often feature in movies – they're timeless! Most people have a photo booth memory tucked away in a wallet or on the fridge many years later. In a world where we have everything, a printed memory is always the best gift.
4.The Guest Book
Wondering what to do for a guest book? Wonder no more! This is the guest book people want to write in. This isn't a "sign your name at the door" kind of book. Our guest books are interactive! Your guests will have a ball adding their prints to your book and signing personalised messages. Creativity of every type is welcome!
5.The stress factor
Without reservation the booth just takes care of things. For example, you're not going to be worrying about if you took enough photos. There's no after-party regret (at least of the photo kind!) with a photo booth. It's automation is part of the appeal. Guests are naturally drawn to the booth to take photos. There's no awkward photographer wandering around the room asking people to pose. By comparison with a booth, they WANT to pose! Our all-inclusive package is just that – all-inclusive. We take care of everything so you don't have to.
6.The ice breaker
It's natural for the start of every event to be a little stiff. People may not have seen each other for a while. Before the music and drinks get flowing guests can be a bit stand-offish. A booth fixes all of that! For instance it's takes about 1.5 seconds for the first guest to go over and check it out – we all have that one extroverted friend that loves photos, right? That's all it takes for your party to be off and away.
7.Themed to a tee
A photo booth takes your party theme and runs with it. Your guests hands and pockets will be full of their instant prints by the end of the night with your celebration details or brand message. There's just no better way to send your event message home with your guests than on a photo booth strip.
8. Not all people are dancers…
…but we've yet to meet one who isn't a photo bother! Lastly, even your most shy and retiring guests will visit the booth at least once. It can be hard to find a type of event entertainment that appeals to every age. Well stop looking – we've found it! Babies are frequent visitors to our booths along with Grandmas and Grandpas! That' the beauty of the booth. Every combination of your friends and family will feature in your photos afterwards. This is the stuff memories are made of.
Check out our Instagram for what we've got up to lately!