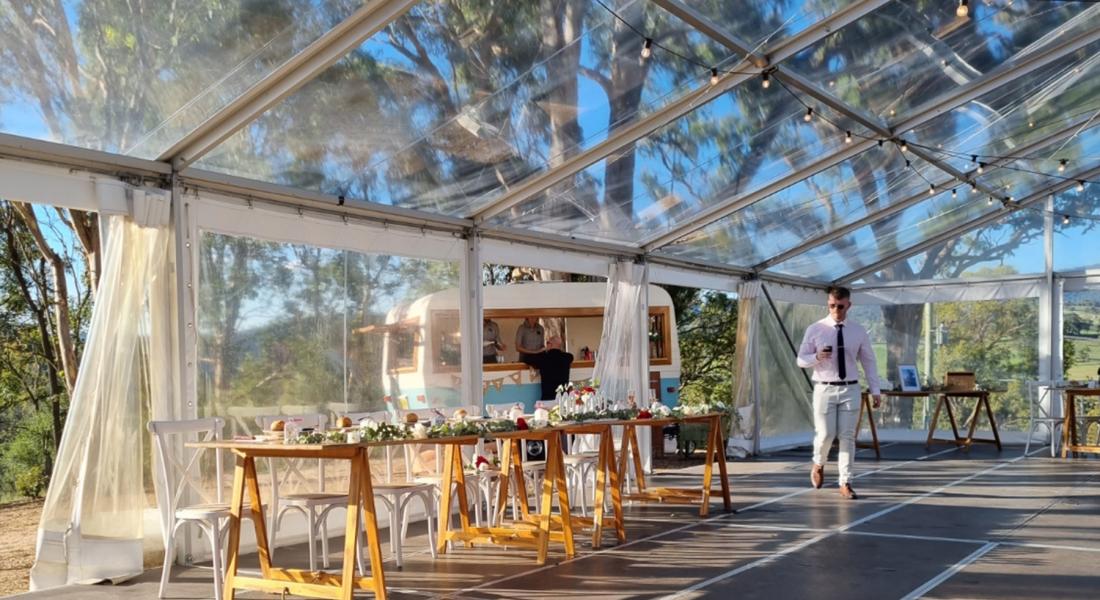 Wedding Marquee Hire Ideas
On 13 May | '2021
Wedding marquee hire is a fantastic option for a stunning wedding reception in the great outdoors. A beautiful wedding marquee offers the flexibility of an outdoor wedding while offering protection from the weather. No one prays harder for good weather than a bride leading up to her wedding day!
If you've always pictured your wedding outdoors but are stressed about the risks, add wedding marquee hire to your list of options. Here's a list of ideas and points to consider when looking into marquee hire for your wedding.
Wedding Marquee Style
Similarly to wedding reception venues, the choices with marquees are wide and varied. A solid walled white marquee will create a more intimate feel. However, if your reception location comes with amazing views, guests will benefit from scenery via a clear marquee. Perhaps a combination of both with clear sides and a solid roof? Chat to a variety of marquee suppliers to see what's on offer. Always remember to ask for photos of their previous work too.
Marquee flooring
Don't forget to ask your wedding marquee hire company what they offer for the floor. Even if your guests are protected from rain, in like fashion water can cause issues at ground level as well. If your area is fairly protected, lush grass does look beautiful as a natural floor. Just remember if water runs through, the last thing you want is your gown in the mud or your guests sinking! Perhaps chat to your suppliers about a solid floor option if your budget allows. Of course this then doubles as a dance floor. Dance floor hire may be another option if you're looking towards a glass only surface.
Access to power
Don't forget to chat to all your suppliers about their power requirements with plenty of time before your big day. Some services such as moving lights and catering equipment uses a lot of power. After all your amazing months of planning the last thing you want to be dealing with is cold food at dinner time! Considering putting a handy friend or relative in charge of looking after power requirements on the day. Draw up a detailed plan itemising all power for your suppliers to have on hand.
Wedding Marquee Hire lighting
A beautifully lit marquee is one of the most appealing features of a marquee wedding! Who hasn't seen those pictures on Pinterest of a twinkly wedding marquee full of celebrating guests? This is one area where you can really get creative. Feature lighting on trees outside; twinkle lights covering the roof and candles on every surface are just a few ideas of making your wedding marquee dreams a reality. Remember, DIY takes a lot of planning and many hands on the day for set up and pack down. Perhaps styling your marquee may be one area you could bring in the professionals to ensure a stress-free day. Remember to assign clear responsibilities to your friends and family if you're going DIY. Don't forget someone to light the candles at the last minute too!
Catering
There are endless options for marquee wedding catering. It's no wonder so many couples love the freedom this brings. There's the choice of independent caterers to food trucks. It all comes down to the feel of your day and how formal or informal you would like it to feel. If you're going for one big party, a mobile pizza oven and ice cream truck for dessert could be amazing. Some caterers can offer a full sit-down dinner via their mobile kitchen. The sky is the limit!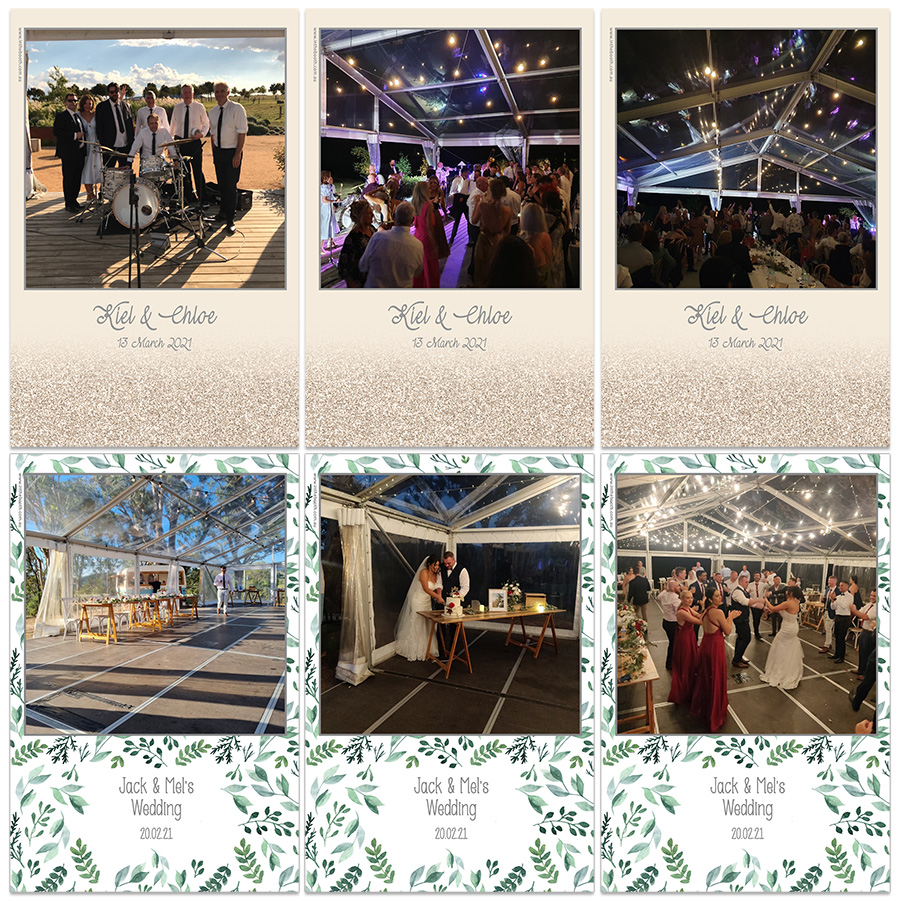 Entertainment
A live band can really get the party started (especially if you're in the middle of nowhere with no noise restrictions!). It's common to see guests diving between the photo booth and the dance floor as the night goes on. The booth and the dance floor really do work in harmony when it comes to keeping your guests entertained! We frequently attend marquee weddings and celebrations and are very comfortable with their varied requirements.
Love to have a photo booth as part of your wedding marquee hire? Just email our friendly team – we'd love to assist!