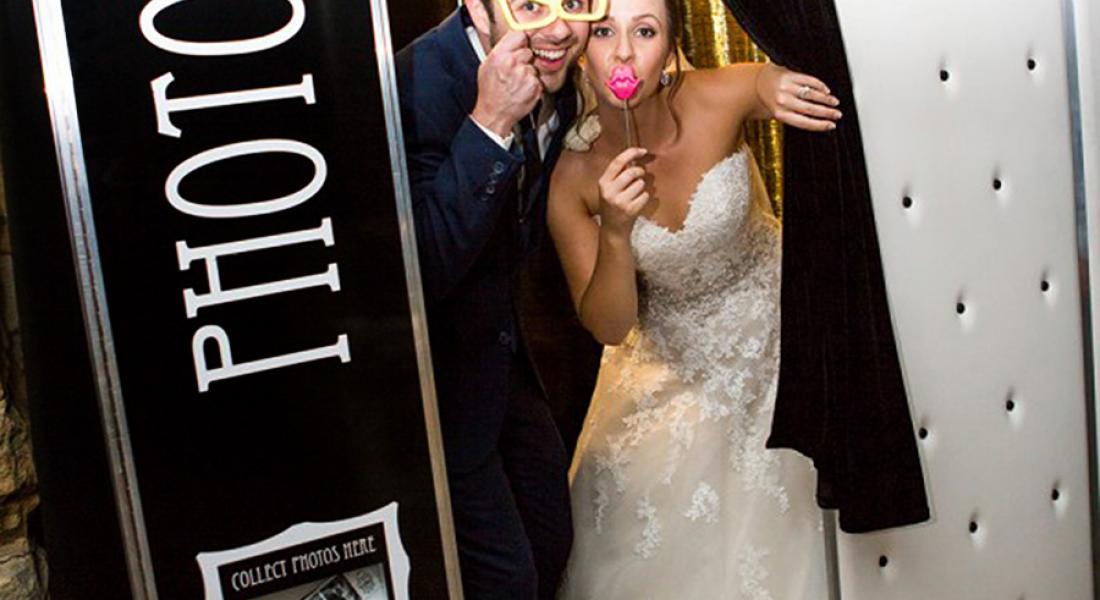 Wedding Games to play with a Photo Booth
On 1 Oct | '2020
Get the party started for your guests with some photo booth wedding games! Sometimes all your guests need is a little encouragement to let their hair down. A photo booth coupled with some well-placed resources are guaranteed to bring some extra laughs!
We've all walked into a photo booth from time to time and said "quick, what should we do?!". Wedding games are designed to prompt your guests' creativity. Thinking of the idea can be the hard part. Acting out the idea comes easily to most people! For example, if you shout 'YMCA!' into the booth, its guaranteed that everyone will join in the photo booth poses. However, they might not come up with the idea on their own!
Enter, wedding games! We've put together a list of great ideas you can easily adapt to your own wedding theme and style. Remember, you don't need to do everything. Don't overwhelm your guests with too many activities. Just choose one or two that you think they'll enjoy and get stuck into.
Posing Ideas Prompt Cards
This is the simplest way to encourage your guests to get creative. You may find some guests walk into the booth and just stand there, especially if it's their first time. Prompt cards certainly help them think outside the box. It also creates some healthy competition amongst the table of guests for the most creative shot! Be ready for your guests to try to out-do each other!
Photo booth posing ideas
Impersonate a celebrity
Act out the dance moves to Time Warp
Spell out a word using only your bodies
Take a group photo with your table number
Exchange outfits with someone
Take your prison mug shot line up
Take a wedding guest survey
Printed guest surveys on the tables are sure to break the ice! Guests answer a series of questions about how they feel about your wedding. In other words, they get to tell you what they really think! You can come up with some awesome questions particular to you as a couple or your friends and family. Imagine what awesome keepsakes from your wedding the surveys will be in years to come! Etsy has heaps of survey options if you're running out of time to DIY. Lastly, leave a space for your guests to attach their best moment from the photo booth. Some small scissors together with glue on the table are all they'll need.
Wedding guest survey questions
I travelled to the wedding from _______
On a scale of 1-10, my current enjoyment level is: ___
I'm really here for the _______
My marriage advice is _______
Something only I know about the bride/groom is _____
A wedding game of Photo Booth Bingo
Photo Booth Bingo can get surprisingly competitive! A list of photos they need to capture is given to each guest. Each photo is assigned certain points based on their level of difficulty. They can tick off each photo as they take it and note down their points. The Photo Booth Bingo winner is declared as the guest with the most points at the end of the wedding! In addition your MC could even bring the winner to the stage at the end of the night for a small prize 😉 Here's some ideas for a rollicking round of Photo Booth Bingo!
Photo Booth Bingo Ideas
Two people kissing (1 point)
An unflattering close up photo (1 point)
A photo with plants or flowers (2 points)
A photo bomb (3 points)
An outfit change (4 points)
In the Booth's awesome wedding game resources
To sum up, we also understand that our customers are super busy people! That's why we've designed a range of exclusive wedding planning resources and games just for them. If you're ready to lock in your booking, we'd love to hear from you!