Wedding Favour Ideas
On 3 Sep | '2020
Ahh, trying to come up with wedding favour ideas! It can be tricky to gather together a suitable list of ideas that are both theme and budget friendly. Our customers tell us via their feedback that trying to find their ideal wedding favour is quite the challenge. At In the Booth, we've attended events with every theme you could imagine and just as many wedding favour ideas!
The first things guests do when they locate their seat is check out what's at their place. They'll have a read of the menu. By the same token, they'll be sure to exclaim with excitement over their wedding favour!
What are your favourite wedding favour ideas?
Firstly, you need to decide what you prefer. Would you like your wedding favours to be kept as a keepsake? Or are you happy for it to be eaten then and there?! (There's a good chance of it if your favour looks too delicious to resist!). No matter your preference, we've compiled a list of both options below.
Home-made treats
Nothing beats home-made! Maybe you're famous for your brownies or fudge. Book in a baking day prior to you wedding to cook and package your wedding favours. Just be sure to choose items that keep well and don't require refrigeration. If your recipe can be frozen that's even better so it can be made with plenty of time before the day. Alternatively, imagine how thrilled your Nan would be if you asked about using her infamous cookie recipe as your wedding guest gifts!
Store-bought treats
The thought of home-made may send you into a tailspin and we get it! There's nothing wrong with outsourcing to a professional. There are endless small businesses out there who still provide a home-made service (they just weren't made in your home!). Custom design cookies always get oohs and ahhs from guests. A quick search of Instagram will have you amazed at the delicious gifts you can find. You're covered for everything from fairy floss to marshmallows!
Photo Booth Prints
Okay, so we had to get this one in of course 😉 Photo booth prints are one of our favourite wedding favour ideas for obvious reasons. Unquestionably though, photo booth prints pack in plenty of value punch. As has been noted, photo booth hire doubles as event entertainment as well as your guests' gifts. Guests literally create their own bonbonniere every time they visit the booth! Coupled with the ability to digitally download their photos via our app, you'll have very happy guests!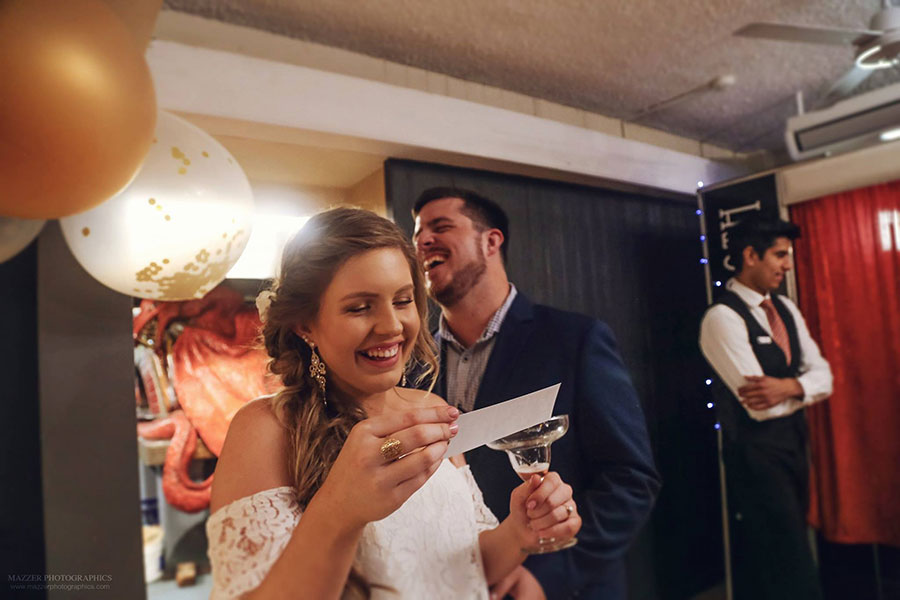 Visit the $2 store
Definitely drop by your local $2 store if the budget is tight. You'll never know what you will find. Some sweet notebooks, lollies or bubbles can keep your costs right down while still thanking your guests for coming.
Flavoured popcorn
It doesn't come more cost effective than popcorn! Research popping your own seasoned popcorn. A $2 store clear bag with ribbon tie or jar and you're done. Everyone loves popcorn and your guests are sure to be munching it on the way home or the following day!
A classic chocolate bar
Buy a selection of classic chocolate bars and put a different one at each guests' place. It's sure to encourage a good old-fashioned game of swapsies! You're sure to get Brad swapping his Violet Crumble for Vanessa's Cherry Ripe which works as the perfect ice breaker!
A heartfelt thank you note
Traditionally, it's after the wedding that the thank you note is sent out. But how about writing your guests a personalised note in the months leading up to the wedding? Everyone knows thank you cards after the wedding are just "one of those jobs". A hand-written card, just to them, will speak volumes.
Potted plant or succulent
Even the worst green thumb can grow a succulent! You'll need some time up your sleeve for this one. Start early by purchasing a few succulent varieties. Many will be having little "succulent babies" in no time which can be re-potted cheaply into tiny pots. That's not all as guests will then have the perfect living memory from your wedding in their own garden.
Miniature everything!
Just about any item can be purchased in miniature these days! Small soaps, candles and even champagne bottles make ideal gifts for your guests. These mini Nutella jars are the perfect example!
Chip Wall
On a similar vein as the chocolate bars, what about a chip wall? (A what you say?!). This couple went viral for their ingenious chip wall idea. If chips aren't your thing, find the thing that is and peg it to a wall 😉 We reckon your guests will be talking about it for months!