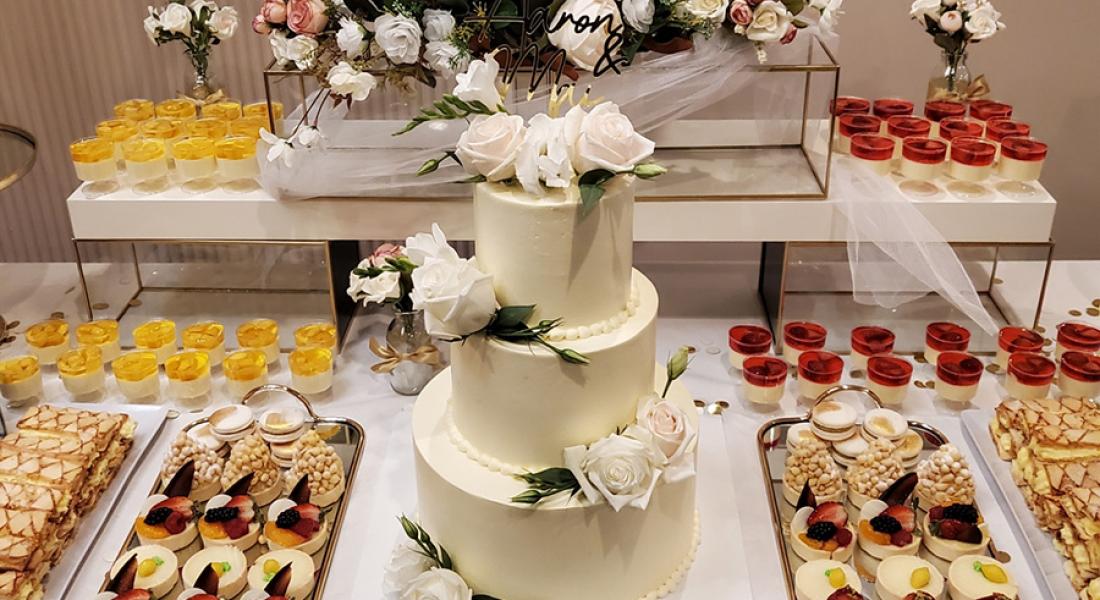 Wedding Cake Inspiration
On 30 Jun | '2022
Wedding cake inspiration seems to be everywhere when you're wedding planning! Creativity and cake making go hand in hand. There are so many talented artists out there ready to make your wedding cake dreams come true.
Cake decorating is a true art form. What cake artists can do with cake and icing is nothing sort of incredible! It's easy to get overwhelmed with so much wedding cake inspiration available. It's a given that just about anything can be created so it's important you narrow down the features that are important to you.
Today on the blog we've put together some factors worth considering before you get lost in your 'wedding cake inspiration' Pinterest search!
Wedding Cake Budget
First things first. Set a realistic budget. It's a common misconception that because a cake is eaten, it shouldn't be costly. Not so! The cake artist you hire most likely has countless hours of training, skill and experience behind them. Professionals don't get paid just for what they can do right. They get paid for how they handle situations that go wrong. If the weather is unseasonably hot on your wedding day will you be happy with a melted cake? The cost of your cake represents the many, many hours and business costs that are involved. Remember to be respectful of cake artists that are out of your budget and be ready to make concessions when required.
Wedding Cake Size
The number of guests at your wedding defines how large a cake you will need. Cake size and cost obviously needs to scale with your guests! If you're having a 500-strong guest list, a two tier probably won't cut the mustard. Speak with your cake artist and listen to their experience. Are you going to be serving wedding cake as dessert or as take-home only? Are you going to be keeping the top tier for your first wedding anniversary or first baby? There's so many traditions attached to wedding cakes! Make sure to account for the ones that are important to you.
Wedding Cake Style
Strap yourself in for some wedding cake overwhelm because the sky truly is the limit! From rustic naked cakes to thousands of handmade fondant flowers to cheese wheels – we've seen them all at wedding we attend with our booths. We wish we could pick a favourite but they're all incredible! What means the most is when the cake matches the couple. Nan's sponges may be all you need if you're a relaxed country couple. Otherwise if your wedding is a luxe black and white affair, then a monochromatic modern look could suit your day. If your wedding is DIY, cupcakes are a great option because they're so easy to serve. Guests can help themselves and there'll be minimum mess and wastage.
Wedding Cake Presentation
From rustic timber logs to minimalist acrylic to suspended from the ceiling – there's endless ways to present your cake! Again, lean on the experience of your cake professional and heed their advice. Wedding cakes are one of the hot photo spots at every wedding! Guests will be sure to request photos of you with your cake. One of the first things we see guests do when they enter a wedding reception is to go and snap a photo of the cake! After all, each cake is a masterpiece it its own right.
Wedding Cake Toppers
Your cake topper is a fantastic way to express who you are as a couple. Perhaps you would like the traditional bride and groom for a classic look. Alternatively, your new married name cut out in acrylic or wood is a beautiful choice. We have attended weddings for farmers with little bride and groom cows! If your groom is a lego fanatic, how about a lego bride and groom topper? We've also seen a few Star Wars toppers in our time! It's the perfect detail to make unique and a talking point for your guests.