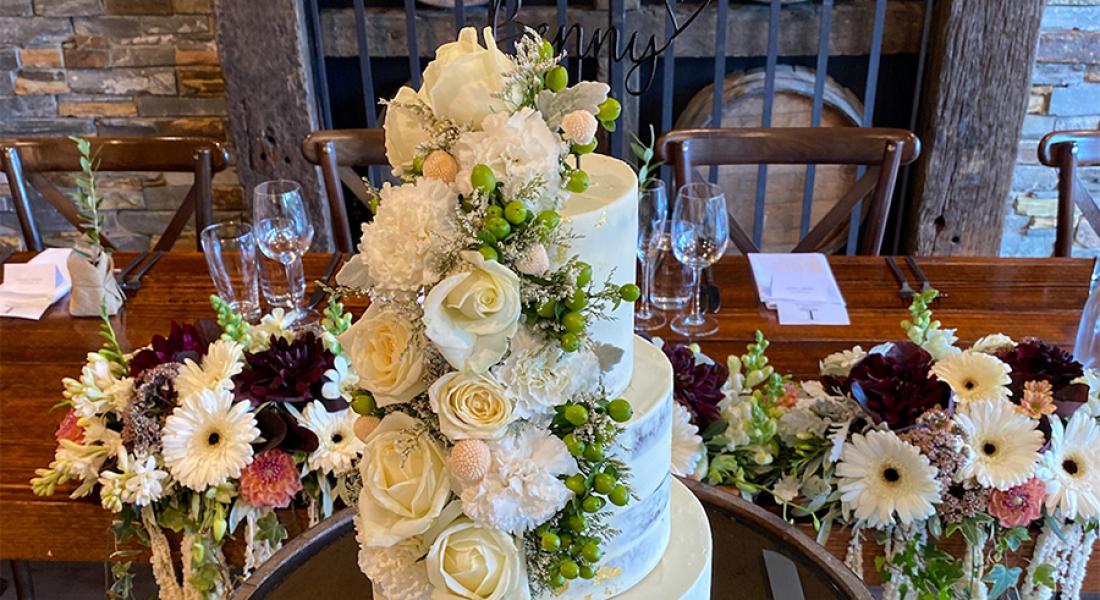 Wedding Cake Ideas
On 1 Apr | '2021
Suffering from wedding cake ideas overwhelm? We get it! How on earth are you meant to make a decision on your wedding cake when they're all so gorgeous! Your wedding cake theme unquestionably contributes to the theme for your wedding day. If you've logged onto Pinterest looking for help, you're not alone if you've just ended up overwhelmed!
Today on the blog we're breaking down the logistics to help organise your wedding cake ideas into a workable plan.
Theme
Try to sort your likes and dislikes into themes. For example, if you're hosting a uber-chic city affair, you can probably cross a rustic 'naked' cake off you list. However, an country style cake may be just the ticket if you're hosting your wedding in a barn. Star fish went off trend a while ago for beach weddings, but that doesn't mean your cake can't incorporate your theme. Talk to your cake artist about a ombre blue icing fade or gorgeous ocean coloured texture.
Weather
Like it or not, the practicality of weather will have effect on your cake choice. Don't like fondant icing? Buttercream cakes are equally stunning but not if they're melting in a non-air-conditioned venue! Fondant icing and flowers are harder wearing to weather conditions. Likewise, modelling paste flowers will withstand the heat surprisingly better than fresh.
Budget
Delicate icing work takes the hand of a skilled professional. It's easy to be swept up in the magic of incredible icing detail until you see the price. Wedding cakes vary vastly in budget and for good reason. Skilled artisans spend endless hours perfectly and honing their skills. Cakes must be made and iced fresh – there's no margin for error. Without a doubt, you get what you pay for. Don't take the risk of cutting your budget so far you are disappointed in the result. Your wedding cake photos will be future treasures.
Transport
Don't forget to check the details of how your wedding cake will be transported to your venue. Will your wedding cake specialist deliver? If so, will they also ensure the cake is set on your display table at your venue? Take extra special care if you need to transport the cake itself. Set aside one trusted person and an assistant for this trusted task.
Wedding cake ideas details
Getting your wedding cake ideas sorted is the first part. Taking care of the details is another. For example, will your venue supply a cake knife worthy of gorgeous cake cutting photos? Is there a charge for cakeage (serving the cake to your guests)? If you're hosting your wedding at home or using caterers, who is responsible for readying the dessert plates and serving? Remember to organise who will be responsible for keeping your top tier if you're planning to save it for another special occasion. Chat to your venue or a trusted relative about taking care of this for you.
Seeing the wedding cake ideas our clients have had is one of our favourite parts! Better still, some of our favourite Guest Cam photos are of gorgeous wedding cakes – they simply look too good to eat! Our attendants are often privy to seeing your reception space prior to your guests while we set up. It's not uncommon for them to snap a sneaky photo of your wedding cake too!