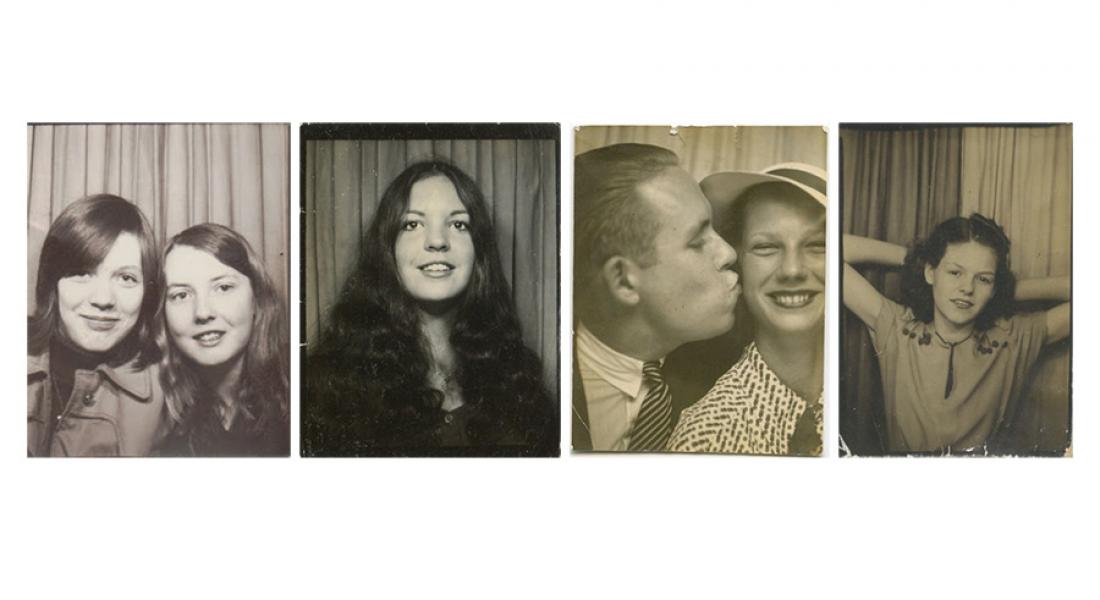 Vintage Photo Booth with a Digital Advantage
On 21 Oct | '2021
If you love a vintage photo booth, you're not alone! What's more fun than squeezing into a little booth and preserving a moment in time? Photo booths date all the way back to the late 1800's. Technology may have advanced but the charm certainly hasn't been left behind.
Day dot of In the Booth's development way back in 2007 took a vintage photo booth into account for our design. If it ain't broke, don't fix it right? The amazing Alan Adler who has owned an original photo booth in Flinders Street Station in Melbourne would certainly agree!
The vintage photo booth of the early 19th century started out as a mechanical machine that used chemicals to print. In hindsight, they really are an incredible invention – but rather complicated. Booths broke down frequently due to the involved printing process. An 'out of order' sign was a common sight on a vintage photo booth.
None of these early issues plagued their popularity though. People travelled from great distances to have their photos taken, often dressed in their finest garb. Today, we see props and a photo booth like peas and carrots. Did you know the concept for dressing up for a photo booth is because of the glamourous way people dressed for their instant photos in the past?
Back in 2009 when In the Booth launched, we kept the best parts of a vintage photo booth design and made some upgrades.
Fully enclosed vintage photo booth
We've kept close to our roots and every booth is fully enclosed. An enclosed environment is part of the charm with a bit of secrecy thrown in. At events, everyone wants to know "who's in the booth?". The other reasons are more technical than romantic but just as important. One of the things we upgraded is that our booths capture video messages including high definition sound. The enclosed environment ensures high quality sound recording.
No more chemicals
There were probably a few chemicals used back in the day that aren't approved anymore! Vintage booths would run out of chemical and print quality would decrease over time. Enter the magic of digital. High quality images are available for guests in print and digital format. Our USB folio is one of our most popular inclusions. There were no digital back-ups once upon a time. If you lost your print or spilt coffee on it, that was the end of it!
The magic of colour
Retro photos booths captured images in black and white – that was it. Then the magic of colour was added to photography and we haven't looked back. Guests can choose to capture their photos in vivid colour or timeless black and white. Better yet, digital copies are always provided in colour so with a simple filter, they can be changed to black and white if desired.

We've kept the curtains
What makes vintage photo booth photos so effortlessly charming? We think it has a lot to do with the somewhat plain curtain background that all old booths had. The focus is on the faces in the picture, not an overly busy, distracting background. With the additional of colour as discussed above, we offer a rainbow of backdrop colour options that enhance a theme without taking away from the star attractions.
Simplicity is key
We're seasoned event industry specialists. We're also firm believers that the KISS (Keep It Simple Stupid) motto must apply to everything we do. Celebrations are exciting places with heightened emotions. Things get busy! Subsequently every feature of our booths must be simple to use and easy to understand. We love nothing more than guests having 'ah-ha' moments as they discover the booths features or the magic of our app.
In conclusion, we never stray too far from the incredible invention that has seen photo booths bring joy for over a century.