Engagement Party Photo Booth Themes
On 26 Mar | '2020
Engagement party photo booth
First things first – congratulations on your engagement! This is a very exciting stage of your life and whether you're just dipping your toe into the wedding planning pool or diving in head first immediately, we do know that you will want to at least celebrate your with your loved ones (and what better way to celebrate than with an engagement party photo booth!) .
Engagement parties vary incredibly. Some couples celebrate with a small dinner out with immediate family and others throw a giant bash inviting hundreds of friends and family. There's no right or wrong way to celebrate your engagement, you need to decide what works best for you as a couple. Regardless of the size of your engagement party, there are a multitude of awesome themes and styles to choose from!
Wine and Cheese
If you're opting for more of an "early start/early finish so you can get back into your pyjamas" sort of party, an early afternoon wine and cheese party is a fun alternative! Set up some gorgeous grazing platters with an assortment of cheeses, crackers, dips, anti-pasto mix and fruit for your guests to nibble on and serve a variety of locally sourced wines. Your guests will have plenty of time to mingle without losing time to a sit-down dinner.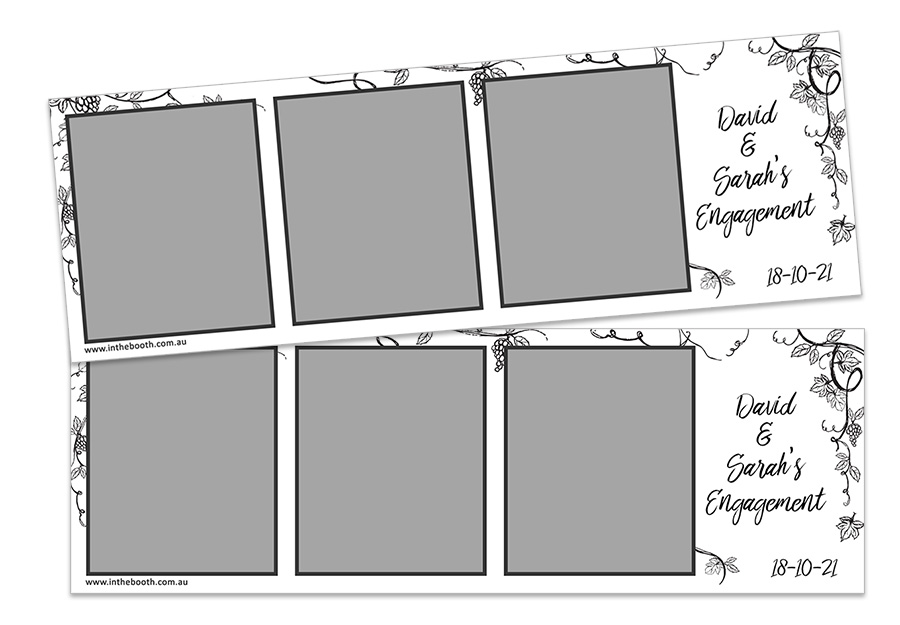 Casino Royale
Over the last year or two, we've seen a massive rise in the use of the Casino Royale theme for all event types. Why not take advantage of this and set up your own "Casino Royale" inspired party? To keep costs low, consider using your backyard or hiring a local hall. If you have the funds, consider hiring casino gaming equipment, which generally comes with a table attendant/dealer. Consider asking friends and family if they have poker sets, blackjack sets or other casino-style games to lend you. Go to your local dollar store and purchase a bunch of playing cards and either print your own play money or find some cheap online. If you're feeling crafty, you could DIY your own casino tables, too!
Gatsby
It's no lie that the Great Gatsby theme has been well used in the past years. With 2020 being the new roaring 20's, we can't see the theme dying off any time soon! It's a theme that is perfect for everyone – whether your guests are big on going all-out with costumes or will happily accessorise with a flapper style headband or pair of suspenders from their local cheap store. Gatsby inspired costumes, accessories, props and decorations are easily found both in stores and online, and the opportunities for DIY are endless!

Candyland
For those that are well known for their sweet tooth, a "desserts and sweets" or "candyland" themed engagement party would be right up their alley! All sorts of sweet treats can be purchased in bulk and displayed in sparkling glass jars and canisters. Or perhaps try your hand at a sweets grazing platter. Be sure to include all of yours and your partner's favourites along with a variety of well-loved chocolates and lollies. Above all, forget the toffee and fudge! For that little extra pizazz, consider getting some custom made personalised candy with yours and your sweetheart's names or initials.
90's Throwback
90's kids making up a huge portion of the engaged population. It's no surprise that plenty of engagement parties are featuring a 90's throwback theme. Think cassette tapes and VCR tapes, a boom box, your favourite lollies and snacks from your childhood, folded paper "fortune tellers", ice cream cake, brightly colour scrunchies, side ponytails, crimped hair, jelly shoes and denim jackets. Don't forget to include the hit phrases from the 90's in your invitations and décor such as "talk to the hand", "as if!", "oh snap!" and "keepin' in real".
The Greatest Showman
Another popular party theme is retro circus inspired by "The Greatest Showman". Think red and white striped graphics, film strips and gold stars. Popcorn is a must, as well as ticket stubs! Seek out some circus animal figurines from local stores and spray paint them gold to use as table decorations. Costume ideas include the ringleader, acrobats and dancers, magicians, bearded lady, or even the circus animals!
Regardless of which theme or style you select for your engagement party, be sure to include a photobooth to capture the creativity, fun and love between yourself, your partner, and all of your guests. You'll be glad you did!