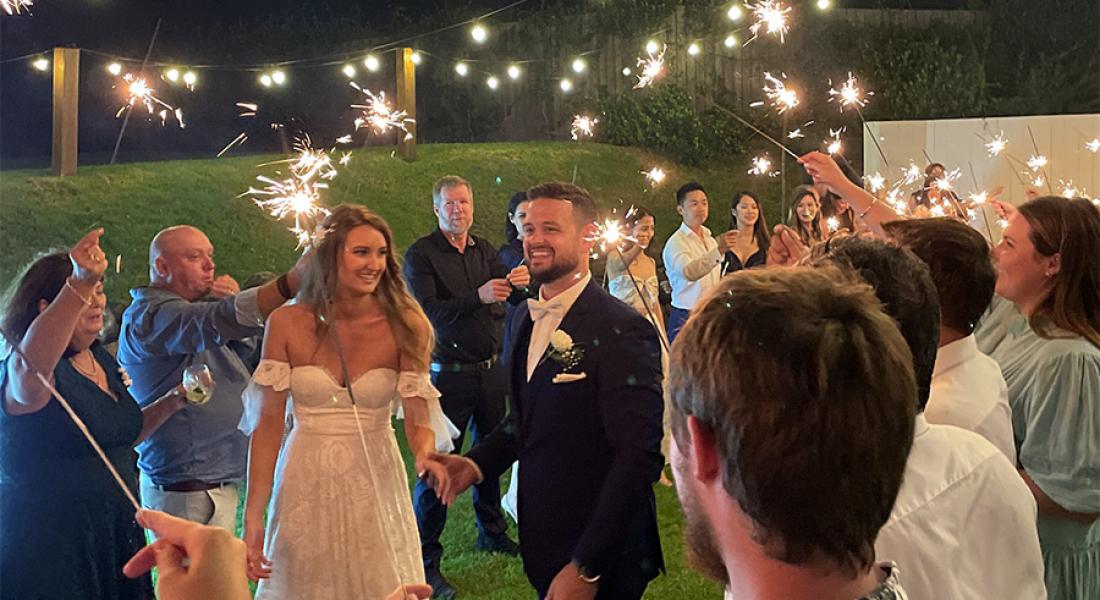 Sparkler Exit Ideas
On 28 Oct | '2021
Looking for sparkler exit ideas for your wedding finale? You've come to the right place! Sparkler exit ideas have grown in popularity for weddings for so many reasons. Simple and cost-effective sparklers add Disney style magic to your celebration! Bring a little of the awe of fireworks to your wedding without the hefty price tag.
5 Sparkler Exit Ideas for your Wedding
1. Sparkler Exit Signage
Let your guests know what's coming! Set up a Sparkler Station with your sparklers and information telling your guests what will happen at the allotted time. Make sure you have more than enough sparklers for your guest numbers to ensure everyone gets one. Rest assured no guest will want to miss out!
Sparkler Exit Ideas Signage Wording
Light the path for the newlyweds
Let Love Sparkle
It started with a sparkle
Let the sparks fly!
Light the night!
Let love light the way
Sparkler send off at Xpm
2. Sparklers as table gifts
A small note card with two holes punched make a sweet table gift for your guests. They are an easy and low cost DIY wedding item too! They can be made to match your wedding table stationery. Simply punch two holes or cut two slits for the sparkler to weave through and leave one at each place setting.
3. Sparkler exit ideas for display option
Sparklers are tall and thin so they need the right vessel to display them without topping over. Don't forget guests will be grabbing them too so you want it to be very secure. Avoid using glass jars – broken glass everywhere would not be ideal! Consider a metal bucket full of sand that the sparklers can be pressed into. A log with small holes drilled would make a great rustic display stand for sparklers.
4. Designate people to 'light the night'.
Timing the lighting of your sparklers correctly is essential. They burn quickly and you don't want the first sparklers finishing before the last ones have begun. Appoint a number of trusted friends or family members as your 'spark makers'! They will need to move quickly amongst your guests to light the sparklers as quickly as possible. Guests standing in a line can also touch the next guests' sparkler to light it and so on – but things need to move quickly! Perhaps speak to your venue staff to see if they can assist on the night.
5. Have your MC oversee organising your guests
Organising a group of guests into a sparkler exit is no mean feat! It will be late, people will be tired and it can be hard to hear over wedding music. Make sure there is a microphone designated to your MC for this purpose. They can request everyone gather in the exit location and give clear instructions. The most popular idea is to have your guests form two long lines. When instructed, they lifted their sparklers up to form an arch over the bride and groom as they exit. This created a magical effect for photographers!
Looking for more sparkler exit ideas? Look no further than Pinterest!