Franchise Opportunities
journey
In 2007, Steve and Kate Austin became enamoured with photo booths. As a professional photographer, Kate had seen the odd passport style photo booth appear at weddings and events. Whilst the concept was a lot of fun for guests, she knew the commercial, shopping centre style booths didn't provide the quality that clients deserve for their weddings.
Steve and Kate spent two years designing and perfecting their ideal booth. Kate's photographic and creative background together with Steve's event production and technical skills laid the foundation for the first In the Booth photo booth. From its humble beginnings sketched on an A4 piece of paper, In the Booth launched in April 2009 and the iconic design and style of their booths remains unchanged to this day.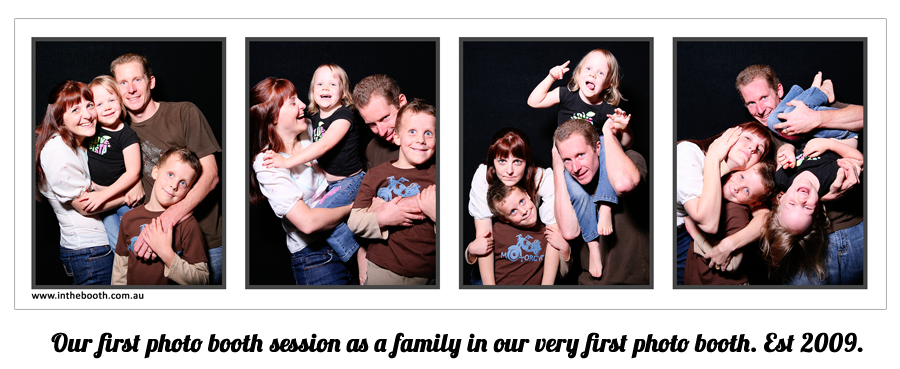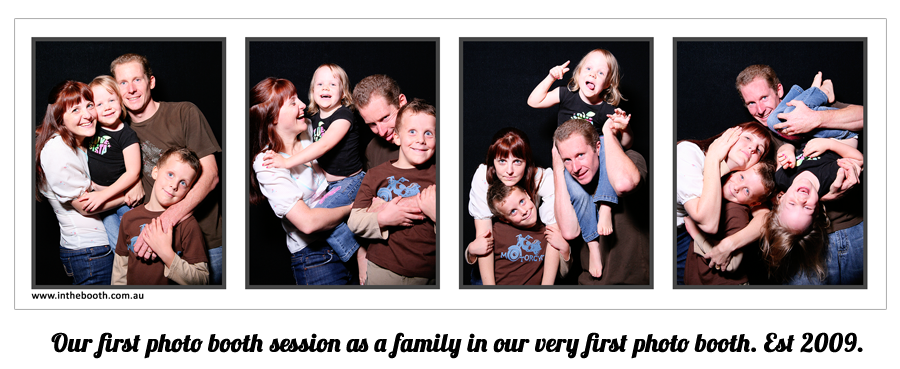 Steve and Kate have a deep-rooted passion for a special event done exceptionally well. Both Steve and Kate are 'detail oriented' (or perfectionists if you're into using dirty words!) in their respective areas of expertise. Together they seamlessly combine their passions and talents 'In the Booth'. Every innovation by In the Booth has been inspired by the clients we strive to serve with excellence every day.
After experiencing extensive and consistent growth in its home city of Brisbane, In the Booth became a franchised company in 2010 and is now the largest photo booth franchise network in Australia. Offering excellence in product innovation and development together with our razor-like approach to customer service, In the Booth has built its reputation as the leading photo booth brand in the country.
In the Booth remains aware of the fast paced photo booth market, yet continues to set themselves apart through innovation rather than following the latest trends. We believe that exceptional service, quality products and a client experience that transports guests into an era gone by will never go out of style. It is by keeping our customers close to heart that we have the enviable history of being the leading Australian company to develop and launch products such as Video Messaging and our integrated Mobile App.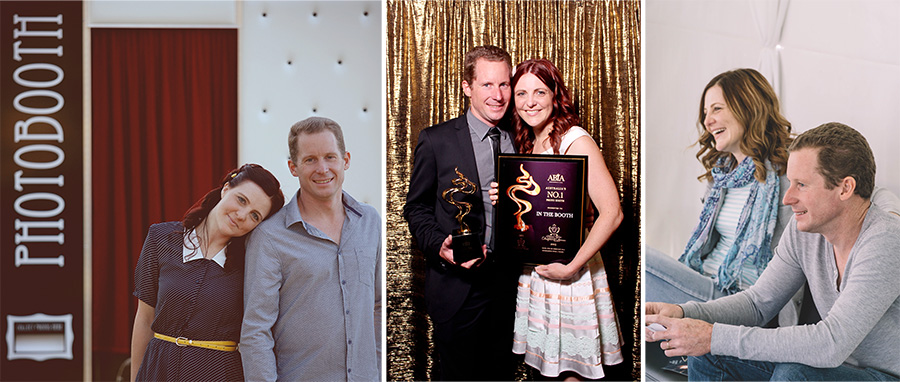 who we are
Think of your most loved brand. Perhaps you're an Apple nerd or have an unexplainable obsession with Lorna Jane. You know your mum will never re-gift her birthday present if it came from Pandora, and your dad swears by Stihl power tools – even though they're not available at Bunnings.
Such is our goal for clients and guests that experience In the Booth. We exist to create unforgettable experiences for all who come into contact with the In the Booth brand. In the Booth's focus since its inception in 2009 has been on the clients we serve. The business growth of our franchisees rests on our devotion to our clients and their guests. The heart of our company does not rest on the sale of a photo booth itself, but on the exceptional experience a bride, birthday party guest or corporate event planner has with our company.
The development of our franchise model was overseen by Peter Irvine, co-founder of Gloria Jean's Coffees; now with nearly 500 outlets in Australia and stores in 38 countries worldwide. Peter brings the wisdom of 40 years business management experience, including the launch of McDonalds in Australia in the 1970's.
Our franchise system itself was designed by Bill Lockett and and his team at Franchise Systems Group. Bill is one of Australia's most experienced consultants and advisors in franchising.
Our dedicated and personable head office team works closely with franchisees in all areas of booking management, marketing and support. We go to to extraordinary lengths daily to ensure every event is a success and franchisees have the assurance of 24 hour support and assistance.
In the Booth franchisees are an incredibly hard working and diverse team of people across the country. What we all have in common however is that we fell in love with, and see the greater vision for the In the Booth brand.
why In the Booth?
In the Booth is the largest established photo booth brand within Australia. Since our inception in 2009, the photo booth market has increased from a handful of operators to hundreds of companies Australia wide. A large component of this increase has been due to the availability of commercial photo booth equipment by local and international manufacturers.
Although we do manufacture our own booths, our business model is not based on the sale of these items. The success of a photo booth manufacturer lies in the selling of photo booth equipment, however our success lies in the success of our franchise partners and fellow business owners. Our business model is based on the continued success and growth of our partners, not the continued sale of equipment to anyone looking to enter the photobooth industry.
Unfortunately, many people enter the photo booth industry with wide-eyed enthusiasm but without the necessary skills and support to run a first class service. We invite you to do your research thoroughly. If you are looking to enter the photo booth industry quickly and cheaply, then look no further than Gumtree or other free classified sites. You will find dozens of photo booth businesses and photobooth equipment for sale both in Australia and overseas.
Photo booth manufacturers will offer a machine, and may promise all the support and knowledge you need to run your own booth company. A more important consideration is that this does not give you any security regarding your equipment and the area in which you are building your business. There is no restriction against a photo booth manufacturer selling you their equipment and then providing another identical machine and business advice to a new operator in the next town, suburb, or even next door to you.
In the Booth relies on the continued success of our franchise owners for our own growth and success. We are invested in your ongoing business, not in the sale of equipment to your business. Our franchise agreement provides our partners with legal ownership over their operational territories. This means that we will not sell another booth or launch another franchise within your area. This provides the security and confidence for you to invest the time, energy and resources required to run a successful business without the fear of an identical operation opening their doors to all your hard work.
Photo booth manufacturers offering 'licensing opportunities' should also be treated with caution as there will be limited brand clarity for your business.
In the Booth is a proud member of the Franchise Council of Australia and operates under the franchise code of conduct. You can read more about franchising on the Franchise Council of Australia's website.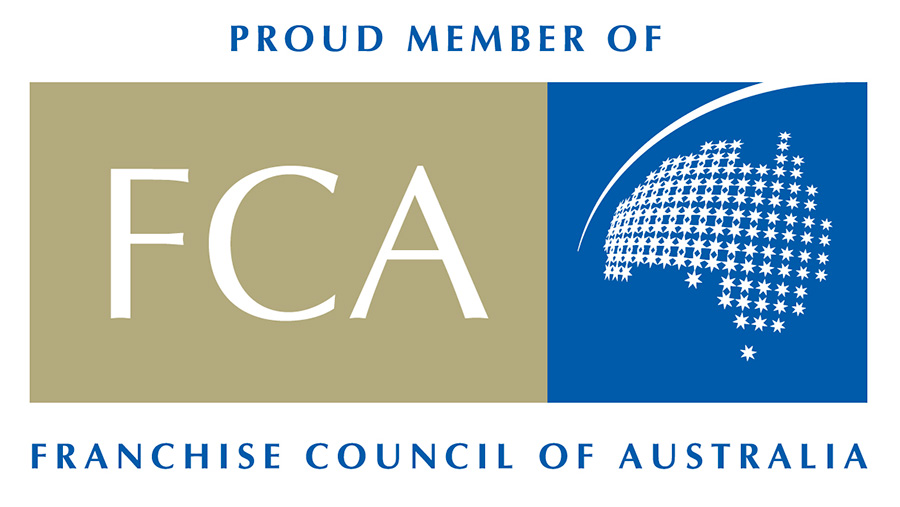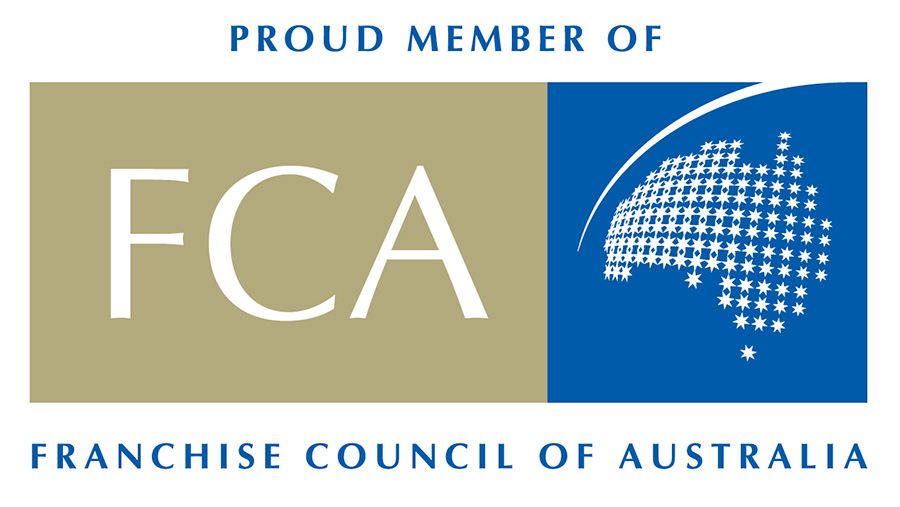 what we're looking for
Love for In the Booth: So you went to a wedding and there was a photo booth there, you loved it and you just have to have one? That's awesome and we have no doubt you had the time of your life, but we're not just looking for 'yay, I love photo boothing!' people 🙂 We're looking for astute individuals who see the intrinsic differences of the In the Booth brand and are primed and ready to do everything they can to not just meet, but exceed their customer's expectations.
Boundless energy and a positive attitude: Let us level with you up front. Being in business can be tough! We are firm believers in when the going gets tough, the tough get going. We're looking for partners who can face challenges head on and say 'we will' rather than 'we can't'. If you're thinking about going into a business of any kind, patience, a positive attitude and a never give up mentality are the best tools you can bring and this is what we look for in our partners.
A two-way street: In the Booth's success is underpinned by the exceptional relationship between the head office team and franchisees. You will need to have excellent verbal and written communication skills and understand the importance of a swift response. Exceptional communication practises between all parties is the core of an excellent client experience.
Be ready to work like you've never worked: Unless you've owned your own business before, get ready to work as you never have. There will be long hours and inconvenient problems. You will need to have the management skills to deal with casual staff and the patience to take phone calls during dinner – these are the not-so-shiny realities of business ownership! A brand name will only get you so far. After that, it comes down to plain hard work and persistence.
Ability to follow procedures: The true benefit of a successful franchise is realised when all members are working together. This requires a certain amount of policy and procedure, not to limit operations but to ensure the client experience is maintained at the highest level and the team functions to its greatest potential. Our partners need the ability to bring their own individual talents and strengths to their business operation, whilst at the same time recognising the importance of structure and the benefit this brings to their operation and their clients' experience.
franchise faq
I'm not sure I really understand what a franchise is. Where can I find out more information?
The best place to start is the Franchise Council of Australia. From here you will find legislation and countless articles on the ins and outs of franchising. We would also suggest extending your reading by researching many of the in depth books available on franchising or subscribing to Franchising Magazine to stay informed via case studies and industry news.
Do I need to have prior business experience?
Prior business experience can be advantageous but not essential. If this is your first business venture, we would strongly advise that you speak at length with other small business owners about their experiences. If you have owned a business or a franchise before, In the Booth offers a unique business model that is only limited by attitude and personal drive.
What does purchasing a franchise give me?
An In the Booth franchise offers a complete package including an iconic photo booth and all associated equipment, vehicle fit out, a protected operational territory, full support and access to an established and award winning photo booth hire brand.
Is this a full or part time business?
This depends entirely on your personal situation and financial goals. In the Booth franchisees vary from single or multiple booth territories with business management being shared between couples or by one family member through to business partner arrangements. Growth of a franchise territory will vary dependent on the population in your location and the passion of the owner driving the business marketing initiatives.
Will I need to work in the evening/weekends/at other inconvenient times?
You bet! In the Booth is an event based company and most events take place on Friday and Saturday nights. You will be expected to have a very hands-on approach to your business, especially in the early days as you become familiar with all equipment and processes. If you don't like your weekends being interrupted, then this is most certainly not the business for you. If you are a highly motivated person with fantastic time management skills, you will benefit from a business model that is very flexible and has low fixed operational overheads.
Isn't franchising just a way for someone else to benefit from my hard work?
No. Unfortunately this is a common misnomer that couldn't be further from what a true and genuine franchise is about. This attitude is often perpetuated (in every industry) by those who are against franchising for some reason, or potentially own a business that competes against a franchise network. Franchise fees are payable as part of a franchise network, which are used to sustain the network and the support this provides to its members. Whilst there are certainly cases where unscrupulous franchisors attempt to profit at the expense of their franchise owners, this is not what franchising is about. Unfortunately it's often these cases that receive the most media attention. A healthy franchise model provides support and marketing benefits for its members that they would not be able to achieve individually. Franchise fees should be considered no differently as paying a good accountant or business advisor to help get the most out of your business.
Why would I want a franchise that restricts where I can operate my business?
This is another misconception regarding operational territories as part of a franchise. In the Booth proudly operates with exclusive territories for its business owners. These territories however are not in place to restrict, but rather allow business growth. Without legal ownership over a particular area, you could invest significant amounts of money, time and energy building your business over many years, to potentially have another (or many) identical businesses begin operating in your local area. Our territories are part of our commitment to our franchisees and provide the security that their investment will benefit their reward. Our territories are designed to allow an owner to build their business progressively and responsibly.