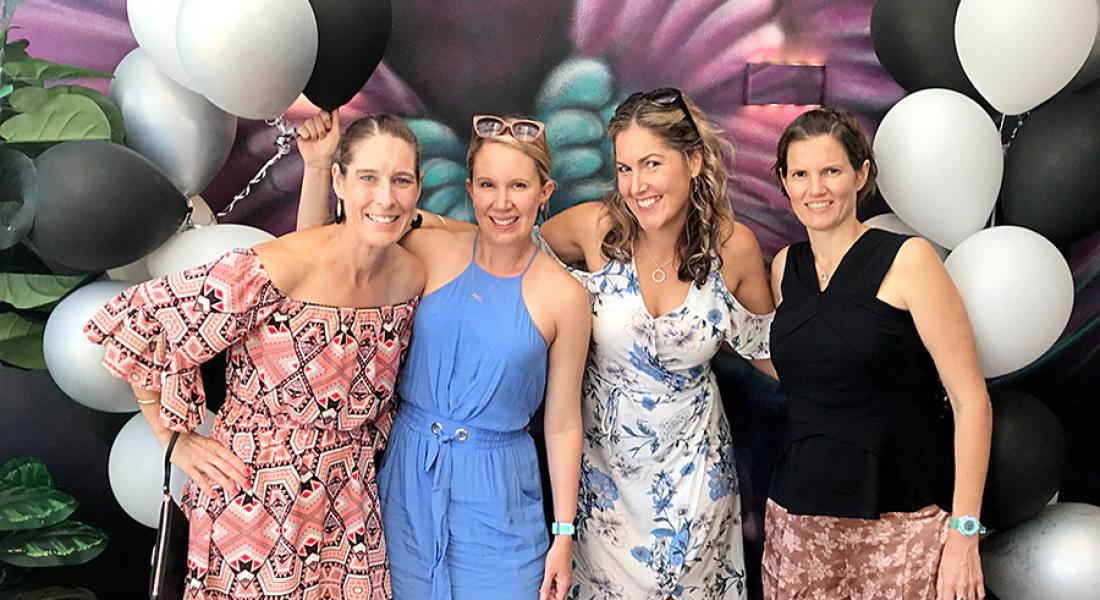 Photo Wall Ideas
On 18 Mar | '2021
We attend a lot (and we do mean a LOT!) of events and photo wall ideas are so popular. It's easy to see why. Guests absolutely love reflecting on memories, no matter the type of celebration. Your family and friends will enjoy a trip down memory lane for your wedding or milestone birthday – guaranteed!
Dreaming up photo wall ideas when you're knee-deep in the planning stages of your event is understandably a challenge. Attending so many events for a living means we get to bear witness to some incredible photo wall ideas our clients have dreamt up. So we thought we'd gather together some of our favourites today on the In the Booth blog!
The Classic Photo Wall
Printed photos are poured over by guests at every event we attend. They just love them! Photos printed and displayed on an easel is one of the simplest yet effective ideas. The photos can be printed any size you like. It's a great idea to decide on the size of your background board first. A piece of plywood or an old picture frame are perfect for the job. Paint the backing board or cover it in some gorgeous fabric. Attach your photos using double sided tape, cute tacks or mini pegs and string.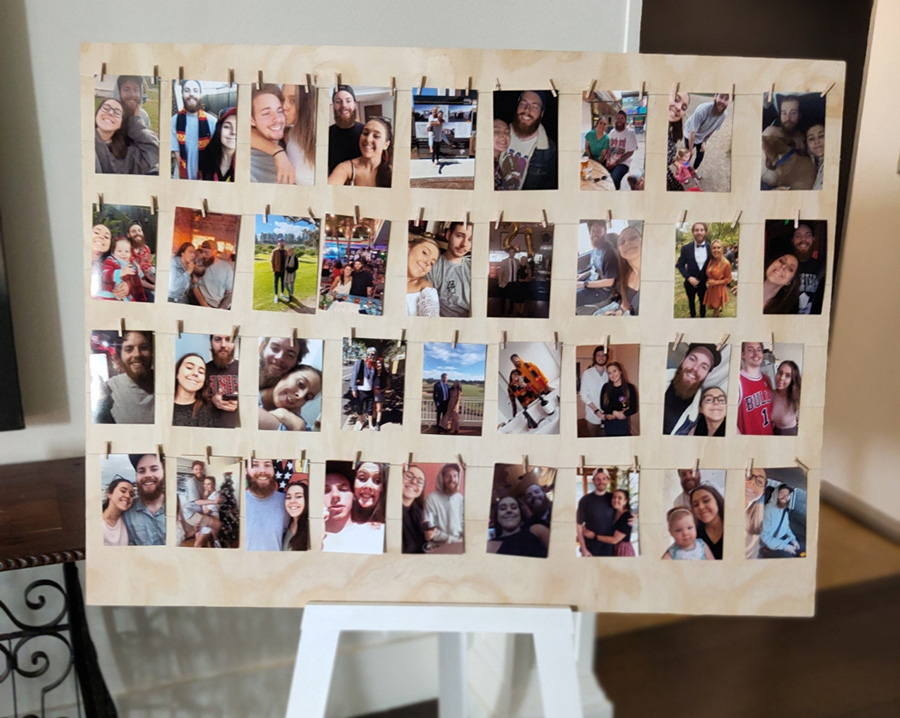 Digital Photo Wall
You will find guests around every digital photo wall! A scrolling collection of photos creates the perfect space for a quiet moment. Consider adding a screen of your choice to a peaceful lounge area where your guests can take a minute to recharge. Your venue may have a screen already available for you to plug your USB into. Otherwise, a laptop or iPad will do the job just as well. There are countless free software options for creating your slideshow online. In addition, don't forget to allow extra time to scan in those older printed memories!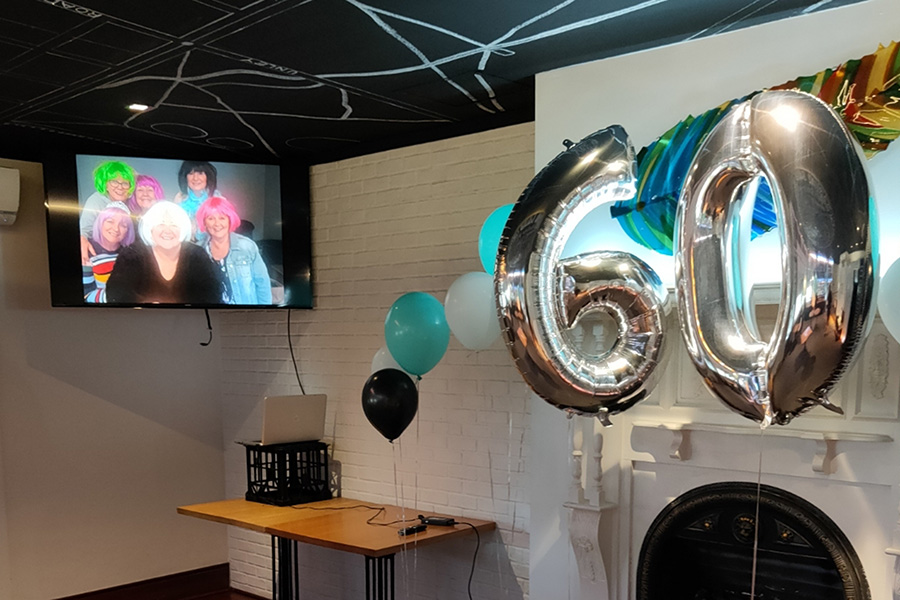 Framed Photo Memories
Get your photos off the wall with a sweet framed display! Consider creating a framed photo timeline of your relationship if you're hosting an engagement or a wedding. Alternatively, you may prefer to create a selection of family photos. What about a family tree display for your baby's first birthday showing both sides of their family tree? Either decide on a theme for your photos frames or mix it up for a completely eclectic style. Eventually all your guests will stop by the photo table for a look!
Photo Book
Got so many photos you can't choose? That's understandable! What about making a photo book to mark the occasion? The book will be passed around guests at your celebration. You could even leave some blank pages in the back for guests to sign and leave their well wishes. Decide on a theme for your photo book and use your photos to tell the story. Consider these ideas:
First birthday party: Lucy's First Year
Engagement Party: Chris and Emma's Road to I Do
Wedding: The Story of Us
Twenty First Birthday: Twenty-One Embarrassing Stories about David
Fiftieth Birthday: Fifty Years Young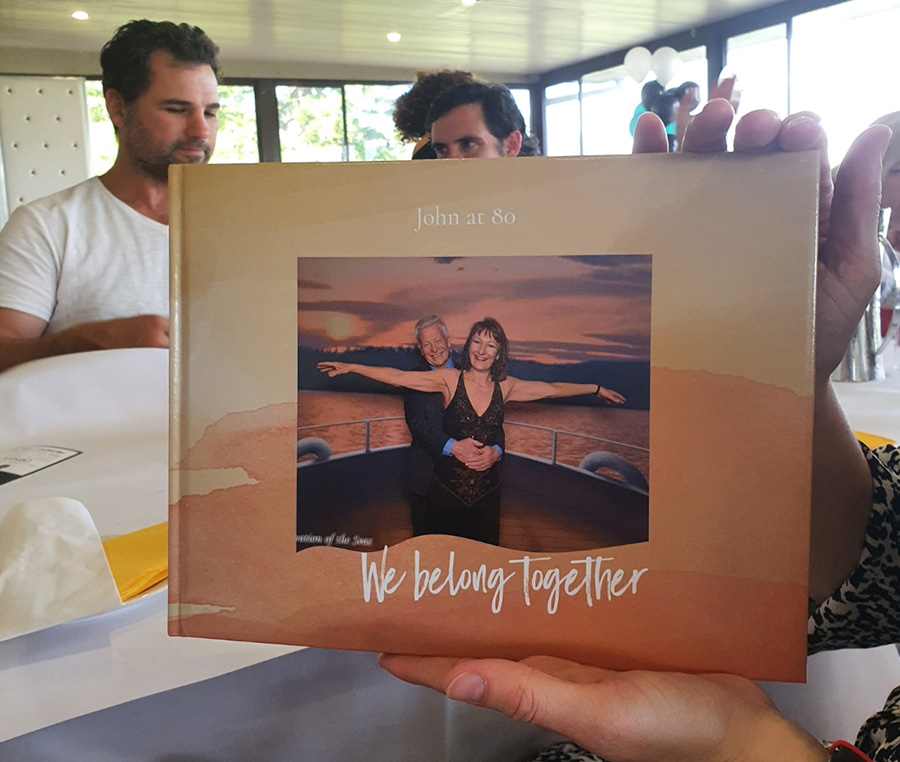 Live Photo Wall with Guest Cam
If you've already asked In the Booth along to your celebration, let us take this chance to say thanks for having us! While we'll be bringing plenty of traditional photo booth fun, did you know we'll also be bringing a href="https://www.inthebooth.com.au/inclusions/guestcam/" rel="noopener">Guest Cam< along? Yep – it's included in your hire package with us at no additional cost. Perhaps there's a special wall or backdrop at your celebration you could set up as a Guest Cam photo station. An awesome mural (such as the one pictured below), balloon art or just a dreamy spot at your venue make the ideal photo wall ideas.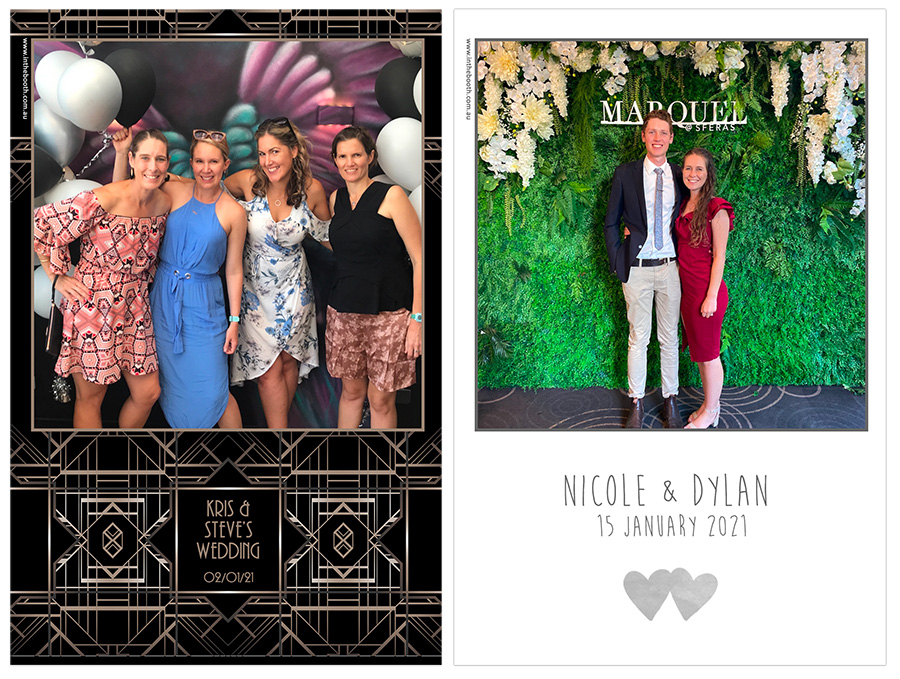 Guests will be able to snap as many Guest Cam's as they like via the free In the Booth app and take home their printed photo! Last but not least – you'll also get the digital copy in your beautiful USB folio after your event. Rest assured we've got your photo wall ideas covered from every angle!