Wedding Expo Photo Booth Research
On 9 Apr | '2020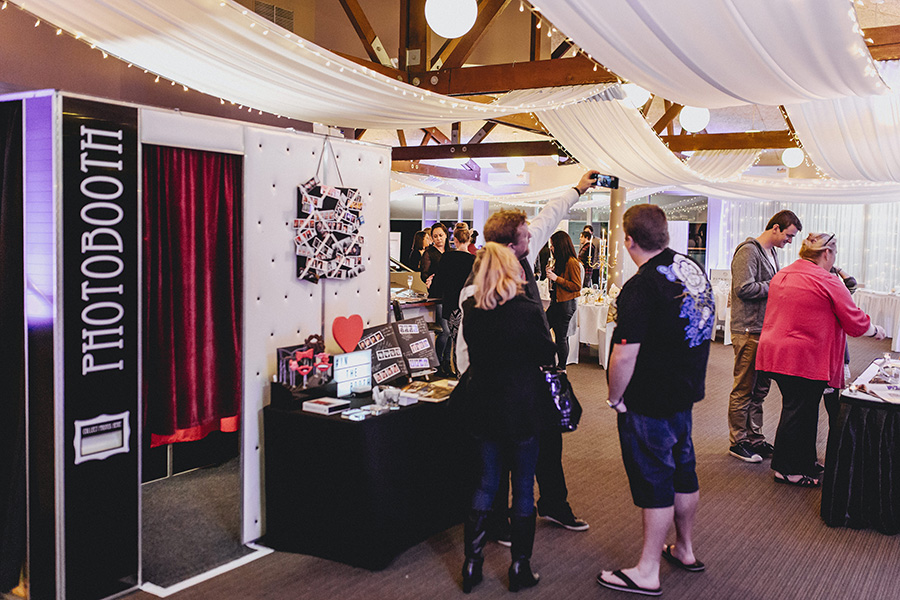 Wedding Expo Photo Booth Research
Wedding planning is a huge and often overwhelming task, and unless you have planned a lot of events, you likely don't even know all of the options that are out there available to you. Many brides and grooms choose to attend wedding expos or bridal expos to assist them in the planning process. Expos are a great opportunity to get to meet, see, and experience a whole variety of different wedding options. An assortment of venues, photographers, entertainers, florists and (of course) photo booths will be there! Expos can be huge and overwhelming too, so here are some ways to make sure you are ready to make the most of them.
Research & Compare
Big cities have plenty of expos throughout the year. Find out what expos, showcases or open days are coming up in your area and compare them to decide which ones will suit you best. Some expos have free entry and some require you to either register for free or purchase tickets. Some are very large with a huge variety of vendors, fashion parades and guest speakers and others are more boutique with a select number of vendors that may fit a particular theme, such as boho. You may want to go to as many as you can, but if you are time poor; don't hesitate to shortlist them to ones that feel most relevant to you.
Have a Plan
Most expos will include a list of attending vendors on their website, and may even include a site map prior to the event. Scroll through the list and take note of key vendors that you really want to chat to and try to visit these particular vendors first. You'll be surprised at how quickly time passes at expos, so if you tick off the main vendors early in the day, any time remaining after this can be used to browse the rest of the expo at your own pace.
Bring Company
Wedding expos are a lot more fun if you have someone alongside you. Whether it be your partner, your bridesmaids or your mum, make sure whoever comes with you will be happy to work through the expo at your pace and not hurry you. Not to mention, you're going need your besties with you to take on all that wedding expo photo booth research! 😉
Avoid Making Impulsive Decisions
Sometimes when you meet a vendor, you instantly know if you MUST have them at your wedding. Some vendors offer expo specials that are fantastic, and they may put pressure on you to book that day, but don't hesitate to say no if you're not quite ready. If you're not sure how it will work within your budget or if your fiancé will approve of the decision, it may be best to take their business card or brochure and schedule some time later to do some research or give them a call to ask any further questions before making a decision.
Wear Comfy Shoes
We should know this already, but how often are we caught wearing a cute pair of shoes that quickly become a painful pair of shoes once you've been on your feet for a few hours? Don't let this happen to you at an expo and start the day right with a comfortable pair of shoes.
Don't Forget to eat
Eat a nice, filling meal before you head off to the expo to ensure you can get through at least a few hours before needing to stop for food. Most expos will have food available for purchase, but often the selection is small and it can be a bit pricey. Consider bringing along some muesli bars or a piece of fruit to snack on between meals.
Bring a tote bag or backpack
You will end up with a huge amount of brochures, business cards and magazines and while some suppliers may hand out a small tote bag with their marketing material, don't rely on it! Come prepared with a bag that is big enough to fit brochures and magazines in easily. If you have one handy, a business card folder or case can be really handy to pop the cards in. Feel free to bring a pen along and pop notes on the brochures to remind you of who you spoke to and any other key points about that supplier. You may talk with a handful of different photographers and after a long day it can be difficult to remember who was who. Make sure your bag has a seperate pocket to safely store all those wedding expo photo booth test strips too!
Find out who you are talking to
Always ask for the representative's name and if they would be available on the day of your wedding, or if they have a team and it may be someone else. Many suppliers have assistants or other staff that help out at expos, so you may really click with the photographer's assistant at the expo, but it is important that you also meet with the photographer themselves to ensure you click with them, too.
The the photo booth for a test run at the wedding expo
Photobooth suppliers, including In the Booth, typically bring a fully functioning photo booth along to expos so take advantage of this! Jump in with your partner, bridesmaids or mum and take some happy snaps to remember your day at the expo! If there are multiple photobooth suppliers at an expo, try them all and compare the experience, inclusions and print and paper quality. If you see In the Booth at the next expo you attend, please stop by and say hello! We'd love to chat with you and show you our gorgeous booth and all that it can do!