Photo Booth Backdrop Hire
On 2 Sep | '2021
Did you know that photo booth backdrop hire is included in all of In the Booth's all-inclusive packages? Depending on the style of booth you have booked, some companies may require this to be hired as an additional item  At In the Booth, all our photo booths are identical and your choice of backdrop is available to match!
Don't forget that you may need to account for seperate photo booth backdrop hire. If there's no booth, what will be the background behind your guests? Be mindful when looking at your budget that you may need to hire a backdrop as well. This could be provided by your photo booth company or a separate backdrop supplier.

Photo booth backdrop hire
Your choice of our gorgeous range of backdrops is included in your hire package. What's more, we don't limit you to just photo booth photos! Take the fun out of the booth with our infamous Guest Cam service. For example, perhaps there's an awesome feature wall or mural at your venue. Check out our Guest Cam board on Pinterest for some inspo!
Our customer Sarah made use of this addictive feature at her 30th birthday party! Sarah is a bit of a musical festival fan. So Sarah had a 'Sarsh on the Grass' music festival theme for her birthday party instead!
Finally, Sarah's guests gave the photo booth a workout. Sarah's photo booth backdrop hire of choice was our super popular 'Night Sky'. Altogether we think it matched with her musical festival theme perfectly! In addition, a gorgeous greenery wall with fairy lights made for some super fun Guest Cams.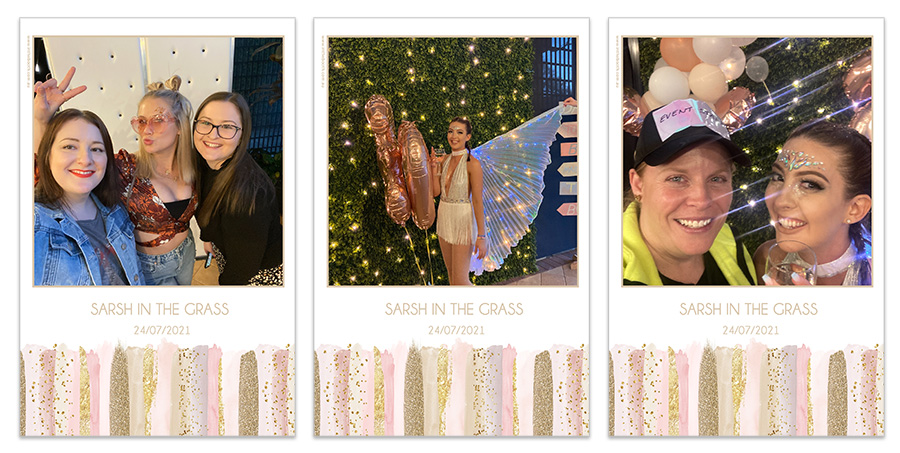 Are you ready for some fun in and out of the booth? Send us through an enquiry with your event details today!