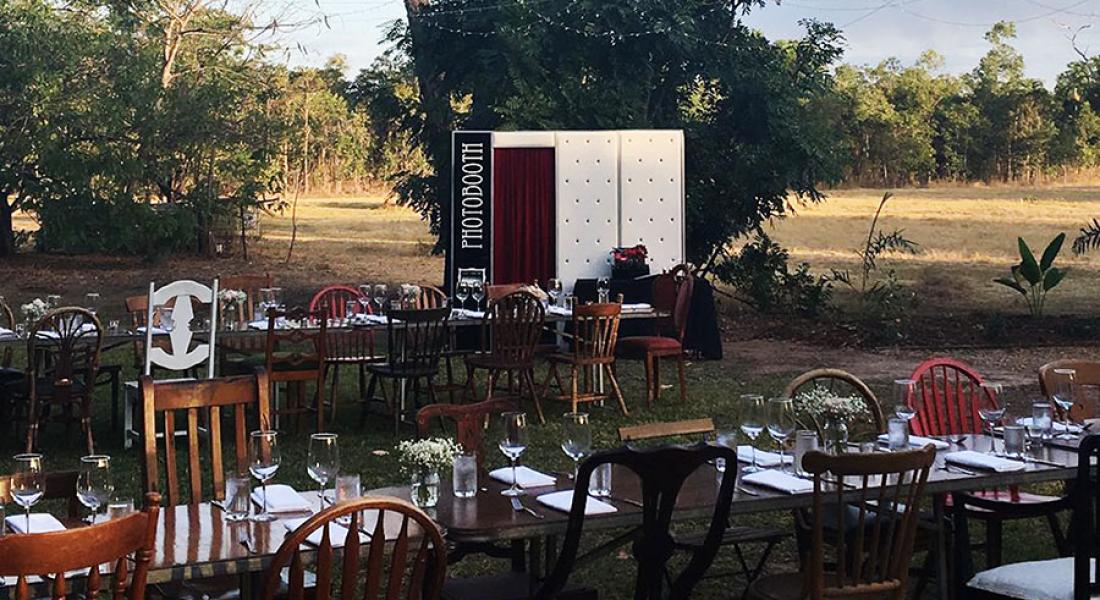 Outdoor Wedding Ideas
On 17 Sep | '2020
There's nothing quite like the beautiful sights of nature as a backdrop to your wedding ceremony and reception! However, as we all know the weather can be a bit unpredictable (especially months in advance). We've put together a list of outdoor wedding ideas and tips to consider to help your special day be as flawless as possible.
Have a backup plan
This should be at the top of your list of outdoor wedding ideas! While your dream wedding may be held on a glorious day with clear skies, sometimes this won't be the case. A rain shower won't necessarily require you to change your plans entirely. However certain severe weather conditions can make outside weddings very difficult, or even dangerous. We'll cross our fingers for you, but we do still suggest having a good backup plan just in case.
Love your backup plan
Write a list of the things you love about your backup plan. We suggest you focus on that should your backup plan become a reality. Rain, hail or shine, at the end of the day, you will still be married to your sweetheart.
Outdoor wedding ideas for your hair
Something that brides often overlook is ensuring yours and your bridesmaids hairstyles will be able to withstand weather conditions. Consider having two hair style options that you love. One that is out and flowing and another that is a weather compatible up-do. That way if there are high winds or a lot of moisture in the air, you'll be much more confident.
Steer away from stilettos
If you're utilising the beach or the grassy outdoors, steer away from wearing stilettos or pointy heels. Instead opt for wedges or some cute sandals that won't have you sinking into the ground all day and night. Your feet (and legs!) will thank you.
Trust your wedding vendors
Check the weather/outdoor policies from each of your vendors. Ensure that each of your vendors is able to be set up outdoors, especially if they will be using electrical equipment. Also check what their policy is in relation to poor weather so you aren't left in a bind on the day. Remember, your vendors want nothing more than a successful celebration for you!
Make your guests aware
Be sure your invitation advises your guests that both the ceremony and reception will be outdoors. Let guests know that flat shoes or wedges would be best, or that while your wedding is in summer, it gets a bit nippy after the sun goes down so they may want to bring a light cardigan.
Ensure your guests will be comfortable
If your ceremony will be out in the sun (especially on a particularly hot day), consider providing personalised parasols, a water station or hand held fans to keep your guests cool and protected. If possible, try to stick as close as possible to your planned ceremony schedule to keep from having your guests out in the elements for longer than necessary.
Consider a costume change
Depending on the location of your special day, the temperature going from day into night can change quite drastically. You might be surprised at how hot you will get in your gorgeous gown while you're breaking it down on the dancefloor, so it is worth considering a second more breathable dress that you can change into during the reception. Alternatively, if the evenings at your chosen location get quite chilly, don't shy away from bringing along a warm coat or shawl that you can pop on if the temperature drops.
Hire a sound system
Another important tip that so often is not considered is the sound, especially for your wedding ceremony. Noise drifts and filters a lot further while outside, and there is a lot more external noise such as rolling waves, gusts of wind and people chatting nearby. Rest assured our video messaging service means we know what we're talking about in this space! It is crucial to ensure you hold or wear microphones and have a sound system that is sufficient enough to deliver your beautiful vows to those all the way at the back. One of the most easily avoided issues that often arise at wedding ceremonies is sound systems not working correctly or being insufficient, so we recommend using your sound system at your rehearsal and having your family or bridal party stand in different places to test how well the sound carries.
Deal with the bugs
No one wants their special day to end covered in mosquito bites, so be prepared. Put out citronella candles (if your venue allows for open flames) or a bug zapper. Consider providing mosquito repellent for your guests also. For a more concealed approach, you could strategically place some potted citronella plants around your reception space.
At In the Booth, we're chock a block full of outdoor wedding ideas! If you're wondering how a photobooth might fit into your outdoor wedding, please don't hesitate to get in touch with us today!