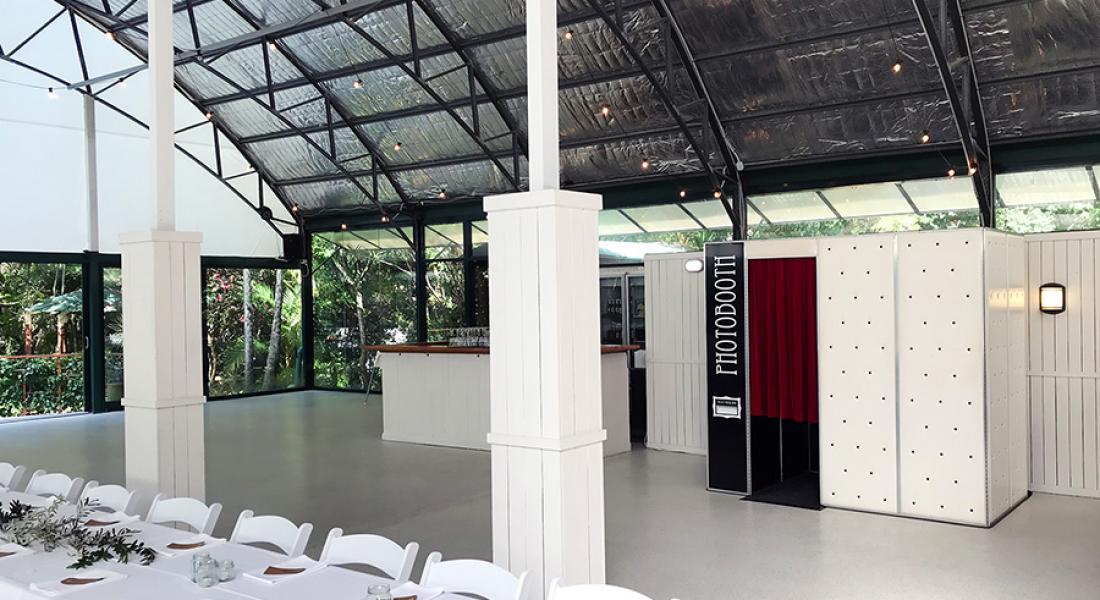 Open Photobooth Hire Questions
On 4 Nov | '2021
Open photobooth hire or enclosed photo booth hire? The original photo booth design was always enclosed and we've stuck close to our roots. We're not opposed to advancing technology (anything but!) but we are certainly for enhancing our guest experience. The best way we can do that is with our award winning enclosed booths. On the blog today, we're breaking down the reasons why.
There's something intriguing about that closed curtain
Photo booths and kisses go hand in hand! There's nothing quite like stepping into a photo booth with your favourite and tugging the curtain closed. Sure, some of your friends may have the exhibitionist gene. However, many guests feel self-conscious in an open photobooth. That's why so many open photobooth hire services offer an optional privacy curtain – because their customers have requested one. An enclosed photo booth doesn't limit the fun your outgoing guests have (just check out our gallery for a few examples!) but it certainly makes your shyer guests more comfortable. Guests without the room as an unwelcome audience are far more likely to relax and let their hair down in the booth!
Where does the printer go with an open photobooth?
Let us let you in on a trade secret – quality photo booth printers aren't pretty to look at! They're also noisy. That's why everything our booths need to operate are fully concealed in our retro package. Open photobooth hire required the printer to be on a spate stand or station. Check your hire service won't just put the printer on a table and call it a day! Remember, printers also need cables to run. Where will these cables be? How will they be secured so they're not a tripping hazard? Will the printer be in a concealed case? These are all important questions to ask your open photobooth supplier. Ask for a photo of their complete set up – including how the printer looks on the day.
Does your open photobooth provide video?
Our fully enclosed booths create a mini sound stage for our hugely popular video guest book feature. Don't forget this feature is part of our all-inclusive packages at no additional cost! The vast majority of open photobooths will not offer this feature as they cannot record sound in an open environment. The microphone would pick up too much ambient noise.
Wind is not an open photobooth's friend
As event specialist, we account for every occasion and situation. You may find open photobooth suppliers will not provide their services outdoors. This is because the booth and backdrop cannot be safely secured in the wind. Likewise, booths without solid walls and a curtain-only set up will blow in the wind and obscure your guests. Wind is one of the most problematic weather conditions at celebrations! If it is windy on your day, you don't want an accident in the making.
But wait – In the Booth offers two photo booth hire styles in one!
Still drawn toward an open photobooth hire? Don't despair because we can still help! In the Booth's infamous Guest Cam service means you can have exactly that. Our traditional enclosed booth will snap away while guests create their own open photobooth moments via Guest Cam. A stunning wall or completely separate styling area could be used as your backdrop or anywhere around your event at all! With Guest Cam, guests are limited to snapping photos in one location and can move freely around your event. It's amazing fun and exclusive to In the Booth!
Here's what one of our past couples had to say:
"Hi, I just wanted to say thank you for the photobooth for our engagement party. All of our guests really loved it and we got some amazing pictures! We all also really loved the Guest Cam, it was amazing to be able to take photos in the app and have them instantly print out. Our photobooth attendant Rick was really great as well. I did also appreciate how easy the app was to use and that no one had to add in any personal details, they were just able to download the pictures as soon as they had the app. Thank you as well for accommodating us when we had a venue change three weeks out from our engagement party! We will definitely be using your photobooths for our future events and are very much looking forward to receiving all of our images!" Kind regards, Kelsie and Shaun