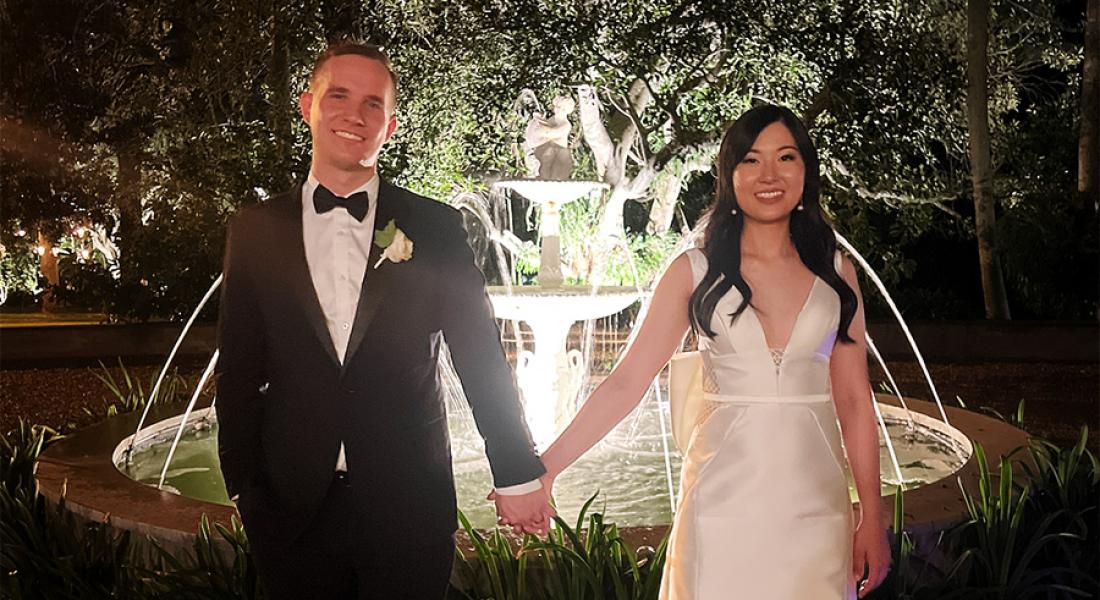 Open Photo Booth Hire
On 17 Feb | '2022
Open photo booth hire – yay or nay? Technically we're an enclosed photo booth hire service. That's doesn't mean we haven't thought about situations where an open booth is best. That's why at In the Booth we offer both open photo booth hire and enclosed! Yep, you've got it – two booths in one.
You may have already spotted via our website that our booths themselves are fully enclosed. There's a few reasons we have always stayed close to our traditional vintage photo booth roots. Just to name a few:
There's nothing quite like the privacy of an enclosed booth. Sneaking behind the velvet curtain is half the magic!
Our booths capture video in high definition sound. Our enclosed booths create a mini studio environment to allow for this.
An excellent photo booth service relies on consistency. We're not ashamed to say we're control freaks in the best way when it comes to image quality.
Still love the idea of open photo booth hire though? That's ok, we get it! Many of our customers have specific ideas about their photo booth backdrop. Perhaps you're hiring a custom balloon arch or a floral feature. Some of our customers incorporate special signage behind their bridal table. Your venue may even have a picturesque spot that's just perfect for photos.
Don't despair – enter Guest Cam!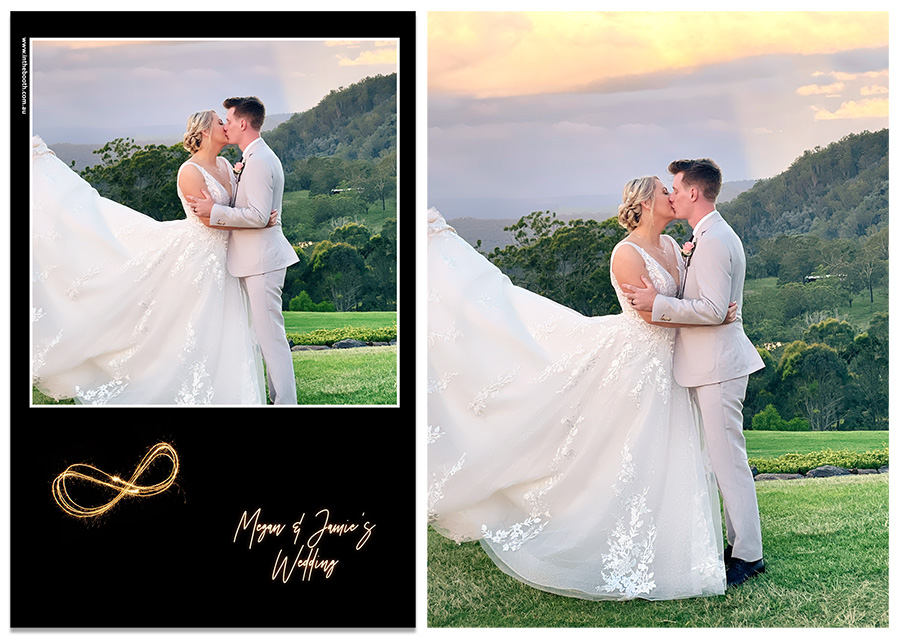 Guest Cam has been making waves since In the Booth introduced it as part of our app service back in 2015. It's completely unique and you won't find another like it outside our network. We know because we custom built it especially for our customers!
Guest Cam turns every guests' Smart Phone into a roaming photo booth. Whaaat?! Yep! All your guests need to do is download our free app, enter your custom Guest Cam code (just once) and then they can snap away. Every memory they capture will print from the photo booth. Our friendly attendants will have your Guest Cam ready to collect once you wander over to the booth!
We see some incredible imagery come out of Guest Cam. Check out these sweet captures below of Thomas and Natasha in front of the infamous Gabbinbar Homestead fountain! It's fantastic to see your event through the eyes of your guests. Quite honestly, with the amazing quality coming out of Smart Phones these days it can be hard to distinguish some photos from professional photography! All Guest Cam images are provided to our customers in both their printed format and as individual high resolution photos on your USB folio. You'll have more enclosed and open photo booth hire photos than you can poke a stick at!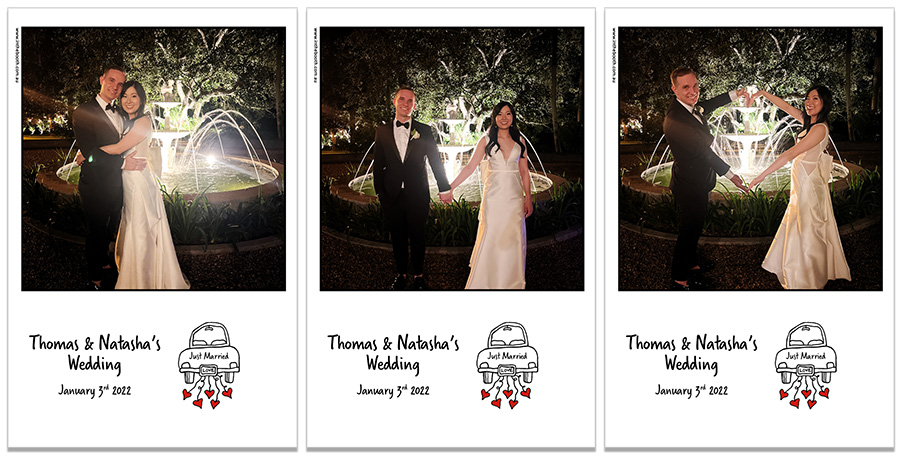 Open Photo Booth Hire Review
Hi, I just wanted to say thank you for the photobooth we had on Saturday for our engagement party. All of our guests really loved it and we got some amazing pictures! We all also really loved the Guest Cam, it was amazing to be able to take photos in the app and have them instantly print out. Our photobooth attendant Rick was really great as well. I really appreciated him using the app to capture pictures during the event, and also for sticking a lot of the photos into our guest book for us. Rick was really helpful to anyone who was having trouble using the booth, and all of our guests loved him! Further to all of this, the process with the the online portal was very user friendly us. I did also appreciate how easy the app was to use and that no one had to add in any personal details, they were just able to download the pictures as soon as they had the app. Thank you as well for accommodating us when we had a venue change three weeks out from our engagement party! We will definitely be using your photobooths for our future events and are very much looking forward to receiving all of our imagines! Kind regards, Kelsie and Shaun