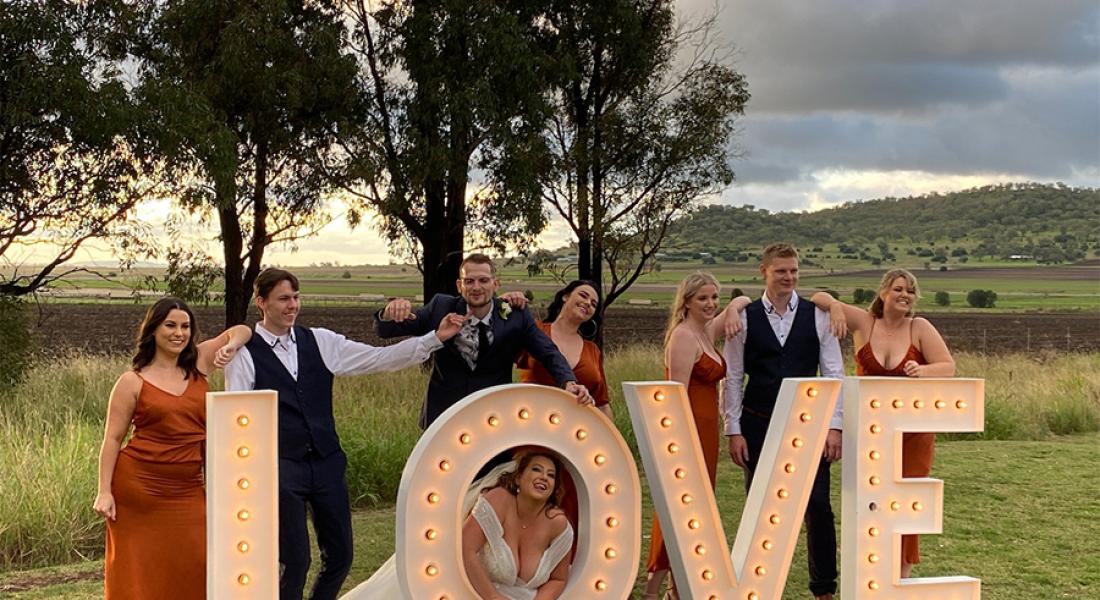 Open Photo Booth Backdrop for Guest Cam
On 19 May | '2022
An open photo booth backdrop for your Guest Cam prints is a great idea! Guest Cam is one of our most popular inclusions and is unique to In the Booth. Did you know your guests can capture roaming photos anywhere around your event and they will print from the booth too? Yep – at In the Booth you get an enclosed and open photo booth in one!
An open photo booth backdrop or Guest Cam backdrop doesn't have to be difficult or expensive. In fact, in most cases your venue alone will do the work for you. Today on the blog we'll break down some of our favourite backdrop options.
1. Using a statement piece as your open photo booth backdrop
Does your venue have a gorgeous old windmill? What about a fairy lit tree or even some alpacas?! All of these make fantastic spots for photos. Your guests will be naturally drawn to these locations. All that's left is to ensure they know about Guest Cam so they can snap their photos and print them as well! The excitement level gets turned way up when guests realise they can print their snaps. 'LOVE' letters or similar attract guests like a moth to a flame for photos! Also, how fun is the Guest Cam with the zebra below? It became the theme of the night for guests to get a pic with the zebra!
2. A pretty or textured wall
A beautiful wall does the job perfectly. Everything from urban brick to an old timber barn can make a beautiful open photo booth backdrop. The ideal feature is to look for stunning textures to add dimension to your photos. A statement piece of furniture guests can sit on or stand behind looks great too. Does your venue have a stunning fireplace or library? These spaces are iconic to your venue and your day! You should definitely incorporate them into your Guest Cam memories.
3. Outdoor scenery for your open photo booth backdrop
Seriously one of our favourites open photo booth backdrops. Most wedding photographers will spend some time outdoors for wedding portraits. Enlist your bridesmaids or other family and friend assistants to nab some impromptu Guest Cam's while you're there! If your reception is being held outdoors, even better. You simply won't be able to take a bad shot when natural scenery is the background. Don't forget to capture the sunset on your special day too.
4. A photo-op set
If you want to go the whole enchilada, perhaps you'd like to hire additional set pieces for an amazing photo zone. We attended a wedding with a Friends theme and they set up the Central Perk sofa scene for guests to use! We have attended corporate functions with a Hollywood theme where guests snap their entrance photos on the red carpet. You can still design an amazing photo station if your event doesn't have a specific theme. Some additional floral pieces such as an arch or a balloon backdrop look just gorgeous too.
Finally, if you eed more great event inspo? Check out our Instagram for our most recent soothing shenanigans!