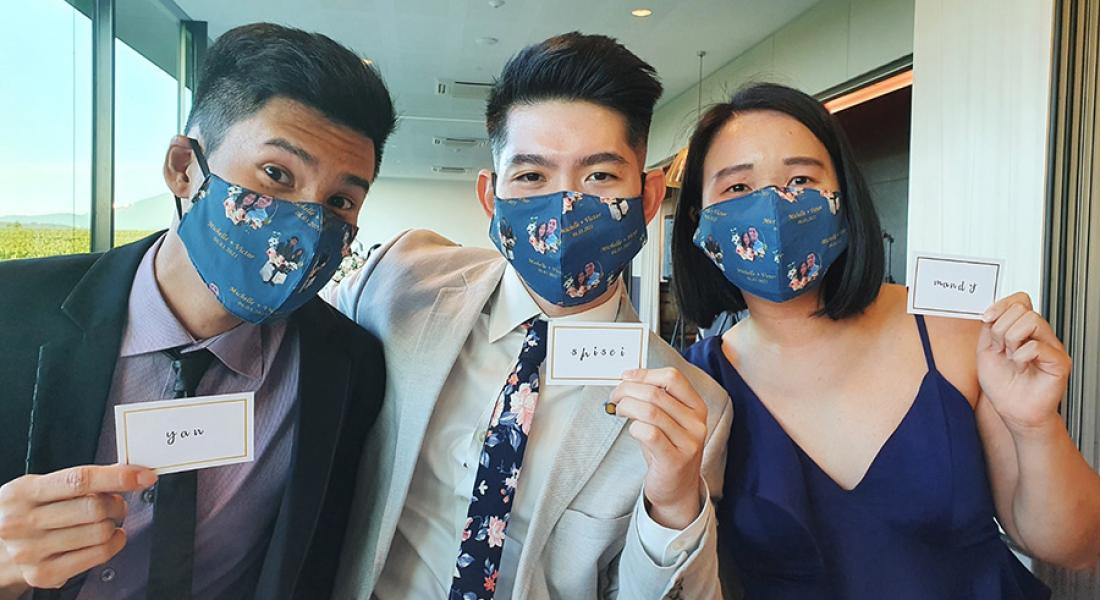 Oakridge Wines photo booth hire for Victor & Michelle's Wedding
On 20 May | '2021
Victor and Michelle chose the picturesque Oakridge Wines to host their wedding day. Oakridge Wines is situated in the heart of the Yarra Valley. When your wedding day backdrop is rolling hills and grapes vines, can you really go wrong? Victor and Michelle's day certainly didn't!
The floor to ceiling glass wall of Oakridge's function space exploits the incredible views. Your guests can drink in the incredible scenery as far as the eye can see! Victor and Michelle's guests mingled on the lawn immediately adjacent to the reception space. It was the kind of afternoon destined for wedding fairy tales! Barely a cloud in the sky and the perfect afternoon setting for some sun-drenched Guest Cam snaps!

Guests were treated with amazing custom-made face masks when they moved inside. Quite honestly, they were gorgeous! They were complete with photos of the couple and their wedding day details. Guest Cams were flying thick and fast as everyone took photos in their masks and holding up their place cards.
Victor and Michelle cultivated such a fun feel to their day. Even their wedding cake communicated their super fun vibe. They chose a rustic buttercream and flower finish but then their cake topper was a wedding lego scene! We love when couples find little ways to personalise the day just to them.
Photo Booth Fun at Oakridge Wines
Life sized cut-outs of the bride and groom made another hilarious feature of their day! Not only did they just look awesome in the corner of the room, they made fantastic photo booth props. Heaps of guests took the opportunity to take the "happy couple" into the booth with them with hilarious results!
Victor and Michelle, thanks so much for inviting In the Booth Melbourne East along to your fantastic Oakridge Wines wedding! It was an absolute pleasure and we wish you every happiness!