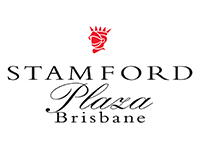 Having attended countless weddings, engagements, and corporate events at the Stamford Plaza Brisbane, In the Booth can attest to their quality service. As one of Brisbane's premiere venues for special events and private functions their dedicated team will take you through every step when planning your one of a kind night.
Exquisite views of the Brisbane River and Story Bridge from the riverside gardens coupled with the hotel's Grand Staircase and foyer, also make the Stamford Plaza Brisbane a perfect backdrop for your bridal photographs.
Find out more at www.stamfordplaza.com.au/spb or call the events team on 07 3232 0214
Meet the Team
For our Stamford Plaza Brisbane events team, nothing is too much. Passionate about delivering 5-star service and a spectacular event every time, we have held our place as Brisbane's most loved luxury riverside venue.
Offering varied expert advice, our team is set apart by our specialised teams for any event need. We cover corporate, weddings and social functions and can help with all of your exciting event ideas. You can be assured our team will bring to life your riverside event aspirations and do it with a smile. Allow our event team to curate a memorable day, no matter what the occasion.
Talk to our event team today to see how we can make your event one to remember.
On the Couch with Stamford Plaza Brisbane
Tell us about the history of the hotel and its amazing function spaces.
Formerly the Heritage hotel, Stamford Plaza Brisbane is the essence of Brisbane luxury and elegance. The Grand Ballroom is perfect for larger wedding receptions – offering a spacious and private foyer and spectacular views of the Brisbane River and Story Bridge. It features a 13-foot ceiling and boasts gorgeous views to the Kangaroo Point Cliffs. This venue can accommodate up to 200 guests' sit-down, with the foyer being the perfect location for pre-dinner canapés and drinks. For this venue, it is recommended a maximum of 150-160 guests, as it will allow for a more spacious floor plan, dance floor, photo booth and space for a band or DJ.
What sets the Stamford Plaza Brisbane special events team apart?
We recognise that each event is unique and deserves the highest standard of planning and execution. With a diverse team of specialists, we offer over 25 years of event experience and pride ourselves on being the industry leaders for 5-star service.
Tell us about the variety of event packages available to wedding couples and corporate customers.
Stamford Plaza offers a range of packages that are all-inclusive, flexible and can be tailored to suit any budget or personal preference. Our event team are committed to creating any event to any specification, and are happy to personalise a package that meets your unique needs.
How do the Stamford Plaza events team support brides and grooms throughout their wedding preparations?
With a specialised wedding department, you can be assured that our wedding coordinators will guide you through your special day and make sure it goes off without a hitch.
Tell us about one of the most memorable weddings you have seen at the Stamford Plaza!
Each wedding is unique and memorable. A personal favourite was a Gatsby-style wedding held in our gorgeous River Room, with the elaborate styling second only to the stunning Story Bridge views.