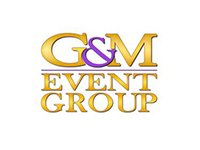 In the Booth has had the privilege of working with the team from G&M Event Group over many years and all throughout Brisbane and South East Queensland. While providing Photo Booth hire at some of Brisbane's best venues, we've crossed paths with G&M at Weddings, Corporate Functions and School Events.
The level of excellence shown by Glenn and the entire G&M crew is outstanding without exception. If you are looking for highly professional DJ, Lighting or Event Services (without the stereotypical sleezy DJ in the corner) we would happily recommend contacting G&M.
Check them out at www.gmeventgroup.com.au or call 1300 736 233
Meet the Team
Glenn and Miranda Mackay are the husband and wife team behind G&M Solutions. From humble beginnings, the business has grown out of a genuine passion for the wedding industry and a desire to make the wedding day of each and every one of their clients unforgettable.
G&M Solutions (now G&M Event Group: G&M DJs & G&M Lighting) was created in 1999 and, as newlyweds themselves, Glenn and Miranda were passionate in their belief that every couple deserved only the best on their special day.
In 2013 Glenn Mackay was inducted into the prestigious Wedding Entertainment Directors Guild (WED Guild®) as Australia's first, and only, member.
G&M DJs are also members of the DJ Alliance of Australia (DJAA) and as such both Glenn & Miranda mentor and liaise with other wedding DJs, both in Australia, and around the globe, ensuring the continued improvement of the industry.
More than 15 years later, G&M DJs employs 10 professional DJs and continues to evolve and improve their services to international standards, making them a leader in the wedding entertainment industry.
On the Couch with G&M Event Group
What makes the G&M Event Group service unique?
Our service is unique because we offer DJ, MC & Lighting design services. These all work together to create a nice synergy for an event. The other unique difference is what we call TRC. Talent, Reliability and Care!

Talent refers to the team that we have assembled to help our clients. We hire and train people who have a passion for helping others. They are our greatest asset and have enabled us to deliver high quality celebrations for our clients time after time. Our ongoing training program ensures constant growth and improvement.

Reliability is born from the talent we hire and how we train them. Being a full-time company in an industry mostly made up of part time or hobbyists, we're able to service our clients whenever they need us. Our office team ensure that everything runs smoothly and promptly so that our clients have less worry.

Care is a result of the passion we have for what we do. We've always aimed to be "more than music" at an event. We've spent countless hours refining the experience our customers have with us to ensure it's as smooth as possible and that we can create something truly memorable for their event.

TRC enables us to deliver on our core focus, which is performing above expectations to make a difference in peoples lives.
How are your couples involved in selecting the music for their wedding receptions?
Music means different things to different people. We wanted to allow our clients to be as specific or as vague as they like. All of our clients have access to their own private online planning portal. This is where they can select the music they want and give us all the information they need to at their own speed and when it suits them.

For those who want to dig deeper into the music for their celebration, we have created our Magnifique packages. This package allows them to work one on one with their selected Entertainer to ensure that we are completely in sync with their needs. This is normally done through in person planning meetings leading up to their celebration to ensure we know exactly how to deliver what they are wanting.
How do you stay current with music trends and on top of what's happening in your industry?
Music is just one element of what we do. With the variety of music being released and the instant access that everyone now has to it, staying up to date is becoming harder and harder. Part of our ongoing DJ training involves talking about new music, what's working and what's not. We talk in depth about where certain songs work best for different events so that we can ensure the best result for our clients.

With so many facets to our business we love to attend conferences both locally and internationally. This ensures we stay at the cutting edge of technology available to our industry. By associating with a vast network of DJs, MCs and Lighting Designers around the globe, we're often at the forefront of what's happening in the local market.

Various industry associations also help keep us current, plus one of the areas we are well known for is innovation. We love creating our own path and we're not afraid to suggest new and exciting concepts to our clients that will take their wedding to the next level.
What questions should couples have on their list to ask their DJ?
We think the most important thing is to take the time to meet with suppliers. A two minute phone call enquiring about prices is not going to get you the best for your wedding. It might be able to ensure you have the cheapest wedding, but rarely is that a good thing.
Before planning any aspect of your wedding you should ask yourself; what three words would you use to describe your perfect wedding. Take some time to really think about this. Then before you spend money on any aspect of your wedding, check in to see if it is adding to your three words. If not, then maybe you don't need it. Think about what you want your guests to be saying on their way home from your wedding. Then go out there and hire wedding professionals who can make that happen.
If a wedding professional is not at least as excited about your wedding as you are, then move on and find someone who is. You don't get a "do-over" when it comes to your wedding, so choose wisely.
We also wrote a blog on this topic, which is applicable to a bride or groom looking to hire any kind of supplier for their wedding celebration -
weddingdjbrisbane.com.au/wedding-expo-tips-questions-to-ask-wedding-vendors/
Top five songs that will fill the dance floor in an instant?
This is such a tough question as everyone will have his or her own preferences. What one person loves, another may find horrible however these are the songs we find often work well at weddings:
Uptown Funk – Bruno Mars
Billie Jean – Michael Jackson
Hey Ya – Outkast
Single Ladies – Beyonce
Wannabe – Spice Girls (Yes, we know you secretly love it).