Website: Gabbinbar
Phone: (07) 4602 9027
Email: info@gabbinbar.com.au
Loved by: In the Booth Toowoomba
In the Booth has been honoured to attend weddings at the gorgeous Gabbinbar Homestead since 2012. The Gabbinbar Experience is one of a kind for Toowoomba couples. Undoubtedly the incredible food, impeccable grounds and attention to detail are second to none. Isaac, Mel and the team truly create a home away from home for their couples. This sentiment is echoed by so many of their thrilled customers.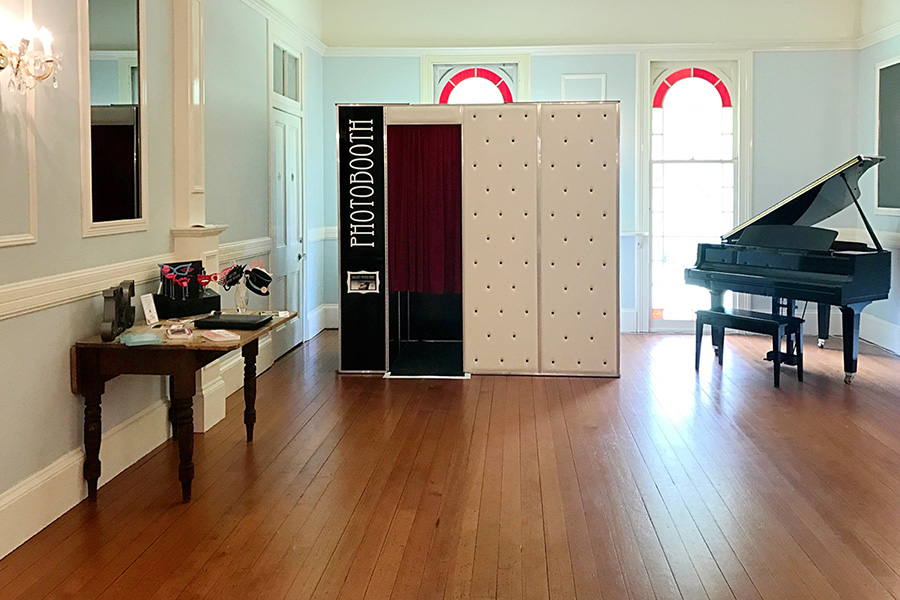 Meet the Gabbinbar Homestead Team
In 2012, Isaac & Mel, the owners of Gabbinbar Homestead officially opened the Homestead with a passion to do weddings differently. Instead of a function venue, Gabbinbar offers a magnificent estate as your exclusive home for your special day. You'll find it complete with award winning food, exceptional service and breathtaking ceremony and reception locations.
Our team genuinely believe every wedding should be different from the last and guarantee a personal wedding planning experience.
As you discover more about our special location, we hope you fall in love with Gabbinbar Homestead just as much as we have.
Meet our full team here.
On the Couch with Gabbinbar Homestead
We love that Gabbinbar Homestead invites their guests to treat it as their home. Tell us about the history of this gorgeous venue.
Gabbinbar Homestead was the former home of Sir Hugh Nelson the premier of Queensland in the late 1800s. It was also the Summer resort for Queensland's Governors in the early 1900s due to its mountain-top elevation. It remained a private home until recently when it was lovingly restored and made available for weddings. All the historic sections of Gabbinbar are open for you and your guests to use including the Homestead, stables, garden pavilions and old-school house.
What spaces are available for couples to choose from for their ceremony and reception at Gabbinbar?
The Homestead has six distinct ceremony locations including The Woods, The Pavilion, The Old Gates, The Governer's Lawn, The Conservatory & Ballroom. Each location includes your choice of guest seating from our chair menu, a signing table and professional sound system. You can relax with confidence knowing that we have all weather options covered. We have multiple indoor and outdoor reception locations at Gabbinbar Homestead with the favourite being The Conservatory. From a formal sit down meal to a cocktail style reception we delight your guests with our exceptional service, award-winning food & amazing atmosphere.ere.
What menu options are available for wedding and events hosted at Gabbinbar Homestead?
Gabbinbar Homestead recently won '2018 Queensland Caterer of the Year'. Our award winning team of chefs have carefully crafted a wonderful menu for couples special day. The Gabbinbar Experience starts the moment you arrive onsite with Brides Retreat catering including a Grazing Breakfast & Picnic Lunch. Choose one of our three Garden Party options including our handcrafted and housemade Canapes & Crowd Pleaser. What's more a magnificent Antipasto Banquet or Live Cooking station in the gardens so that your guests can enjoy the unique experience of having our chefs grill, prepare & serve a garden feast in front of them. For sit down receptions choose from our classic alternate drop selection, a gourmet country roast or from our fabulous Duo Options. Our passion is for every wedding to be individual & unique. That is why our chefs prepare a complimentary course from our pantry. This small course is seasonal, handcrafted and inspired by the regions local produce.
How do the Wedding Planning Team assist couples in planning their perfect day?
Every aspect of your wedding that is held at Gabbinbar Homestead will be assisted by our Wedding Planning Team. The Wedding Planning Team offers unlimited support prior to your wedding day. This includes access to online discussions and phone calls, scheduled meetings and providing contacts for vendors such as accommodation, photography, hair and make-up and much more. Additionally, the Wedding Planning Team will be there to co-ordinate the processional at a scheduled rehearsal. On the day of your wedding, your Wedding Planning Team are the hosts of your wedding day and will keep a keen eye on every detail. We will work with you to confirm a plan prior to your day which our team will seamlessly deliver.
Finally, past customers rave about the 'Gabbinbar Experience'. What sets Gabbinbar Homestead apart?
Our passion at Gabbinbar Homestead is to give you and your guests an unparalleled wedding experience. Put simply, we guarantee "The Gabbinbar Experience". Below are a few key things that sets Gabbinbar Homestead apart:
Enjoy provide all-day use of our historic estate and exclusive use once your ceremony starts
We deliver unequalled attention to detail so that you can relax with confidence
We offer flexibility so that your wedding can be unique, and we guarantee exceptional service for you and your guests.
Our brides travel from Sydney, Melbourne and further afield for an authentic destination wedding; when you choose Gabbinbar Homestead for your wedding, we make it your home for the day.