Photo Booth Hire in Melbourne & Yarra Valley
In the Booth has been providing Melbourne and Yarra Valley Photobooth Hire since 2010. We've had the privilege of providing photo booth hire for weddings, parties and gala events at stunning locations in Victoria. Our gorgeous booths retain the classic and timeless charm of a bygone era, whilst providing our guests with the latest in digital technology. Guests receive the classic keepsake of instant prints to stash in their wallet or display on the fridge. Additionally, they have the ability to instantly share on any social platform through our free integrated photobooth app.
The Yarra Valley and Melbourne's eastern suburbs host some amazing venues for your special event and photobooth hire. Just some of the locations we have provided photo booth's from include Bramleigh Estate, Immerse Yarra Valley, Leonda by the Yarra and Stones of the Yarra Valley just to name a few. We've also had booths at some beautiful venues in the Mornington Peninsula. If you're planning an event anywhere across Melbourne's eastern side, we have your photo booth hire sorted! Tom and Narelle are proud to call this part of the country home and love providing photobooth hire for any event you are considering.
In the Booth Melbourne East's all-inclusive packages means these no unwanted decisions to make. From the guest book to your USB after your celebration, everything is included in one awesome package. You've got enough enough details to take care of. Let In the Booth Melbourne East take care of your photobooth hire!
Meet the Team
Hi, we're Tom and Narelle!
We first experienced 'In the Booth' at our wedding in the Yarra Valley.  We wanted a fun atmosphere and to make our wedding an even more memorable occasion. We loved the experience so much we wanted to be part of bringing the same to others, and are now thrilled to be running In the Booth ourselves and providing photobooth hire throughout Melbourne's Eastern suburbs, the beautiful Yarra Valley and beyond.
When we're not out boothing, we are busy spending time with our family and catching up with friends.  Narelle also loves spending time with our four-legged friends (horses and dog), and when there's time Tom is a frustrated golf hack who green thumbs and works on those never ending Man Cave projects.
At weddings, parties and corporate events we see the booth bring smiles and laughter.  Guests are sometimes shy at first, but as the confidence grows they return again and again collecting more wonderful memories.  Get ready for some unreal moments, plenty of giggles, and the joy of capturing  precious moments that may otherwise be lost.
We look forward to working with you to make your event even more amazing.   For Melbourne East and Yarra Valley photo booth hire enquiries please contact us anytime.
Love for the Booths
Feedback from our clients and guests is so very important to us. Here are some snippets of what some lovely people have had to say...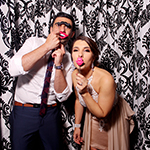 "We can't thank you enough for everything! Everybody had so much fun in the booth, and now we have photos we can cherish from our special night! Sam (the photo booth attendant) was fantastic! Thanks again for everything. We will definitely be referring you guys to family and friends. "
~ Rob & Christina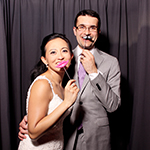 "We LOVE LOVE LOVE your service. We almost didn't bother with a photo booth/guest book at our wedding because there was so much going on during the planning stages, we didn't think we could be bothered. We organised your service last minute - thank goodness you were still available and seriously it was the best thing we did! We have received the USB folio in the mail today - love it!"
~ Jennifer & Peter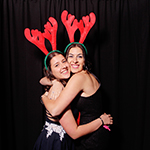 "Please pass on my thanks for the artwork which looked absolutely fantastic which the team were very impressed with. Also pass on my thanks to everyone at In the Booth Melbourne East who was involved and especially our attendant Sam who did a first class job looking after the team. The photo booth was a great idea which we will do again."
~ Masada Private Hospital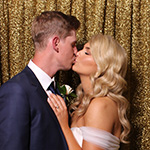 "In the Booth is THE BEST photo booth you could ever want for your event. Yogi was our attendant for Immerse in the Yarra Valley and he kept all of our guests entertained and engaged in the photobooth all night. There was not once an issue at all with printing, paper quality and no guest said one negative thing about the booth. Every single guest loved it. We have such amazing photographs from the event that we otherwise wouldn't have gotten. Thank you In the Booth Melbourne East - you were amazing."
~ Andrew & Sarah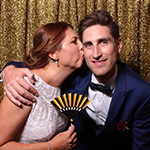 "Great to work and communicate with. Loved the Guest Cam and app functionality was a great hit with our guests. One of the highlights of our night. Thanks Narelle and Tom!"
~ Rohan & Cait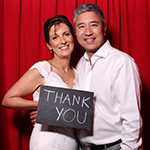 "Your process for selecting, paying and finalising the details of the photo booth on your portal is really easy and hassle free. The photo booth itself was great and the photos were of high quality. I also love the highlights video that you sent. I can't wait to get my USB to see the photos that our guests took. However, the best advertisement you have for your business is Aaron. He was fantastic on our wedding night. Nothing was too much trouble and his interaction with our guests was exceptional. He was quite regularly having to wrangle my nephews who are aged 7 and 5 who became quite obsessed with how awesome it was to have their photos taken and then instantly print. Let's just say he had more patience with them than I would have in the same situation!! Aaron has also managed to capture a photo of my Dad and I dancing. Our professional photographer had left by then so Aaron's photo is the only one that I have and for that I am extremely grateful. The guest book he put together is something that we will treasure as well!"
~ Kate & Ron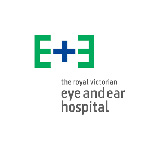 "Everyone thought the sneak peak was very cute! Thank you. We loved having you here. It was a great experience for us and a lot of fun for the staff. We loved our photo booth attendant Yogi, he was sensational. Please convey our sincere thanks for a great job! "
~ Royal VIC Eye & Ear Hospital
On the couch with Tom & Narelle
What is it you love about providing photo booth hire in Melbourne East?
Knowing firsthand the fun and excitement a photobooth brings our clients and their guests. Having had In the Booth at our own wedding, we saw how much our guests absolutely loved it. You only get one shot at capturing memories at a wedding or other special event, and we're so glad we did this in such a relaxed and entertaining way.
Tell us about some uniquely Melbourne touches you have seen at an event?
A 1920's styled wedding at one of only two Art Deco venues in Australia. The guests, bridal party, bride and groom all looked very sophisticated and glamorous in their 1920's outfits! The happy couple even arrived in a vintage car. There was so much attention to detail – the venue totally suited what the couple wanted out of their wedding. It was as if we had stepped back in time for an evening! Of course, the booth looked right at home in this atmosphere :)
What is the most common question you get asked about the photo booth service you provide?
Guests at photobooth events often ask if they can get digital copies of their photos. With our free mobile app the answer is a very easy yes! Guests can have instant access to their images without needing any social media accounts or having to enter their email addresses. Images are saved straight to their mobile for safe keeping or sharing with the world.
What are your essential tips for organising a fantastic event?
It sounds corny but try and enjoy the journey as well as the event. Whether you're super-organised or last-minute, there are always going to be things that may not go to plan or cause you stress. If you can see these as challenges to be overcome and stay relaxed, the whole process will be far more enjoyable.
When in Melbourne you must…
Of course we're biased because it's our neck of the woods, but visiting the Yarra Valley has to be on your to do list. We have some of the most magnificent wineries offering world class wine, great food and some spectacular views. Spoil yourself with a day in the Yarra and you won't be disappointed.
Popular Spots