Photo Booth Hire in Toowoomba
In the Booth provides all your Toowoomba photobooth hire needs. We service the greater Toowoomba area including Oakey, Dalby, Warwick and the Lockyer Valley. If you're having an event on the Western Downs we're also happy to travel! Our studio quality booths provide the perfect mix of relaxed entertainment for your guests together with capturing memories that can last a lifetime.
Toowoomba is a beautiful place to live and visit. It's no wonder many people choose to have their weddings and events in this gorgeous city – The Garden City of Australia. There are many sights, activities and celebrations and a growing arts scene. In the Booth Toowoomba loves being able to offer the best Toowoomba photo booth hire with video for weddings, parties, formals, school and corporate events.
Meet the Team
Hello there, I'm Ian from In the Booth Toowoomba! The opportunity to give a first class experience to the Darling Downs area (an area I have lived in for most of my life) through In the Booth is something I truly value.
It never ceases to amaze me the attraction of a photo booth. I love watching people experience the photo booth for the first time and then come back again and again – once is never enough! It's great being a part of something that brings so much enjoyment to an event and has timeless appeal to all age groups – the booth seems to possess its own magnetic attraction! I never tire of hearing those words "what a great idea"!
When we're not boothing it up I'm often out running and love hanging out with our two awesome and very busy boys Charlie and Sam.
If you're planning a special event and looking for a Toowoomba photo booth hire service, we'd love to hear from you!
Love for the Booths
Feedback from our clients and guests is so very important to us. Here are some snippets of what some lovely people have had to say...
"It was our pleasure having you! Thank you so much for supporting us for the evening. Everyone who attended said that the photobooth was one of the highlights of the evening! We received our digital portfolio in the mail yesterday. I was astounded by the beautiful box that I pulled out of the postal bag and kept being surprised when I opened it up! Thank you for the links and the fantastic reel of photos from the night! The link has already been well used. Once again thank for providing a fantastic service and for having a wonderful business. All of us involved will be more than delighted to be able to recommend you to anyone looking for a photobooth in the future."
~ Lucy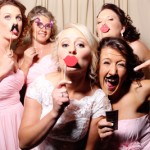 "Thank you so much for the use of the booth at our wedding. We had a fantastic day and all our guests really enjoyed using the booth. We love looking back on the photos and are so impressed with the quality. It was great to get two copies of the photos so our guests could remember the night as well. Your supervisor was very polite and patient with everyone. The booth really made our night enjoyable! Thanks again."
~ Breanna and Nathan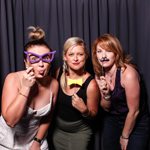 "Thank you so much! We had a fabulous time. The Booth was a complete hit at the Christmas Party!! Photos are amazing quality and the attendant for the night, Luke was so helpful!! We will defiantly recommend your company and may even use you guys again. J Thank you once again Merry Christmas and all the best in the new year. Kind Regards. "
~ Melissa - Dover Artificial Lift
On the couch with Ian
What is it you love about providing Toowoomba photo booth hire services?
Watching guests enter the photo booth for the first time, hearing the laughter and then gathering around to look at their prints – to us, that captures the photo booth experience. It's the best. We attend weddings, birthdays, and all manner of corporate events so they are always fun and happy events (we are lucky!). Toowoomba plays host to some amazing events such as the 2014 Care Flight Gala Ball at the Empire Theatre Toowoomba. There are so many highlights for our Toowoomba photo booth hire business!
Tell us about some uniquely Toowoomba touches you have seen at an event?
Toowoomba is simply beautiful but we remember when Tammie and Damian had the Haviana thongs out for the ladies to change into when they when they were dancing at a Picnic Point wedding, that stands out for sure. We'll also never forget the 1950's themed belated wedding reception for Bec & Josh at Ortem Café, it was the coolest party ever with all the trimmings, and we received the cutest little music box as a gift.
What is the most common question you get asked about the photo booth service you provide?
How many people can we fit in our photo booth – our official standard line is 6-8 comfortably, but who likes standard things? We can fit more in our photo booths, which always equals awesome and hilarious photos! First timers are always saying….'ooooh it is big'!
What are your essential tips for organising a fantastic event?
Music, great music is a must! It just sets the atmosphere and people are relaxed and your wedding, party, formal or any event for that matter will be simply remembered. Naturally we think a photo booth is a must when having any sort of event, everyone loves them.
When in Toowoomba?
You must come to the Carnival of Flowers, check out the street art, which was a part of the 'First Coat' festival. There are plenty of places to visit and see. If you're looking for venue options make sure you check out Gabbinbar Homestead, Preston Manor, Preston Peak Winery, Picnic Point, Blank Space, Empire Theatre and Jimbour House, just to name a few.
Popular Spots