Photobooth Hire Gold Coast
For photobooth hire Gold Coast and in the hinterland, In the Booth Gold Coast provides the perfect photobooth hire solution. We've had the privilege of boothing it up in some of the most amazing Gold Coast venues and would love to be a part of your next event. From corporate functions to weddings and school events, we've bought our unique old-school entertainment to thousands of Gold Coast events since 2009.
We love attending events on the Gold Coast full stop! Firstly there's the glittering postcard of Surfers Paradise through to the relaxed vibe of Byron Bay. We've attended events on the picturesque beachfront of Burleigh and in private penthouses at Broadbeach. Regardless of your event location, if your guests can get there, we can probably get our booth there! Our award winning photo booths are the star attraction at any event. If your guests aren't on the dance floor, we guarantee they'll be in the photobooth! Our booths print traditional photo booth strips and offer a range of digital experiences. By the time they've exited the booth, guests can instantly download their photo booth sessions via our custom designed app.
What's better than a photobooth to start a party in the party capital of Queensland! All in all our team is very familiar with dozens of venues across the Gold Coast, Tamborine and beyond. Presently we're preferred suppliers for events at a number of Gold Coast hot spots. Perhaps you've had fun in our booths at a corporate event at the stunning Intercontinental Sanctuary Cove or a wedding at Summergrove Estate. At any rate from modern themes to country rustic and romantic vintage, the Gold Coast has the ideal event venue to suit your requirements. By all means we'd love to chat with you about your venue and recommend the best possible location for photo booth fun!
Above all, don't forget what really matters. Trust us, guests really don't notice if the cake table is on the left side of the room because the light is better there, or that the bow ties on the silk chair covers have an Egyptian knot or a granny knot. For that reason, focus on (and spend time and money on) the things they will remember. On the whole that will be dancing, food, speeches and photo booth hire! That is to say the entertainment part of the evening is long remembered after the table centrepieces are long packed away!
Meet the Team
Hi, we are Brett and Sam from In the Booth photo booth hire Gold Coast!
Living on the Gold Coast since 1986, we have grown up here and now raise our own family in the beautiful Gold Coast hinterland. We have partied at every venue the Gold Coast has to offer, both as guests and boothers, and have the photo strips to prove it!
Having been the premier Gold Coast Photobooth team since 2013, our team has worked with locals, visitors, corporates and even celebrities. It's very likely that you have been in our photo booth or met our team before. We love when we are at events or weddings and find our previous clients reminding us about how we helped them celebrate with our photo booth.
When we're not busy with photo booth hire, our family commitments are number one priority. Sports, drama and extracurricular activities keep our family very busy indeed. Does the Mum and Dad taxi ever stop?
Our multiple award-winning booths have captured priceless moments for In the Booth clients for over a decade, hence, we can't wait to capture yours too.
There's a good chance Googling "photobooth hire Gold Coast" led you in our direction, so please get in touch today! By all means if you have any questions, just ask. Most of the time the answer is, "yes – we can do that!"
Love for the Booths
Feedback from our clients and guests is so very important to us. Here are some snippets of what some lovely people have had to say...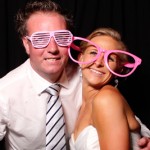 Thank you so much for our sneak peek of photos we absolutely love them. Everyone is still talking about what a great idea it was to have a photo booth and Cam and I love the photo album which has photos and messages which we will cherish forever. Huge thank you to our attendant who made our night very relaxing and lots of fun. I know all our guests had a lot of fun with you! We have certainly passed In The Booth information onto our friends who are looking at having one at birthdays and another wedding in Melbourne. So thank you again for making our night that little bit extra special, we really appreciate it.
Cameron & Brooke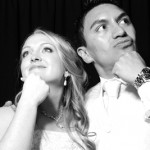 We recently held our Wedding on the Gold Coast for 130 people and wanted a real wow factor for all of our guests who were coming from New Zealand and Australia and In the Booth gave us just the solution. At first we were hesitant on having one, however every penny was absolutely worth it. Although we had a photographer there taking photos of everyone, people only wanted copies of their In the Booth photos as those were the ones they enjoyed most. It was an absolute blast on the night, and I got my money's worth with literally thousands of photos as my family from New Zealand are pretty gifted at posing, and they loved it. We highly recommend In the Booth. Awesome event made even better by this company and their service.
Tyson & Robyn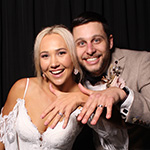 Aaron and I had Brett attend our wedding at Summergrove Estate and we just wanted to say a massive thank you to him! He made our night so much fun and had all of our guests up getting photos in the booth and making sure they were all enjoying themselves! He was so professional and full of life and energy! Having him there all afternoon was so much fun! He made us feel so welcome and all of our guests wanted him to join in on the party. He was incredible! Definitely the best at his job!
Aaron & Hayley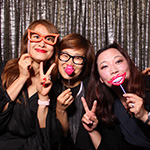 I just wanted to take the time to thank you so much for our photo booth at our recent awards evening at the QT. People LOVED the photo booth and are still talking about what an awesome idea it was and how great the photos were and how fun it was! Our attendant on the night, Brett, was super lovely and had no problem staying a few extra minutes so people could get last minute photos in. We really appreciated that. If I have another event in Queensland, or anywhere really because I think you're all over Australia, I will be sure to be in contact!
Kirrilly, 3M Safety & Graphics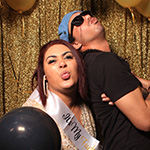 I hired In the Booth for the experience, as well as memories to be captured for my 30th birthday. It was such great fun, easy to use (especially with the help of our trusty In the Booth assistant), and amazing quality pictures. Speaking of our trusty assistant... Jake was assigned to my party. "Wow" is an understatement! He was professional, courteous, had a great sense of humour, got along well with everyone present, always had his bright smile on. Hands down... Jake is the best! Thank you so much for making my event that much better, and providing me and my guests with lifetime memories!
Casey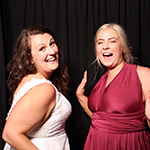 Lachlan and I just wanted to send a quick thank you email about our wedding! We had a wonderful time and everyone we spoke to loved the photo booth. The lovely attendant was absolutely amazing! He helped any way he possibly could and stayed very calm in the short period that he had a technical difficulty. Despite being hurried by a couple of intoxicated individuals he took his time to fix the booth properly and still had a smile on his face! We wanted to thank you all for providing the In the Booth Gold Coast service for our wedding and will be sure to recommend your business any chance we get.
Alexa & Lachlan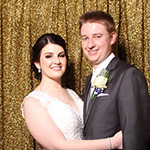 Hi guys, just wanted to send you a quick email to say thank you so much for the photo booth at our wedding. It was a massive hit with our guests and we couldn't be happier that we got it! Also can you please pass our thanks on to Nick for being the attendant for the night, he was awesome! He encouraged everyone to use the booth and helped guests with figuring it out. So thanks Nick!
Fiona & Rhys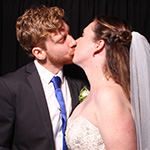 A fantastic experience all around. Brett and his team were a breeze to work with leading up to our wedding. The website was easy to use to choose our options, and there was plenty of communication which gave us a lot of confidence in the team. Michael was the booth operator for our wedding and his cheerful demeanour made the guests very happy and at ease while they were taking multitudes of snaps, Gifs, and Slo-Mo's. In the Booth really made a huge impact on my wedding and I can't recommend them highly enough!
Nicholas & Shari
On the couch with Brett and Sam
What is it you love about providing photo booth hire services on the Gold Coast?
The wedding and function venues on the Gold Coast are top notch and so varied. From beachfront weddings at a Surf Club, to farmhouse barns like Austinvilla Estate, rolling hills at Cowbell Creek and even in the rainforest at Cedar Creek Lodges at the top of Mount Tamborine. We love to see brides on their special day, walk into a room that they have only ever seen undecorated, and be blown away by the atmosphere. We're glad to see our photobooth hire Gold Coast as one of the shining stars.
Tell us about some uniquely Gold Coast touches you have seen at an event?
The beach ceremony is still very Gold Coast. Lots of relaxed weddings, and diverse venues and reception centres allow functions to be completely unique on the Gold Coast. Photo booth hire is just one element that adds excitement to every event. We'd love to see a couple fresh from the beach ceremony, walk bare feet into our photo booth!
What is the most common question you get asked about the photo booth service you provide?
The Gold Coast photo booth hire scene is busy. We go to lots of events every week. So we get loads of questions. Most often guests at a wedding want to know if there are digital copies as well as the prints! They are excited to find our mobile app can download their photo booth photos straight to their device within minutes of stepping out of the booth. Of course the bride or event organiser will always get digital copies of the photos, but guests tend to take better, more candid shots when they are blissfully unaware of the digital footprint being left behind!
What are your essential tips for organising a fantastic event?
It's a challenge we know but try to leave the stress behind. You don't want to think back on your awesome celebration as a stressful one! Make lists and delegate. Ask your Mum or bestie if they can take a couple of tasks off your hands. Trust us - you can't do this all yourself! Involving your loved ones in your planning will create special memories to look back on too.
When on the Gold Coast you must…
Get into the Hinterland. Drive up to Springbrook or Tamborine Mountain. There is loads to keep couples entertained. Wineries, breweries, gift shops, great views, amazing local food. Not to mention there are quite a few venues on the mountain if you are looking for something out of the way, but deeply Gold Coast too. With photobooth hire Gold Coast keeping us busy, you may even run into us at an event as a guest too!
Popular Spots