Photo Booth Hire in Perth
In the Booth provides premium Perth photo booth hire. We love attending events and bringing photobooth fun right across Perth including Joondalup, Fremantle, Mandurah and also travel to other locations such as Bunbury and beyond.
The Perth lifestyle is magnificent and there is something here for everyone. Whether you are planning an event surrounded by our natural beauty, historical buildings, stunning beaches or urban chic, Perth has the location and venue for you. For any celebration, we have the best photo booth hire Perth has to offer! Whether you are planning a vineyard wedding, a beachside party or city based conference, our photo booths will bring entertainment and memory making at their finest!
Meet the Team
Hi, we're Chris and Carly from In the Booth Perth! As well as running 'In the Booth' photo booth hire Perth, we are also kept busy with being loving parents to our little girl Indiana. Since bringing Australia's premium photo booth hire to Perth in late 2012 we have had consistent positive feedback from our clients. We are very excited to have our booths capture some truly magical moments at weddings, engagement parties, birthday celebrations and corporate events.
Our vision is to continue to provide an innovative service and grow our reputation in Perth by delighting each of our clients with outstanding value, professionalism, and ultimately maintaining the high standards that many In The Booth clients across Australia have already experienced.
We enjoy working with our clients to ensure that our booths are capturing their special event and would love to discuss how we can get your party started too.
For Perth photo booth hire, please get in touch.
Love for the Booths
Feedback from our clients and guests is so very important to us. Here are some snippets of what some lovely people have had to say...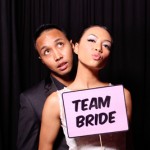 "On behalf on myself and my wife Ellysha, we would like to THANK YOU GUYS SO MUCH for attending our wedding on the weekend! Everyone enjoyed the photo booth and your video teaser is amazing! We can't wait for the folio to arrive! Hope to see you guys at more Malay weddings in Perth."
~ Hafiz and Ellysha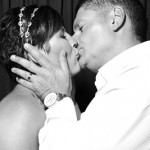 "A massive thank you for the sneak peek; it was awesome. I have posted it on Facebook and it has gone down a storm. Everyone had a great time 'In the Booth' and it was worth every cent."
~ Julie and Andy
On the couch with Chris & Carly
What is it you love about providing photo booth hire in Perth?
No day is ever the same in Perth. One day we can be boothing it up over looking the city and Swan River from Fraser's at Kings Park and the next we can be taking our photo booths out to gorgeous wineries such as the magnificent Oakover Grounds or the magical Caversham House (which is where we tied the Knot!) We are also fortunate to be surrounded by other spectacular event locations such as The Swan Valley, Fremantle, South Perth, Cottesloe, Hillarys Boat Harbour, Nedlands, Darlington, York and the endless array of top venues in Margaret River and our South West region.
Tell us about some uniquely Perth touches you have seen at an event?
The uniqueness of Perth is demonstrated beautifully by the diverse range of venues we have at our finger tips. All venues are special in their own unique way, however we have had some especially interesting backdrops for our photo booths at uniquely WA venues such as The Aquarium of WA, The WA Museum and the Perth Zoo!
What is the most common question you get asked about the photo booth hire you provide in Perth?
We are regularly asked 'can we please have your photo booth at this venue we have booked and will it suit the theme?', or, put in other ways: Does it go up stairs? Will you fit through a small door frame? Will you travel to Margaret River? Can you match the theme of my wedding? We get asked these questions all of the time and the truth is we love a good challenge! The other great thing is, because of the unique nature of our photo booths, we can get into most hard to reach locations and have yet to meet an event theme that we haven't been able to tweak our many customisable options to suit.
What are your essential tips for organising a fantastic event?
Try and relax and enjoy the moment with your closest friends and family. Stick to your budget and think outside the box for creative ideas and of course hire a photo booth! A photo booth will provide the fun, get guests interacting with each other and provide you with long lasting memories after your event.
When in Perth you must…
Take a drive along our fantastic coastline and enjoy the gorgeous beaches and weather. Then head to the Swan Valley to experience the delights of local produce and vineyards and some of the best restaurants in a picturesque setting. Head up to the Bickley Valley, through Lesmurdie, Darlington and Kalamunda to see some of the best views and meet some of the family operated venues.
Popular Spots