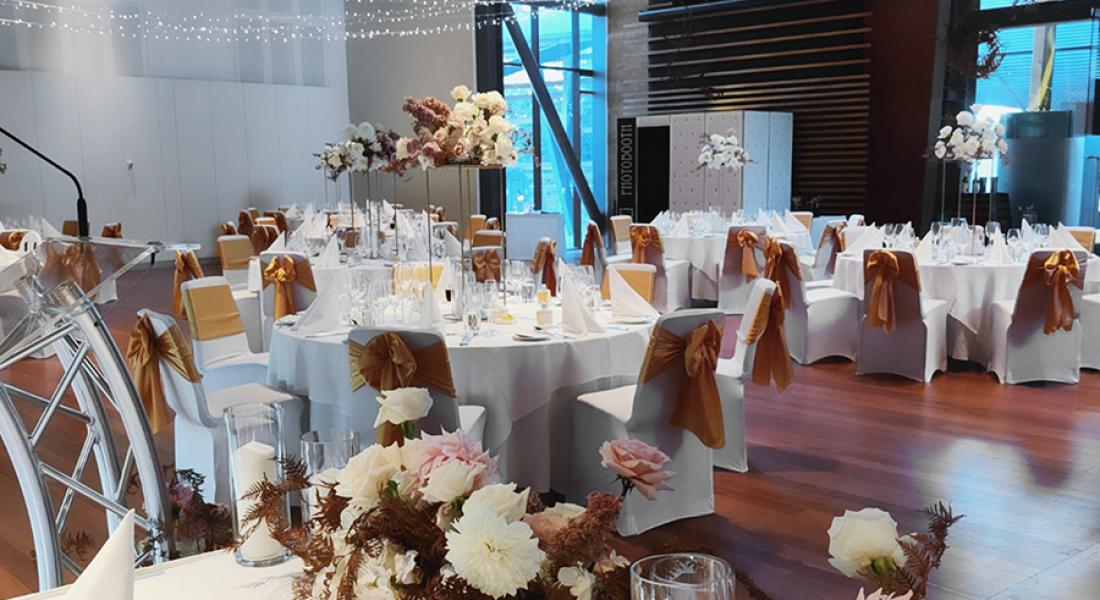 Un-invite guests wording for your wedding
On 21 Jan | '2021
If you're facing how to un-invite guests from your wedding or event, you're not alone. 2020 and 2021 couples have faced seemingly insurmountable challenges. Brides and grooms are looking down the barrel of their third or fourth postponement. Date availability is paramount and problematic. If that weren't enough, now pen has to be put to paper to un-invite guests including dear family and friends to their weddings.
Our customers tell us how to politely downsize their guest list due to COVID restrictions is one of the most stressful items on their to-do list. Try not to put off cutting your guest list until the last minute if your wedding date is looming. Remember, the more notice you can give your guests to adjust their plans the better.
We've put together some steps to help you beat the guest restriction blues. Lastly, we'll look at some wording to get you started with sending your message out.
Downsize your guest list
Make a time to sit down with your partner without distractions or interruptions. Make a list with five columns: Essential Family; Important Family; Essential Friends; Important Friends and Acquaintances. Essential Family and Friends are the people you can't picture your wedding without. Important Family and Friends are the people you'd love to have with you. Acquaintances are the people you can catch up with after the wedding. Other important facts that will help your decision making are if guests have to travel from out of state or are 'high risk'.
Next, go through your guest list and add each guest to one of the columns. Deciding which column may be difficult. Remember to be patient with each other as you're bound to have differing viewpoints on some guests. However, it's important to stick to a system with the goal of getting your guest list where it needs to be. You've decided on your new guest list when the first four columns add up to your total permitted guest number.
Notifying your guests in a timely manner
COVID is not considerate and the best laid plans may still go awry. Rest assured your family and friends know this and will understand. Just do everything you can to give your guests as much notice as possible. For example, some guests will be organising baby sitters and booking accommodation. Keep your communication open and consistent so guests can adjust their planning as required.
Keep it private and personal
Be sensitive when it's time to officially un-invite guests. This is not the time for group messages and chats. No one wants to be in the un-invited list no matter the circumstances. Remember your guests' feelings and know they will be emotional if they can't attend your special day. Here are some ideas that will communicate care to your uninvited guests:
1. Ask your stationer about special cards that match your wedding stationery. (Your stationer is sure to have some fantastic ideas about wording too).
2. Look online for a fun COVID-themed greeting card or design your own. Write to each uninvited guest personally. There's nothing like a hand-written note.
3. Text your guests individual heartfelt messages. Make sure you draft it first so you don't hit send by accident before you're finished. Perhaps include a treasured photo of you together or a quote that communicates how much you care.
4. Call each of your guests individually to explain the situation. Your voice will convey so much more than a written message can.
5. Include a link in your digital message to your wedding website or Zoom link. Include a countdown on the page to your wedding ceremony start time.
6. Send your guests a small gift box if there's room in your budget. Home-made gifts will be even more special.
How to un-invite guests due to COVID
Wording Option 1
Dear [Names],
For everyone's safety, we have had a change of plans for our wedding. Sadly government advice over our wedding date required us to limit our guest list to an intimate number. This has been heartbreaking for us and we're so sorry we can't have you with us on our day. We'll be in touch as soon as we can to celebrate with you personally!
With love,
[Couple Names]
Wording Option 2
Dear [Names],
We have had a change of plans for our wedding which has meant limiting our guest list to family only. This has been one of the hardest things we've ever had to do as we think of you as family! Thank you so much for your understanding during this unprecedented time. We can't wait to celebrate with you as the new Mr and Mrs soon!
With love,
[Couple Names]
Wording Option 3
Dear [Names],
Our hearts are heavy as we write to let you know we have had to greatly reduce our guest list to be in line with government advice. We 're so sorry we can't celebrate together as we'd hoped. However, we'd love it if you would accept this virtual invitation to our wedding. It would mean so much to us if you're able to be with us on our special day! We are so thank full for your unconditional love and support.
With love,
[Couple Names]
Wording Option 4
Dear [Names],
Due to the events of COVID, we have made the heartbreaking decision to reduce attendance on our wedding day in line with our venue's new restrictions. You can bet that a massive party is on the cards for a future date! We will be in touch as more details unfold. Thank you so much for your care and understanding.
With love,
[Couple Names]
More than words
There are no words to convey how upsetting planning a wedding is during COVID19. Sometimes just the right quote can help the words flow and set the tone.
Distance is just a test to see how far love can travel
Absence is to love what wind is to fire. It extinguishes the small and inflames the great.
We can't wait for the day when we don't have to miss you anymore.
No ordinary love.
Distance gives us a reason to love harder.
Always together, never apart. Maybe in distance but never in heart.
Distance means so little when someone means so much.
Love > Distance.
Guest Cam: Zoom for Photo Booths!
Couples everywhere are looking for ways to include their un-invite guests in their wedding. Zoom is an invaluable tool for including those that can't be there in person. It's understandable that guests at home will feel a little left out of proceedings. Enter, Guest Cam!
Exclusive to In the Booth, Guest Cam allows guests to take photos via our free app which will print out of the booth instantly! Even your guests that can't attend can join in the fun. They can snap photos wherever they are and imagine the fun when they 'magically' arrive in the booth's print collect tray! Guests at home will only be limited by their creativity as they send their photos and congratulations to the special couple. Guest Cam print branding will perfect match your traditional photo booth prints too for a seamless finish. Nothing can replace your loved ones attending your wedding day, but Guest Cam will bring them closer.