How a Photo Booth Can Help Announce Your Surprise Wedding
On 25 Apr | '2019
As each year passes, we see surprise weddings becoming more and more popular. Whether it is to save yourself from some of the fuss a traditional wedding entails, or because you just want to do something a little bit different, a surprise wedding will be a memorable event for both yourselves and your guests alike.
Decoy Event
To ensure all of your nearest and dearest are present for your special day, it's always helpful if your decoy event is another big milestone sort of an event, such as your engagement party or yours or your partner's 30th birthday. Really try to emphasize that it will be a party not to be missed, without giving away too much or causing any suspicion. Ensure you give plenty of notice to your guests also, as they may be less likely to change pre-existing plans for a 28th birthday party.
Style & Dress Code
The style of the cover event should match that of your wedding. A casual housewarming party is fine if you're going for a casual, low-key wedding, but if you still want a formal affair, you may need to get creative with how to achieve this. Think a "Hollywood red carpet" theme if it is a party that guests may otherwise choose to wear jeans and a nice top to.
Timing
Time is of the essence for a surprise wedding – you want to make sure all of your guests are present before the big reveal as you may only have your celebrant and other vendors for a short time. Perhaps include on the invitation to arrive by 6:45pm as dinner will be served at 7pm (or whatever your timing may be) as this will give a subtle hint that it will not be acceptable for them to casually stroll in at 8pm.
No Shows
As much as you would like everyone that is special to you to be in attendance for your exciting surprise, be prepared for the possibility that some people may not be able to make it. If an incredibly important guest lets you know that they are not able to make it and some gentle hints don't quite do the trick, you may need to consider letting this person in on your secret to ensure they can be there for you.
Who should you tell?
Select people who know how to keep a secret! When you begin planning, you may choose to let a few people in on the secret. Some couples choose to let their parents, immediate family and a select few friends know beforehand. This could prove very beneficial if you feel that they may not take the surprise well or will be upset that they did not know beforehand. It's always handy to have someone to help pull off the surprise!
Videos & Photos
However you choose to do the big reveal, it is absolutely crucial that you have both photos and a video of this moment – from as many perspectives as possible! This will undoubtedly be one of your favourite memories from the day and one you will love to look back on. If you're having an In the Booth photobooth, ask the attendant beforehand if they are able to take a few sneaky guest cam shots via our exclusive In the Booth app!
The Big Reveal
There's so many fantastic ideas for how you can communicate the surprise to your guests. From the sudden pop of confetti cannons to fireworks or life sized light up letters telling out 'SURPRISE'…some additional chalk board signage to announce to guests what's happening…it all adds to the frenzy of fun!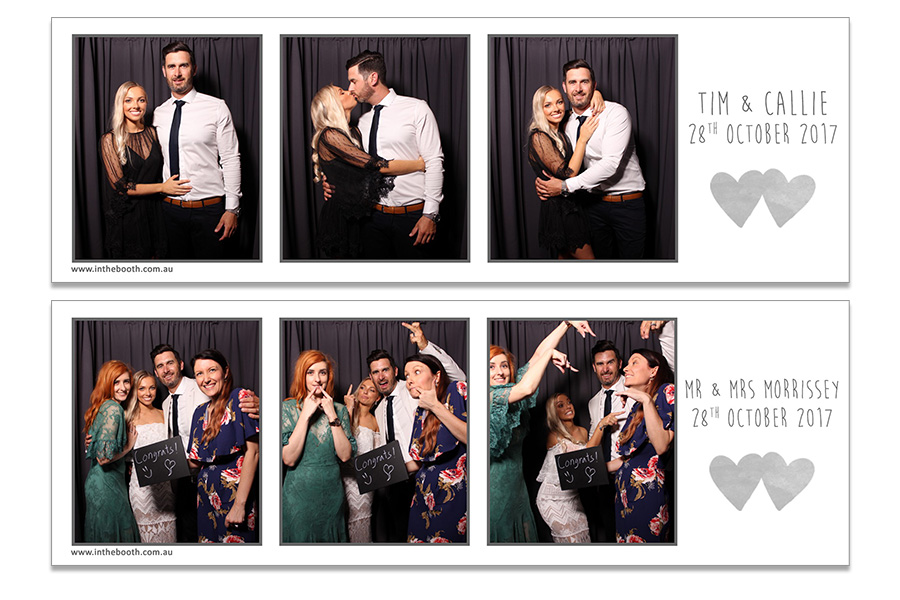 Photo Booth Prints
Let us know that you are having a surprise wedding and we'll gladly help you out! Many of our customers choose to throw their guests off the scent by planning their engagement party to turn into their surprise wedding. To kick off the 'engagement party' festivities, the booth can print with the couple's engagement party details. As soon as the cat is out of the bag, we can deftly change the booth to begin printing photo strips with the couple's wedding details! It works like magic and the excitement radiating from guests once they realise the change is awesome!