Gatsby Theme Photo Booth Hire
On 26 Sep | '2019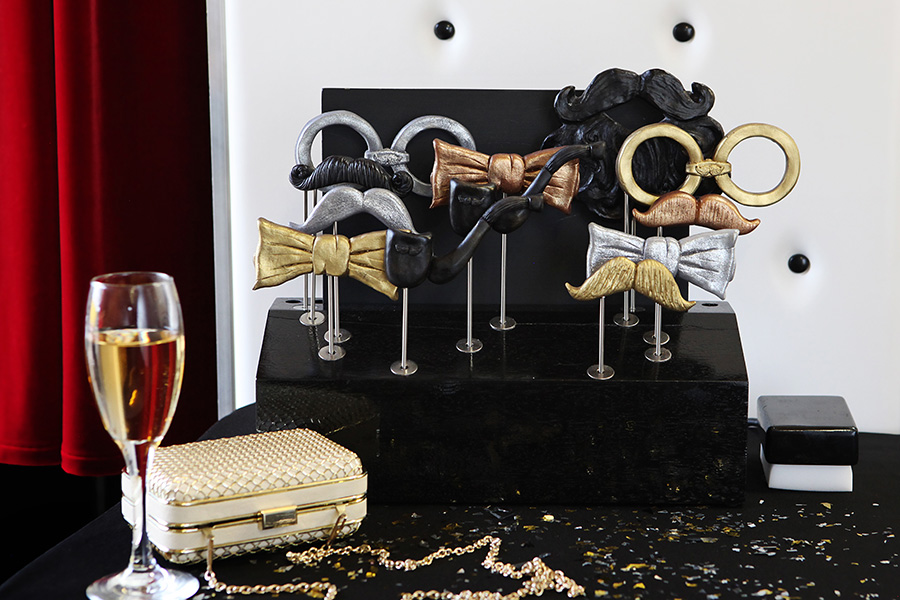 Gatsby Theme Photo Booth
The 1920s were characterised by glitz and glamour and bling, with an elegant twist. Photo booths themselves originated in the 1920's. So it only makes sense that Gatsby theme photo booth hire is still the rage today! With a revolution that abandoned fashion such as constraining corsets, the 20s were not called 'Roaring' for nothing. They were the era of the ultimate party, where social norms were challenged and the focus was on ornamentation. If an exuberant celebration with a touch of elegant glamour is what you are looking for then a Gatsby inspired do might be just right for you! Our photo booth's retro feel teamed with the modern digital experiences is the perfect way to capture some fantastic memories of your event. Our Glam prop kit and gorgeous vintage prints designs will ensure your photobooth fun ties in seamlessly with our Gatsby theme photo booth hire! In the Booth photobooths make a striking impact with their monochrome finish. You can choose from the finishing touch of a black or red theatre velvet entry curtain. When it comes to photo booths, it's all about selecting the perfect backdrop! Our wide range of glittering gold, silver and black backdrops with various finishes are sure to wow your guests. Imagine how thrilled they'll be when their photo booth prints arrive in the chute!
First Impressions count
A printed or digital invitation is generally the first impression your guests have of your party! If you're intending on having your guests dress up in Gatsby-inspired attire, ensure your invitations go out with plenty of notice. At least 6-8 weeks prior to the event should allow enough time for your guests to arrange a fantastic outfit as well as organise a babysitter if required 😉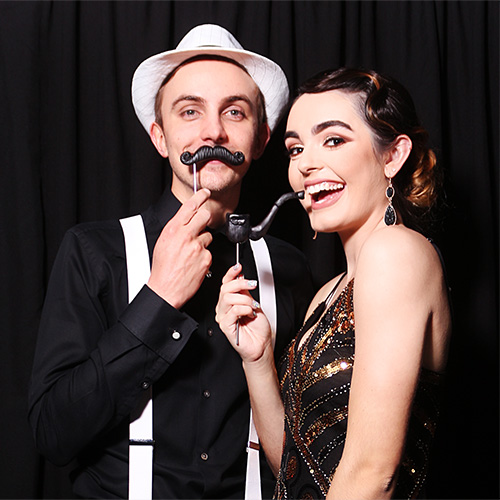 The 1920's Gatsby era was all about glitz and glam so this is the time to go over the top with your invitations! Metallics, gold, silver and black are a Gatsby party's best friend. Think symmetry, geometric designs and modern sharp line fonts. Mixing up the fonts will result in a typical 1920s poster-like effect. There are many customisable designs available online, but if you do want to make something yourself, search for 'art deco' graphics on a stock image site like iStock Photo or Shutterstock as a start. Dafont.com is a great resource for fonts that are free for personal use. Search 'Retro' for a good range or start with Andes, Reisling, Upper East Side, or Noir-et-Blanc for fonts with a 20s flavour.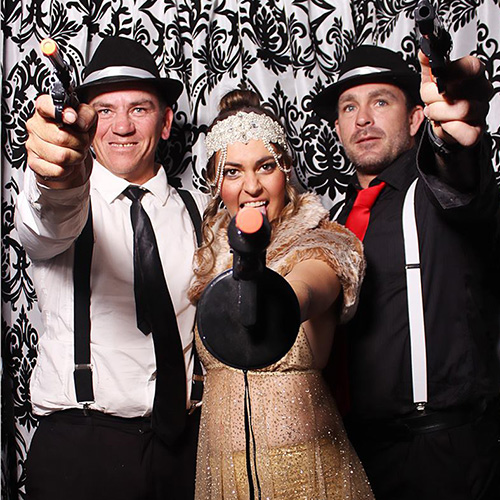 Set the Scene
As the era of Art Deco, the main characteristics of the 1920's were bold colours, symmetrical, geometric design and lavish details. Think black, gold, silver and glitz, sharp, modern lines, and sequins, feathers, rhinestones, strings of pearls and detailed beading. But it's not all about the top end of town! The 1920's scene was also famous for the underworld – guns and theft ran riot! Consider adding in a few fun props to encourage a bit of good-hearted debauchery from your guests 😉 Money, guns and feather boas all played an important part in the lower end of town back in the 20's!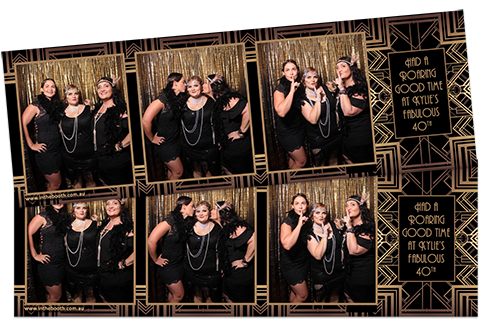 Dress to Impress
For anyone who has watched 'the Great Gatsby' (and if you haven't, drop everything and do so immediately!), it is abundantly clear that dressing with glitz and glam is not merely a suggestion but an absolute must! Again, this doesn't need to be expensive. The Gatsby theme isn't going anywhere fast and there are plenty of affordable gastby-esque frocks available, especially online.
If you're on a tight budget and are open to a bit of DIY, grab a plain black dress and add some fringing from Spotlight for a simple yet effective look. This can then be dressed up with a DIY feather and sequin headpiece and some affordable costume jewellery.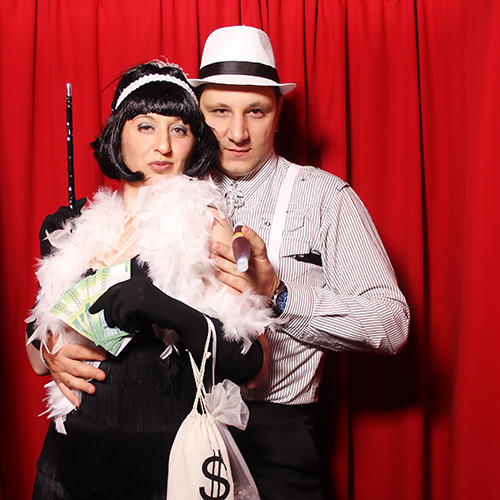 For gents, it is even easier! Grab your favourite (or only) suit jacket, add a bowtie and either style hair with a tidy side part or pop on a top hat. If it's too warm for a suit jacket, wear your best button up shirt and add some suspenders. Don't forget to shine your shoes!