Flower wall hire or photo booth hire?
On 24 Sep | '2020
Flower wall hire popularity has exploded in recent years. It makes sense. After all, weddings and flowers go hand in hand! A flower wall usually consists of a sturdy frame and stand. Flower wall hire can work as a photo backdrop or just an eye-catching addition to your wedding styling.
Flower backdrops look best placed against a solid wall. The reverse side of the wall won't look as pretty as the front, so this hides the back of the wall. In addition, it's best practice to have at least 3m x 3m of space in front of your flower wall for guest traffic. You will need to allow room for guests to queue and take group shots.
It may also be worth considering flower wall hire behind your cake table. The cake is one of the most photographed elements at your reception! A glass door behind your cake may create unsightly reflections. A stunning flower backdrop will highlight your cake and frame photos to perfection.
Deciding that a flower wall is right for you is only the first step! After that, you'll need to decide what it's going to be used for. For example, as a backdrop to your cake as previously noted. However, if you'd like the flower wall to form your photo booth backdrop, you've got a bit more work to do! Are you going to hire a professional photo booth service or DIY?
Rest assured In the Booth has the ideal inclusion to partner with your flower wall hire! Guest Cam has become almost as popular as our booths themselves. Your guests can enjoy the timeless fun of a traditional booth in conjunction with Guest Cam. We're not talking about a digital only service. On the contrary! Guest Cam includes unlimited prints for your guests from the booth. You guests simply access Guest Cam at any time during your reception via our free app.
With flower wall hire coupled with Guest Cam and our traditional photo booth, you've got unlimited fun! Guests will enjoy capturing Guest Cam prints in front of the flower wall and photo booth sequences inside the booth.
Instant print cameras may seem like a good solution for your DIY booth but take care. The film cartridges are known for being very expensive per print. Also, who is going to be responsible for checking and re-stocking the film during your reception? You want to avoid a situation where you have no photos with your flower wall hire because guests had a technical difficulty. DIY photo booths often don't include a digital copy. Remember, you may never get to see the photos that were taken if your guests take them home.
Daniel & Lisa's Flower Wall Hire and Guest Cam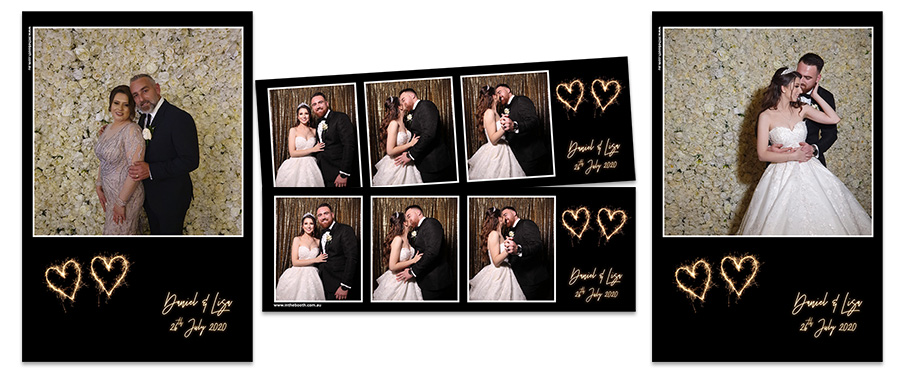 Daniel and Lisa's wedding at the stunning Aria Wedding Venue did just that with their photo booth hire and flower wall combination. We loved their combination of stunning ivory flowers and gold backdrop and print design accents.
Talks to us today about your ideal photo booth and flower wall combination!