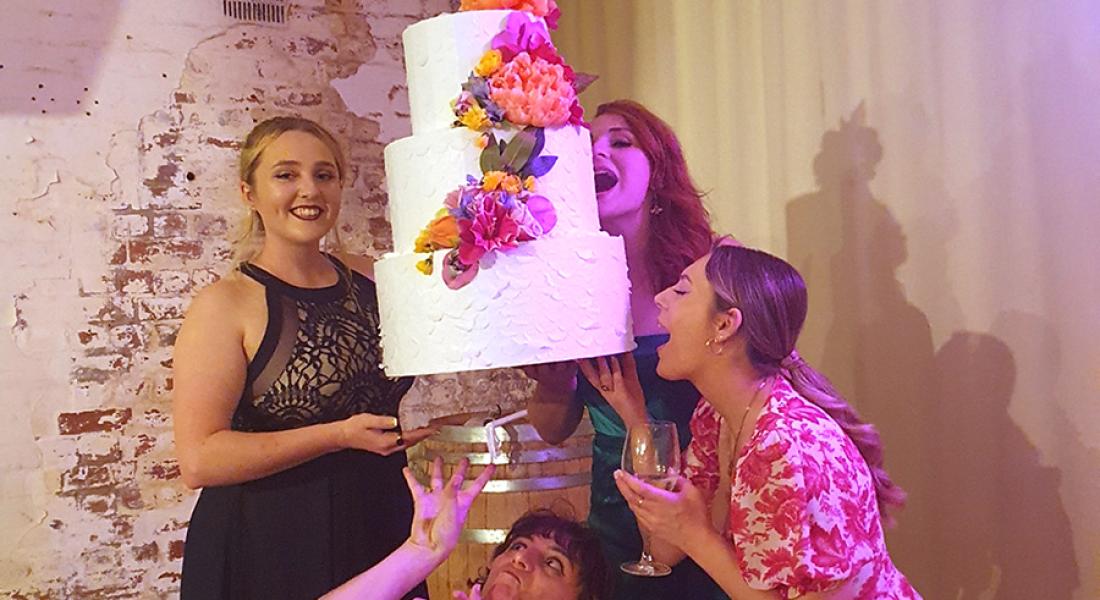 Event Entertainment Ideas for Weddings & Parties
On 7 Apr | '2022
Event entertainment. You can't really have a wedding or party without it! Otherwise, what will your guests be doing? There's only so much time you can spend eating and mingling with people at your table! Memorable event entertainment engages guests and has them ending the day saying it was "the best night ever". Your first stop is finding some great ideas that work with your event type. Today on the In the Booth blog we've gathered some event entertainment ideas that we've seen firsthand be a huge hit!
A pumping dance floor
So we had to put this one first and foremost! A great night out is often associated with a fun time on the dance floor. Don't leave this one up to Cousin Tom and Spotify. It's time to bring in the professionals. An expert DJ will read the crowd and adjust music to keep your dance floor full of energy.
A band
Think about the option of hiring a band if you'd like to take your musical entertainment up a notch. A band interacts with the crowd and brings live sound quality to your function. For that matter, a band starting up after dinner helps to change the mode from 'formal' to 'party' in an instant!
A professional artist
How about event entertainment that also leaves you with a treasured keepsake? Consider hiring an artist for your day! Some professional artists now make themselves available for event work. We attend weddings where an artist is painting the ceremony scene or receptions where guests' caricatures are done. No guest can resist a peek at what's being created!
Bridal party flash mob
This one takes a bit more planning but is so worth the expressions on your guests' faces! There are endless resources online to learn your own simple flash mob dance. Alternatively, hire a choreographer to work out a simple routine and teach it to your bridal party. It can be a super fun way of getting everyone together for some fun in the lead up to the day. Imagine everyone's delight when the bridal party suddenly take to the floor!
Pinata
Who doesn't love a piñata? We've loved seeing them at some recent weddings. The whole room will be laughing, without fail! Tom and Emma below filled theirs with glow sticks which made an awesome addition to the dance floor. A piñata is also a cost-effective solution for gifts for your guests. Instead of an expensive gift per place setting, guests can enjoy grabbing some inexpensive treats from the piñata. (What's more, how fun are Tom and Emma's piñata Guest Cams?!)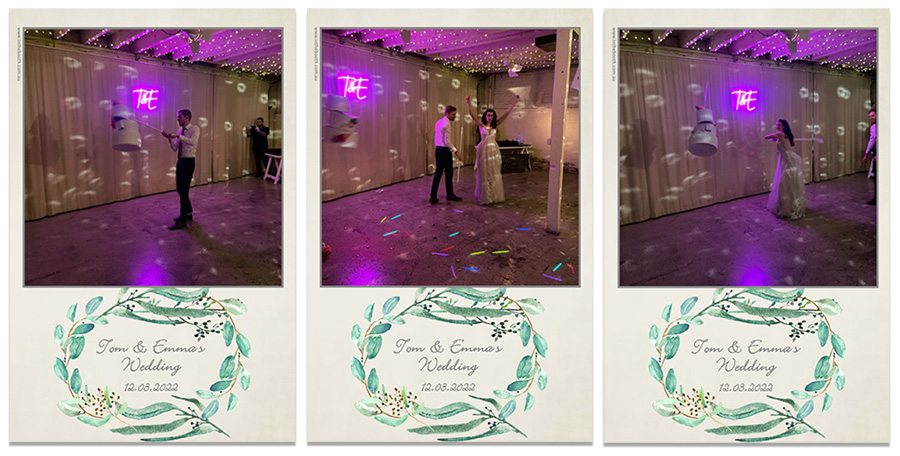 Dance off competition
Let's head back to the dance floor for this one. You'll need either your MC to lead the way or a trusted friend with an outgoing personality. Adding some competition into the dance floor can be hilarious both for the dancers and those watching from their table.
Bonfire and marshmallows
What better end to an evening than a bonfire and marshmallows (if your venue has the space of course). A few packets of marshmallows, sweet biscuits and chocolate make the ideal midnight snack before heading home.
And the best event entertainment of all….a photo booth!
Last but definitely not least, you knew we couldn't leave this one off the list! We always tell our new customers, the best way to understand the booth is to go to an event with one. You'll see the walls come down as guests get drawn in by the invisible magnet that is a photobooth! One thing to consider with most forms of event entertainment is that once the night is over, so is the fun. The beauty of a photo booth is that the fun lives on in the printed and digital memories. Your guest book will be the first photos you have of your special event and you'll have them in hard copy to treasure always.
Lastly, if you're looking for some more great event entertainment ideas? Check out our Pinterest page!