End of Financial Year Celebration Photo Booth
On 13 Jun | '2019
EOFY Celebration Photo Booth Hire
With the end of the 2018/19 financial year fast approaching, many businesses are beginning the process of planning their end of financial year celebrations. Depending on the business you run, your EOFY celebrations may include a sale and fun day for your clients, or it may be an EOFY party for your staff to celebrate the hard work everyone put in over the last 12 months. Regardless of the size of your business, the importance of planning a well-thought out team event is priceless when it comes to team bonding. If you're looking for something different to the standard pizza lunch with fizzy drinks or cheap wine, you have come to the right place!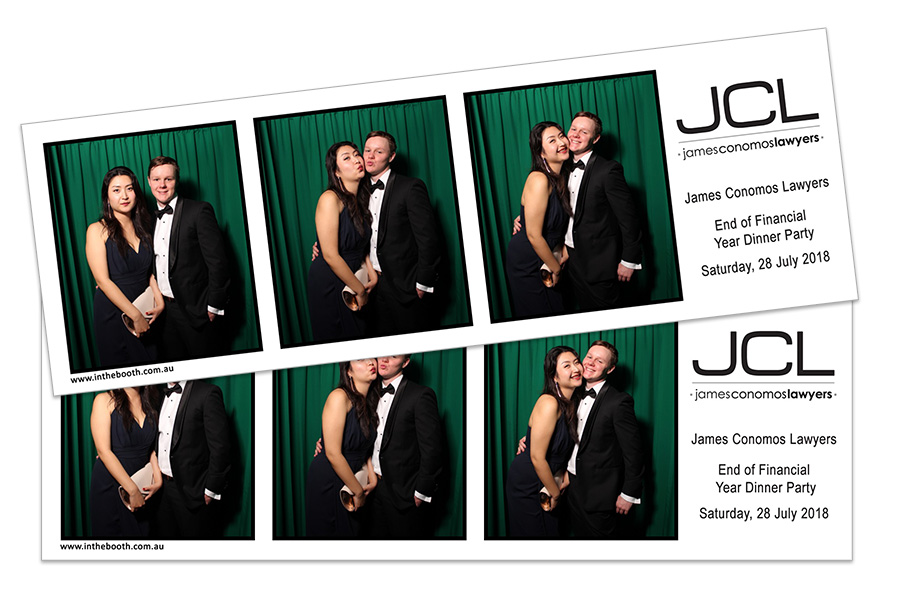 Christmas in July
Embrace the cooler weather and opt for a Christmas in July theme! Hire a great venue with fireplaces or space heaters, have your staff don their winter best or even head down the road of the "ugly sweater" dress up, with a special prize for the winner. Serve hot cocoa, Hot Toddy's, spiced rum and mulled wine to stick with the winter theme. Have warming foods on the menu such as hearty stews, soups or curries. Extend the Christmas in July theme to your In the Booth photobooth custom print design – you'll be sure to see these prints on the desks of your staff for many years to come!
Not just your typical office lunch
If you're opting for an in-house celebration that allows business operations to continue without anyone missing out on the fun, consider a large grazing platter in the lunch room or board room, with staff able to duck in and out as required throughout the day. To add a bit of 'out of the box' (but inside the booth;) ) fun, why not hire a photobooth for the day for staff to enjoy in their breaks? If you need some updated staff photos, the booth is a great place to get some of these too! Our photo booths use digital SLR cameras with diffused studio lighting and flash, so you're guaranteed fantastic high quality shots that can be blown up to poster size, if you wish!
Breakfast BBQ
Many businesses opt for a breakfast BBQ for staff and contractors in order to celebrate the end of the financial year without impacting on already very busy schedules. Start the breakfast a couple of hours before office hours begin to ensure your staff get a delicious big breakfast in before starting their work day. Don't be alarmed if you witness increased productivity – a big BBQ breakfast is much more satisfying and wholesome than the energy drink or caffeine breakfast many busy people resort to in the mornings. At In the Booth, we aren't afraid of early mornings and would love to help you celebrate with a photobooth at your BBQ.
Family Fun Day
We all know that your staff members' families are just as much a part of your business as the staff members themselves. They are present for their loved one at the end of a tough day and they often sacrifice family time for work functions and late nights in the office finalising projects or reaching end of month targets. Why not get all of the families together and put on a big family fun day? This gives all of the families an opportunity to meet and serves as a fantastic bonding opportunity for your team.
Incorporating a photobooth into your event ensures all of your staff can capture some great photos together, but also some lovely (and fun) family photos that your team can pop on their desks to help them smash goals throughout the next financial year, too.
If you would like to know more about how a photobooth can enhance your end of financial year celebration, please don't hesitate to get in touch with us today.