Dogs at Wedding Ideas
On 2 Jun | '2022
Dogs at wedding ideas – is there a word limit on this blog? 😂 We adore how much fun dogs bring to weddings we attend with our photo booths. Needless to say, your pampered pooches are always welcome in our booths! Some of our favourite images are dogs who end up being cajoled into the booth for a snap with guests!
We're full of dogs at wedding ideas and tips because we've seen them all! Today on the blog we'll break down some of our favourites. The trick with involving animals in your day is proper planning. Items that seem like insignificant details can cause unwanted sticking points on the day. A great wedding day is an orchestrated affair! Think of it like a stage show. All the audience sees is a beautifully lit stage with cast members in place. However, behind the scenes is a huge cahoot of riggers, lighting and costume staff all doing their part for a perfect production. A wedding day is the same. You need to ensure you have enough support behind the scenes looking after the details.
Nominate a Woof-Watcher!
It's a well-known fact that dogs can get a bit excited by lots of new smells, locations and people! You will be too well-dressed and pre-occupied to be wrangling dogs on your day. Nominate someone you trust to look after your furry friend and return them safely home afterward. Alternatively, it can be well worth hiring a professional.
Time for walkies
Ask a family member to take pup for a good walk on the morning of your wedding day. It can really help if some of that restless energy is burnt off by 'I do' time! A well exercised hound can help keep manners in check when it's time to be an extra good boy or girl!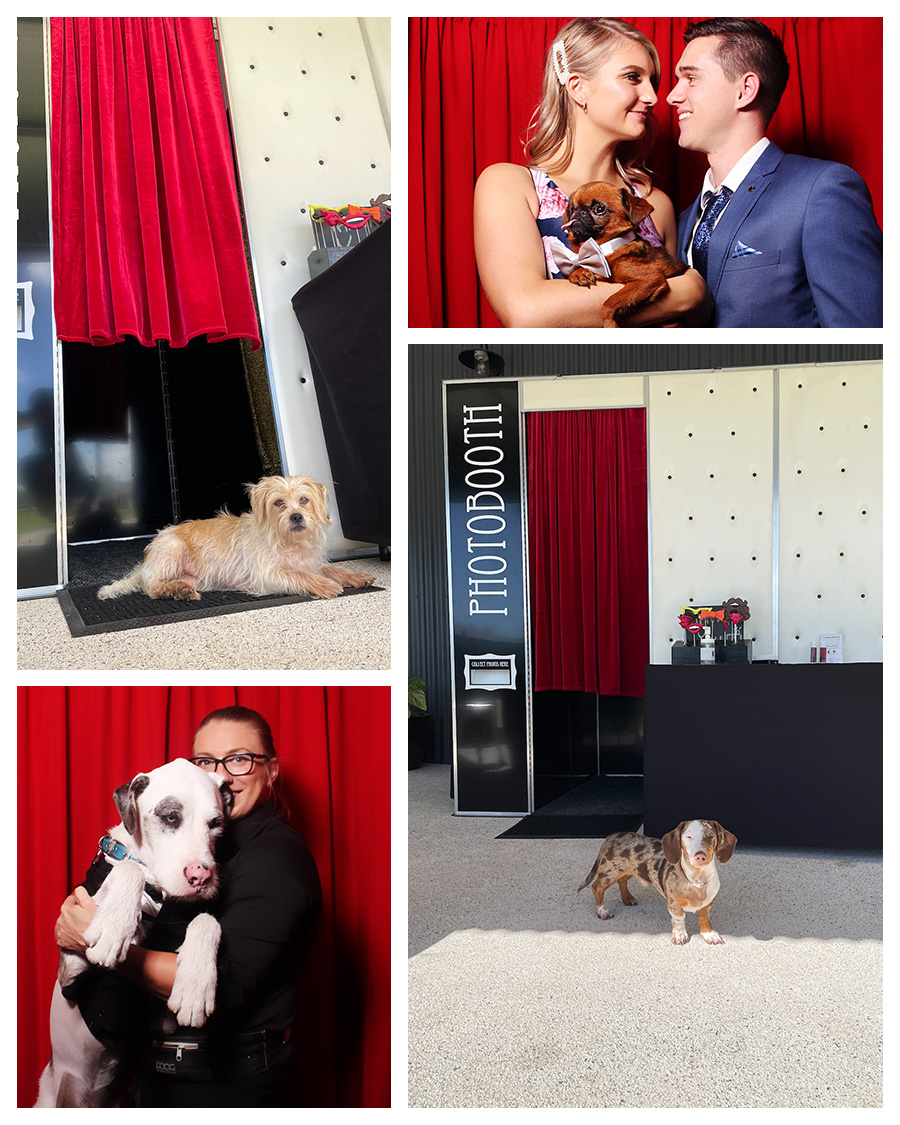 Invest in some special bling
There's nothing like a wedding for new duds so don't forget your best friend! Collars and leads look amazing with some specially added bling. What about some sweet flowers to match your bouquet? Of course, don't forget the endless outfit options you can find online – oh the cuteness!! Just remember to choose something chew-proof.
Dogs at wedding ideas for your reception
Why not plan to have your dogs come along to your wedding reception too? Make sure you check with your venue regarding any restrictions for animals. Outdoor wedding receptions and dogs go hand in hand (or paw in paw!). They have a great time sneaking treats and 'visiting' guests. Essentially, everyone loves dogs and they just bring a smile to every wedding guest table with their antics.
Pack the snacks
Pre-planned snacks are essential. Dogs are just like us – everyone loves a snack! Another key point is treats may help keep their manners in check. A hungry pooch is an unhappy one! A sweet food and water bowl can even be themed for your day – it's all in the details guys!
Make sure you take your dog into the photo booth!
Last but not least, the more the merrier. Imagine a sweet snap of the newlyweds with their "first" baby! Our booths easily fit a crowd so even large dogs aren't a problem. Additionally, dogs can stand or be held comfortably as there's no seat. Perhaps you could record a thank you video to send out to your guests after your wedding including your favourite furry friend too.