Green Screen

Take your guests wherever you'd like them to go with In the Booth's Green Screen service – all without leaving your event venue!
Our Green Screen service allows a digital backdrop to be superimposed behind the guests as they use the booth. This could be a famous landmark such as the Eiffel Tower or the 'Welcome to Las Vegas' sign, or a particular element that relates to your function. By combining this with custom graphics on the instant prints, the possibilities are endless and we can create a completely immersive experience for your guests.
Have you ever been on a cruise ship and had your photo magically appear in front of different backgrounds? Perhaps you've visited an exotic location like the Grand Canyon or even somewhere closer to home like Outback Spectacular on the Gold Coast. All these services use Green Screen technology to capture guests in front of their desired scene or background. At In the Booth, we simply bring the Green Screen to you!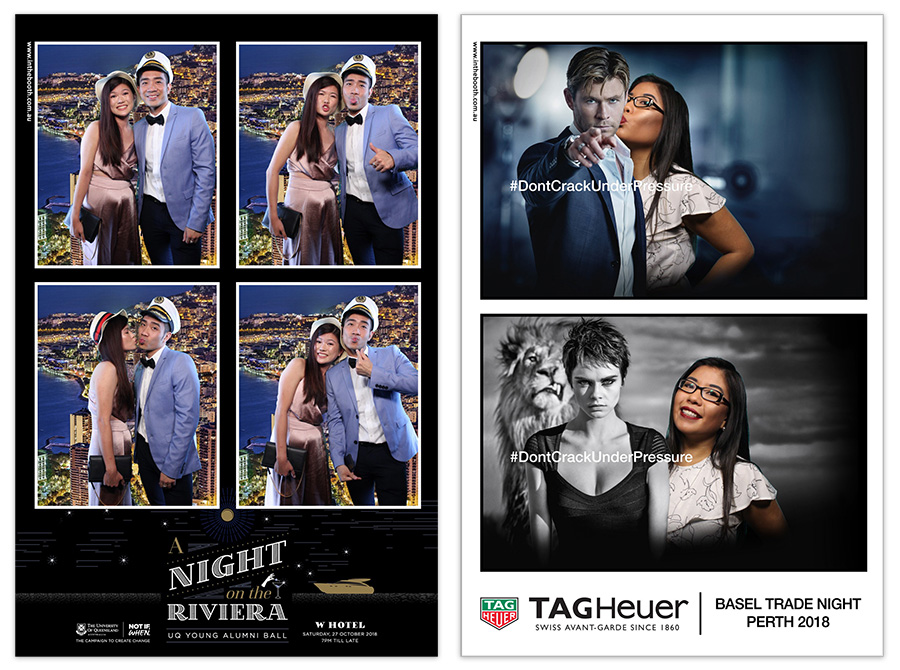 So how does a Green Screen photo booth work?
Your guests will enter the photo booth as normal and stand in front of a green backdrop (hence the name Green Screen!). The booth session will happen as normal and then, using some specialist software, the booth removes the 'green' image behind your guests and replaces it with your image of choice. Green Screen is only limited by your creativity and choice of image. You may like your guests to appear on a magazine cover or in the middle of the jungle. We even have the option of using several different images so your guests' magically change their location with each click of the camera!
What kind of background can we use with a Green Screen photo booth?
Anything you like! We have created media wall effects for brand launches and had guests driving cars or visiting exotic locations. It all comes down to what you would like the outcome of your Green Screen activation to be. By incorporating elements of your print design, we can include layered effects such as guests sitting in a roller coaster or swimming under water. The beauty of our Green Screen service is that we don't require any additional space in your venue than our standard 2.3m x 1.3m photo booth footprint. All the magic is created within our booth by your guests!