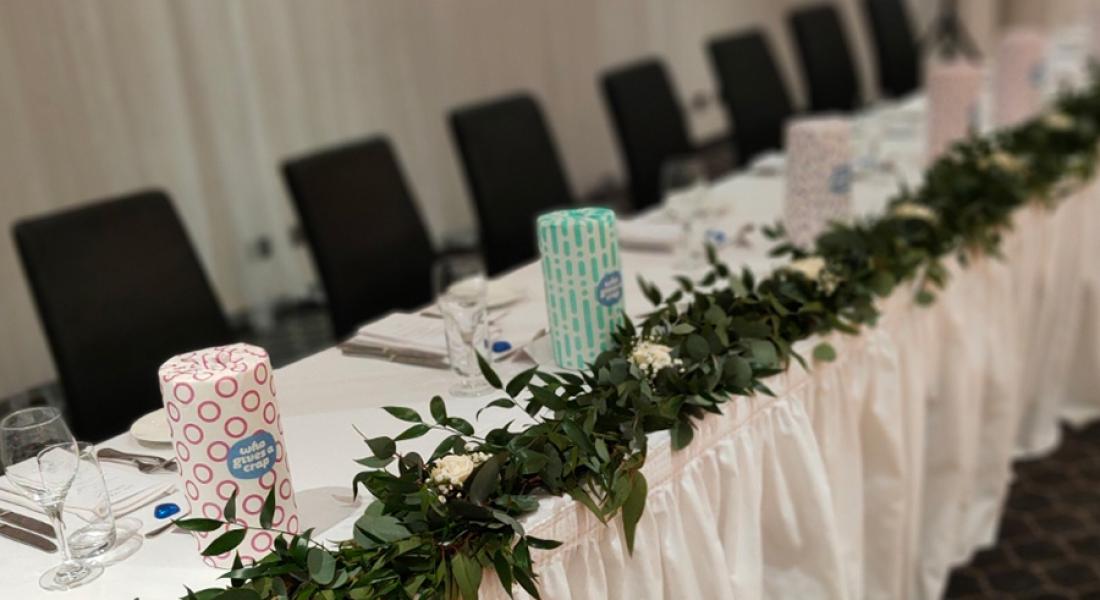 COVID Theme Celebrations
On 8 Oct | '2020
Has your 2020 been one for the books? Us too 😉 What way to better kick it in the boo-tay than with a COVID theme for your wedding, party or celebration! What's more, we don't mean COVID has to overtake your celebration. After all, we're all ready to see the rear end of it. However, laughter is the best medicine! A bit of light hearted fun-poking at the pandemic that has stolen so much will address the elephant in the room. There have been countless weddings and celebrations postponed world-wide. So there's one thing for sure, you're not in it alone. We've out together some ideas that will show COVID who's boss with a COVID theme that won't overtake things.
COVID Theme Ideas
Pandemic Party
Maybe you're just ready to party for any reason! What about hosting a tongue in cheek Pandemic party (in line with your state's gathering guidelines of course). We're talking a piñata shaped like the virus; jelly shot syringes and (of course) plenty of bottles of Corona beer! Guests could wear Hazmat suits and masks – don't forget the air curtain to "sanitise" them on the way in! A toilet paper roll cake would be the ideal finishing touch for your COVID theme.
Hospital Theme
What about a good old doctors and nurses theme? Doctors and nurses photos look awesome in the photo booth and costumes are easy to come by! Lollies aren't lollies, they're antibiotics. Drinks aren't drinks, they're cough mixture. Find some shallow clear dishes, sour worms and jelly and voila, you've got a lab!
Styling Ideas
If you'd rather a less obvious COVID theme twist to your celebration, try these ideas on for size:
Battery lights in empty Corona beer bottles
Masks as take-home gifts
A beautifully styled sanitiser station
Colour coded bracelets for social distancing
Custom toilet paper as gifts
Fun Signage
Lastly, fun signage has exploded in popularity in recent years. Great signage keeps guests informed, entertained and sets the feel of your event. Is your celebration funny, classy or serious? You can communicate your COVID theme with the following signage ideas. So many ideas are interchangeable depending on the type of celebration you're hosting. Don't forget, we can also incorporate your custom wording into your photo booth prints!
Quarantine couldn't stop the Smith's.
Our love survived a pandemic!
insert text
Quarantine partners for life
The one where the wedding was postponed because of Coronavirus (for Friends fans!)
Welcome to our Happily Ever After party
Almost Wife/Almost Husband.
Distance is temporary. Love is forever.
We isolated together so marriage will be a piece of cake.
Remember how we used to eat cake after someone had blown on it? Good times.
Print COVID theme memes and put them in frames around the room