Country Hall Wedding for Benji & Nai
On 16 Sep | '2021
A country hall wedding. Is there anything more Aussie or timeless? Chances are many of us hold dear memories of a shindig in the local country hall. A country hall wedding was a major event in years gone by. Entire towns would pull together to create a celebration. Communities rallied together to create Saturday dances, fundraisers and parties – all hosted in the local community hall.
Fun Country Queensland Fact…
Ian from In the Booth Toowoomba headed out to the Cooranga North Memorial Hall for Brenai and Christopher's wedding. (Fun fact – on the way Ian saw the sights of Kaimkillenbun– the longest named town in Queensland!)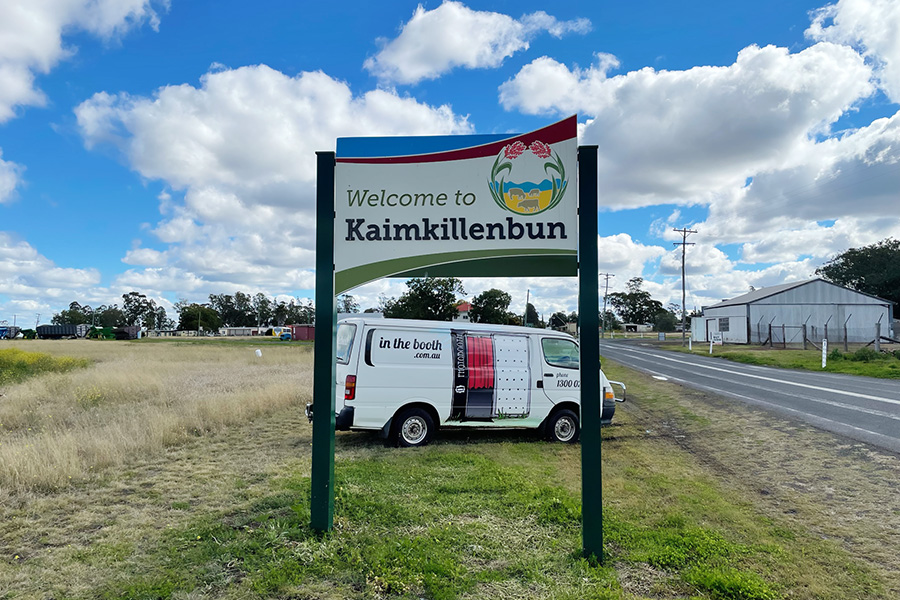 We just love that Brenai and Christopher chose to have a country hall wedding. It's hard to go wrong when a venue is this classic before you even start decorating! This lovely country hall was established in 1952. How beautiful to get married in such a historic place synonymous with celebrations. Those amazing classic Queenslander windows and warm floorboards made a beautiful backdrop.
Hessian table runners with eucalypt, baby's breath and candles adorned the tables. The front railing of the hall was dressed with more hessian in view of extending the theme to the entrance. Guests entered through a custom made rustic doorway that detailed Brenai and Christopher love story.
Country Hall Wedding Touches
Another key favourite was the wedding cake displayed on an old Singer sewing machine table! It really is the individual touches each couple bring to their wedding that stay in your memory.
They sure know how to photo booth in the country! Our sweet couple had organised customer signage for their guest book table which was soon covered in Guest Cams! Brenai and Christopher carried their country hall wedding theme over to their photo booth prints which had a timber-and-twinkle light theme.
On the other hand, how delicious does the dessert bar look? Guests feasted on mini lemon meringue, pavlova and mousse in true country style! Bite sized desserts are another key point for a relaxed wedding vibe. For instance, guests can easily manage their desserts while standing when the mingling really gets underway. An otherwise sit down dessert adds formality in an otherwise relaxed occasion so why not let your guests serve themselves? Most sit down desserts include alternative drop whereas a dessert bar gives your guests a taste of everything!
Not to mention thank you so much for having In the Booth Toowoomba along to your incredible wedding guys. We're positive you did the town of Cooranga North proud.