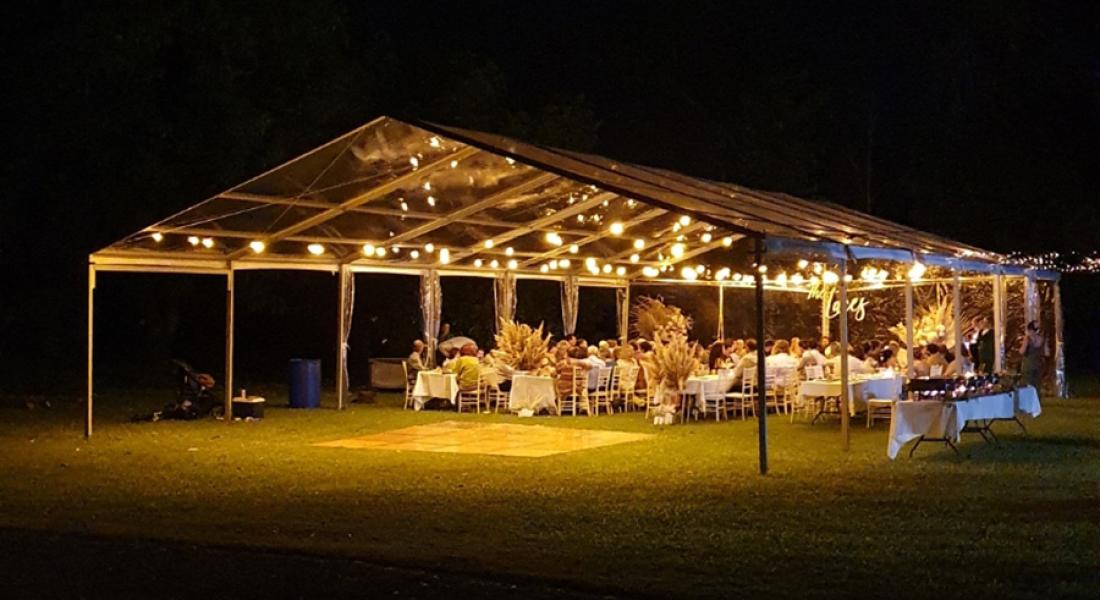 Clear Marquee hire and why it's awesome!
On 12 May | '2022
Clear marquee hire is one of our favourite options for an on-location event. First of all, there's no better backdrop for your wedding or function than the great outdoors. Secondly, clear marquee hire brings the outdoors in for no extra cost! All you need is a picturesque patch of land to lay the foundation for a stunning event.
Five reasons clear marquee hire is an awesome idea
1. Your function space can be any size you like
We often have discussions with our photo booth hire customers about their venue space. An enclosed function room can be quite limiting. After all, you can only fit so many people and activities in a space. The walls of a function room are obviously not adjustable! However, with a marquee, the sky is (literally) the limit. Whether you're having an intimate affair of 50 guests or a full-blown party with 400, your clear marquee hire is adjustable in size. There is a huge array of marquee sizes available. Most suppliers can also custom build your required size based on your specifications.
2. Styling with clear marquee hire can be minimal
A clear marquee itself is a showpiece. They just look awesome! Some would say a beautiful turned lawn, a clear marquee and some twinkle lights and you're done. In all seriousness though, a clear marquee treats your guests to unhindered views. Guests can gaze out at the beautiful surrounds while being protected from the elements. While most function spaces have plain walls that require decorating, a clear marquee has styling all taken care of. Consider pieces that complement your natural surroundings such as rustic wood tables and chairs. Use natural elements found just outside to decorate your tables.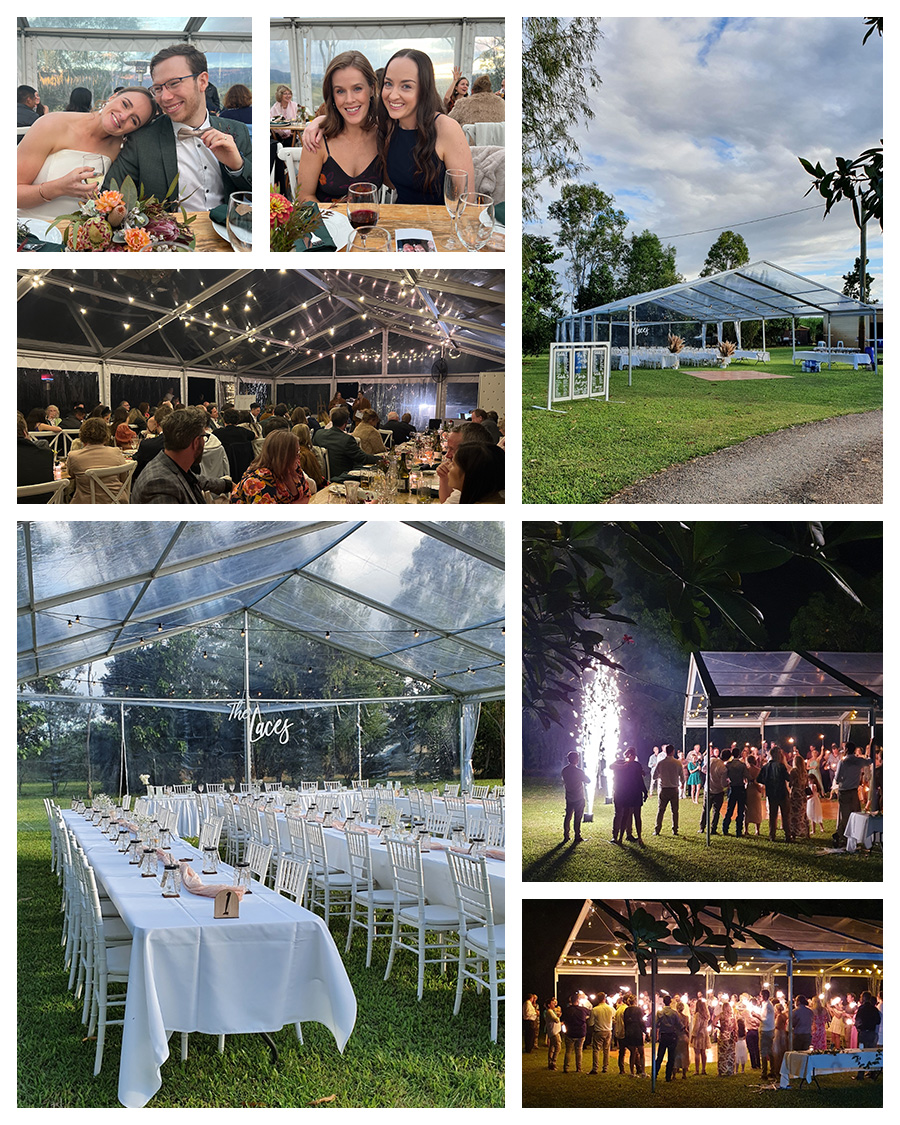 3. Lush and padded flooring
It's no secret that floors get harder as the night and dancing wears on! Grass underfoot provides the perfect amount of cushioning to keep guests comfortable. You could highlight your dancefloor area with hired flooring to give some contrast and set the dancing zone. Just make sure you have someone organise to mow your reception area prior to your day. Remember not to make it too close to the day – you want time for the grass clippings to distribute so they don't end up in everyone's shoes!
4. Natural and flattering lighting
There's just nothing better than the sun setting on your wedding day and the glow filling your clear marquee. Imagine the twinkle lights fading in as the sun fades out! The changing colours of the sky will cast beautiful reflections around the marquee and offer diffused soft light. Venue lighting often comes from one direction and isn't very flattering. If you've ever tried to take a photo under aa down light you'll understand! Natural light filtering through a clear marquee makes for photo (and Guest Cam!) perfection.
5. Guests will naturally mingle and take the chance to catch some air
Due to the open nature of marquees, we find guests are more relaxed. They'll take a moment to step outside for some air or a chat; something most function rooms can't compete with! Considering adding some chill out zones just outside the marquee guests who'd like a moment away from the music. A few throw rugs and even a pack of cards will encourage your guests to relax and soak in the atmosphere.