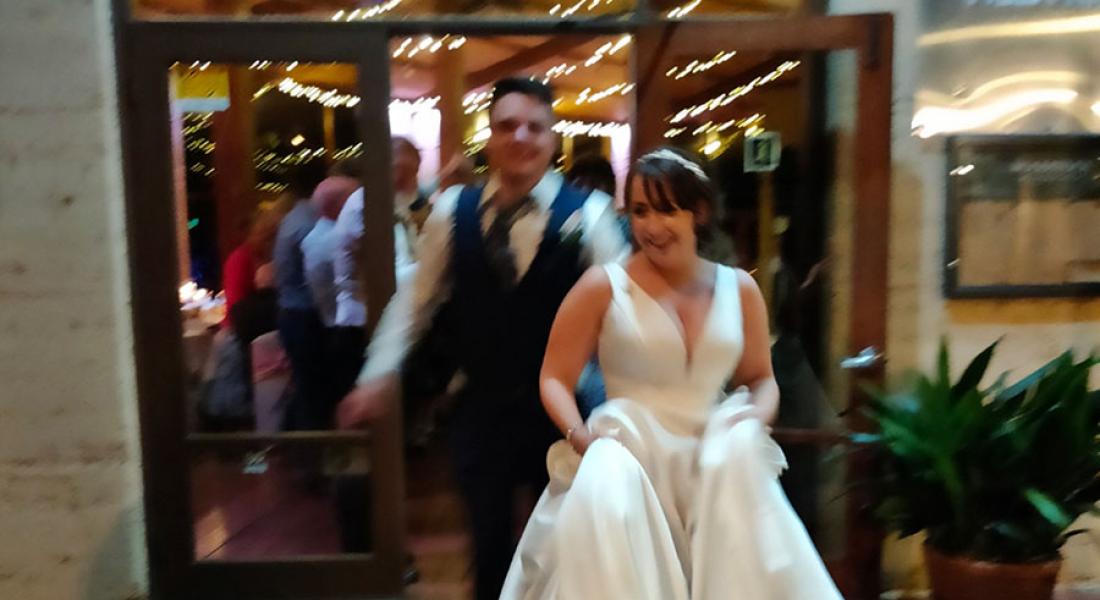 Bride and Groom Exit Ideas
On 3 Dec | '2020
There's no doubt that arrivals are important moments during your wedding day, but then so is the bride and groom exit! Arrivals play a huge part in wedding day planning. For example, there's the moment the bride arrives to the ceremony. Afterwards, the newly married couple are usually cheered into the wedding reception when their arrival is announced. They're exciting moments!
The time you're planning to leave your reception should also be noted on your wedding day plans. Remember, you will have had a long day! Setting the time when you're planning to head off to your accommodation signifies to your guests when they can expect the evening to draw to a close. Don't let your bride and groom exit go unnoticed! A planned bride and groom exit allows your loved ones the opportunity to say goodbye. It also allows you to personally thank everyone for sharing in your special day.
We've gathered together some great ideas for a bride and groom exit to be remembered!
Bride and groom exit circle
It's one of the oldest ideas in the book but very effective! All your guests are invited to form a rough circle around the dance floor. The bride and groom start in different directions and go around the circle to individually thank their guests.
Sparkler Exit
A sparkler exit for the bride and groom makes for amazing photos! You will need some extra help to execute this idea without a hitch. Place a bucket by the door with some extra-large sparklers. As guests go outside, they each take a sparkler and form two rows. Your wedding coordinator or assigned family members can assist lighting the sparklers. Once the sparklers are lit, the bride and groom pass through the tunnel of sparklers held aloft by guests.
Glow Stickst
If you're looking for a great photo effect, glow sticks are a colourful twist on sparklers. Purchase some extra-large glow sticks that guests can snap at the allotted time. Similarly, to the sparkler exit, the newlywed couple can pass through a pathway of glow sticks. Your photographer may instruct guests to swing their glow sticks around for added effect!
Ribbon Wands
Ribbon wands are an awesome idea when nightfall doesn't work with your wedding day timing. For example, a lunch time reception could be ideal for a ribbon wand exit. Simply hand each of your guests a ribbon wand for them to twirl over the bridal couple as they exit toward their transport. Ribbon wands make for some epic day time exit photos!
Wedding Bubbles
You can't beat bubbles for any time of the day or night. They are inexpensive and leave zero mess. Check online for wedding bubbles in bulk – even Big W sell them! They even come in cute wedding favour styles such as mini champagne bottles.
Party Poppers or Streamers
Does anything say 'celebration' more than thrown streamers? Provide your guests with a party popper or rolled streamer on your guest tables. You can even label them "For goodbyes at 11pm!" so your guests know what they're for. Invite guests outside and to form two rows. Run down the middle while your guests pop or throw their streamers – just make sure your photographer is ready for action!
Photo Booth Exit
Yep, it can happen with our enclosed photo booths! When the guests aren't aware, the bride and groom enter the photo booth. The emcee then asks guests to form two rows outside the booth. The music starts and the couple makes their big exit from the velvet curtain! Don't forget to remind everyone to capture the moment on Guest Cam too!