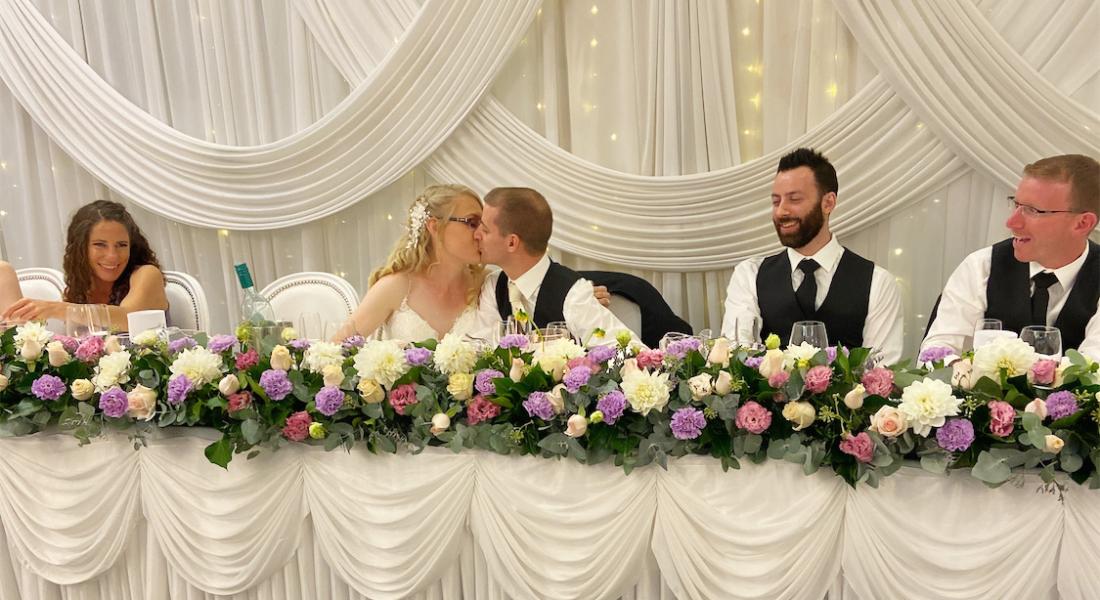 Bridal Table Ideas
On 19 Aug | '2021
Bridal table ideas are a hot topic for most brides! After all, it's your first official meal as a married couple. In addition, it's where you'll hang out for part of the evening with your bridal party which is super fun! Your bridal table is also a main attraction for your friends and family. Your wedding is a guaranteed occasion when all eyes will be on you!
A gorgeous bridal table makes for a beautiful centrepiece for your room. Consequently, you're going to need some beautiful bridal table ideas to create the perfect one for you. The bridal table helps set the theme for your day and combines elements together. Today on the blog we've put together some bridal table ideas for you to consider for your wedding styling.
Backdrop
The kind of backdrop you use for your bridal table depends on what's available. Perhaps your venue has an amazing feature wall. Consider setting your bridal table up in front of it. A brick or timber wall would look amazing for a rustic wedding. On the other hand, you may like to hire a backdrop from a stylist or supplier. Flower walls, draping and fair lights are just a few of the options available.
Seating
There's no law that says the bridal table has to be seated in chairs the same as your guests. In contrast you may like to plan for the bride and groom to be seated in some regal feature chairs (this trend hails to kings and queens on their thrones!).
Flowers
Unquestionably the bridal table is where you can go overboard with your floral displays. Larger version of your guest table arrangements add drama to the main attraction. What about a full garland running the length of the bridal table?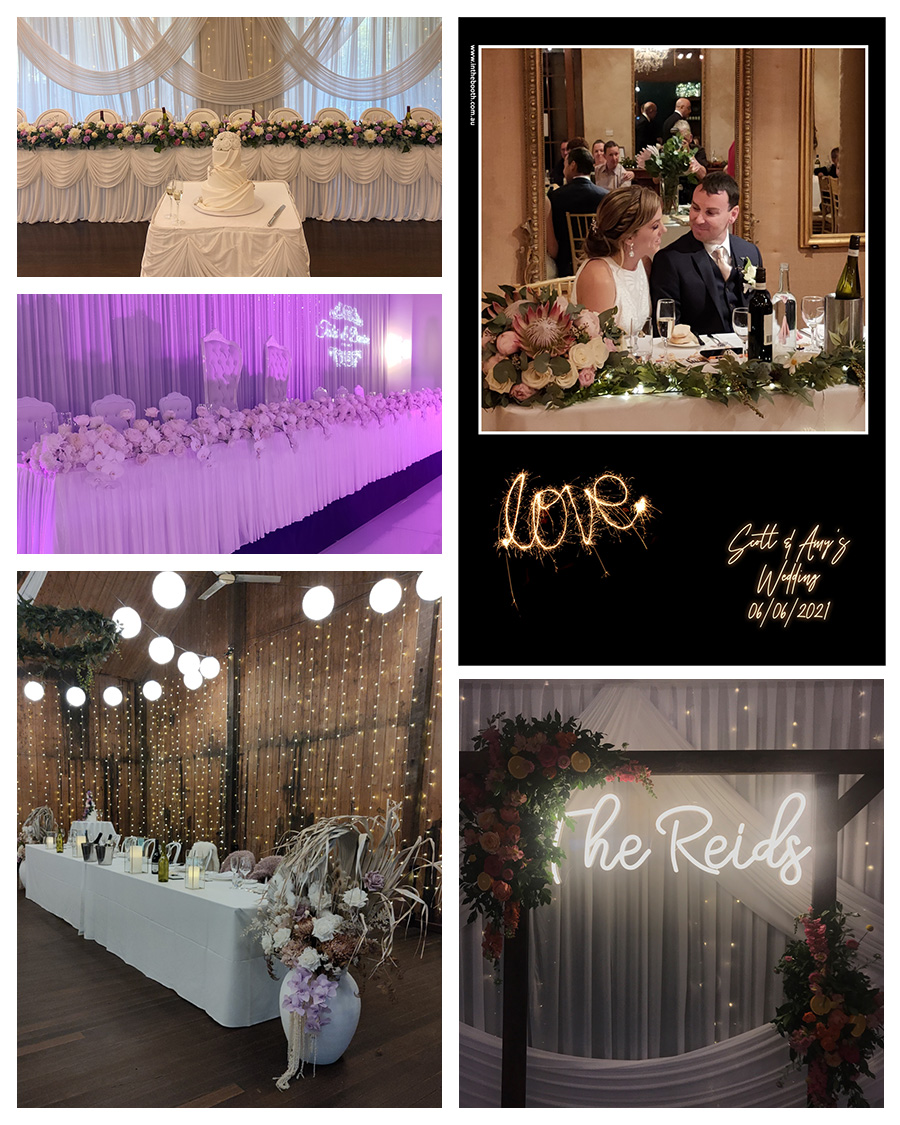 Feature Signage
A special phrase or your married name can look amazing displayed above the bridal table. Just make sure it's above head height so your guests can clearly see it. Options include a lit monogram or physical signage. Neon signs are limitless in their colour and font options and offer a modern look. Further to that, if you decide to have a sign made it will make a memorable statement piece in your home after the wedding. (They look amazing in your Guest Cams too!)
Tablecloths
Have you considered using different table dressing for the bridal table as opposed to the guest tables? For example, if guest tables are in a soft pink, what about a sequined version for the bridal table in the same colour?
Cake Display
Positioning your wedding cake in pride of place out in front is a great bridal table idea! We speak from experience that brides especially are super excited about choosing their cake. As cakes go though, they do get eaten!! Why not plan to have your cake in clear view for the majority of your special evening? At least you've had plenty of time to admire it first when cake cutting time arrives!
Lighting
Make sure your bridal table is beautifully lit. There will be a lot of photos taken of you by your friends and family. Candlelight is incredible for everything except photos! Consider arranging for some 'fill' lighting for your bridal table. Professional fill lighting won't dampen the mood but will instead add even light to avoid the 'dark faces' problem. Twinkles lights or coloured lighting can also help communicate the mood and theme.
Table for Two
A table just for the bride and groom is becoming a popular bridal table idea! On one hand you may have decided not to have a bridal party so it just makes sense. By comparison though we have also seen bridesmaids and groomsmen seated separately from the bridal couple. That's the beauty of it being your day – you can do anything you like!