Sunshine Coast Wedding Photobooth for Ben & Brii
On 16 Apr | '2020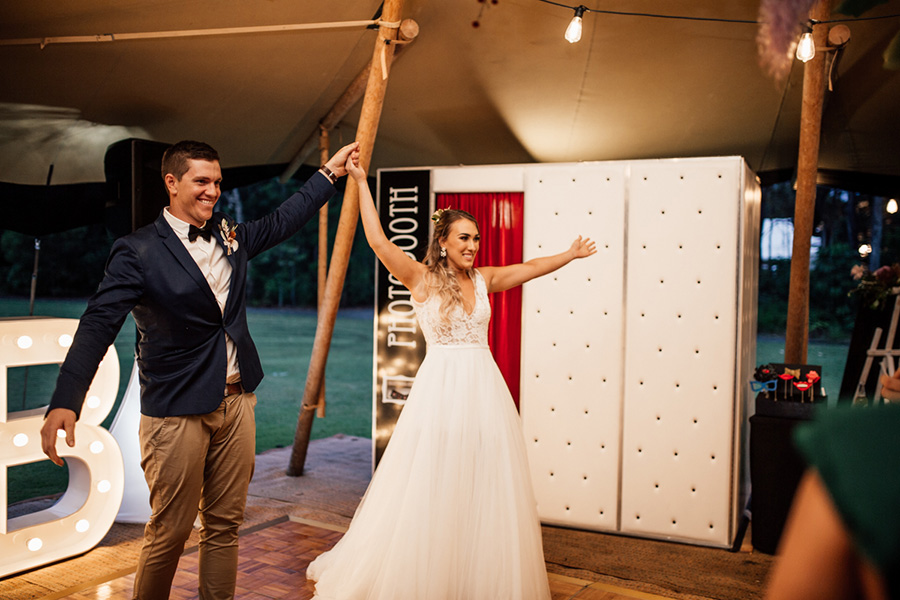 Sunshine Coast Wedding Photobooth
Ben and Brii chose Novotel Twin Waters on Queensland's Sunshine Coast for their wedding reception. Their styling was just beautiful with not a detail left unconsidered or anything out of place. The light sprinkle of rain that fell only added to the beauty of their day. Most noteworthy was that guests were kept dry under the gorgeous tipis! Fresh floral installations filled the air with colour and delicious scent. As a result, it was truly Insta-worthy!
Brii looked stunning in a white v-necked gown with a white lace bodice. Her flowy chiffon skirt drifted softly from the waist down to the floor. The bride's hair was styled in a half up with gentle waves to the remaining lengths. Brii's bridesmaids looked stunning in their two-piece ensembles. The bridesmaid's gowns included a floor length pink flowing high waisted skirt and a sleeved cropped top may of a lovely baby pink lace. In contrast all three bridesmaids had hair styled in similar elegant up styles.
Brii opted for a custom print design for her photobooth prints to ensure all of her stationery worked perfectly together on the day. Also the couple included their wedding hashtag to encourage guests to post their photos on social media. Light up initials and custom neon provided by Event Letters were the perfect visual finishing touch.
Ben and Brii selected In the Booth Sunshine Coast's gold backdrop which added the perfect shimmer to the background of their guests' photo booth shots. As a result, the warmth of the gold combined with their gorgeous florals made for an even more dreamy colour scheme.
Above all, it was Ben and Brii's perfect day. Congratulations again to the happy couple!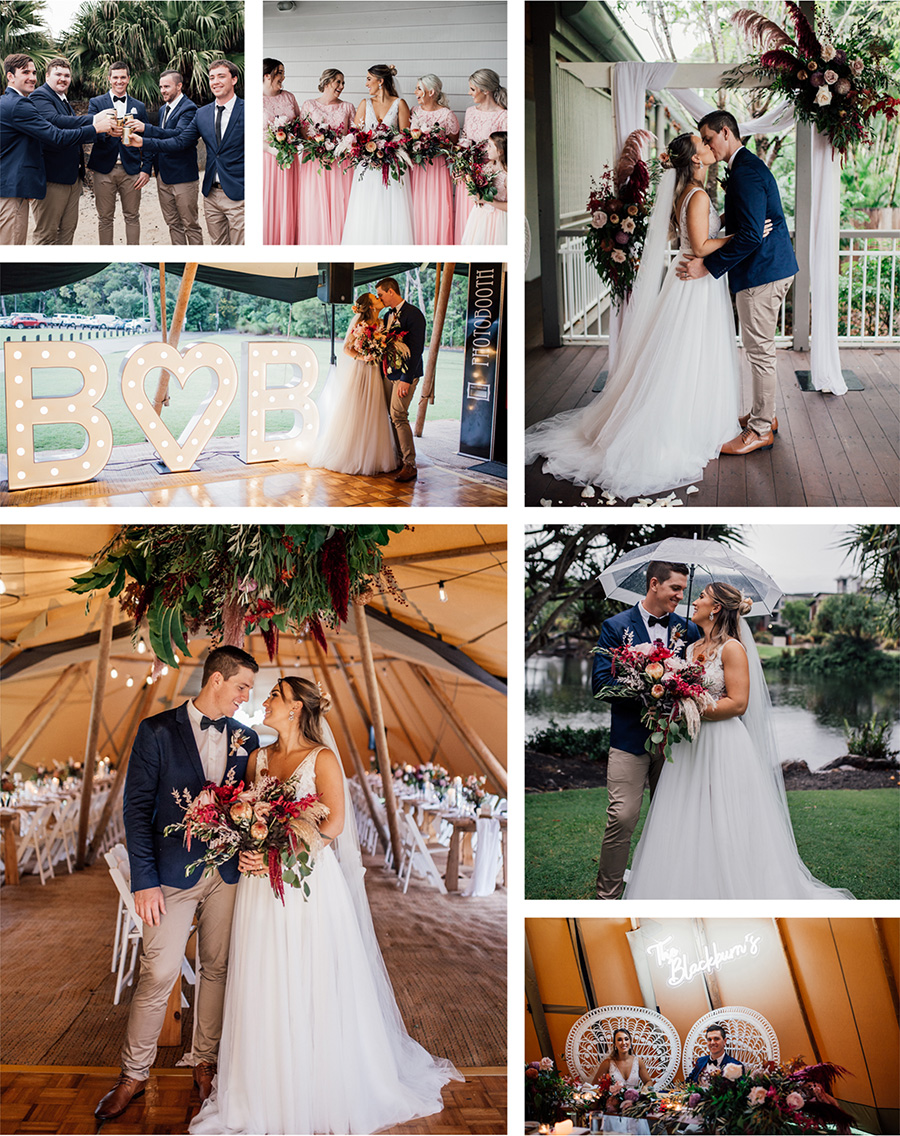 A note from the bride…
"I always wanted a fun wedding so this was always in front of my mind when selecting my venue and vendors with a huge emphasis on a packed dance floor and night to remember for everyone and not just us. In the booth captured the fun created by G&M DJ's and Event Letters".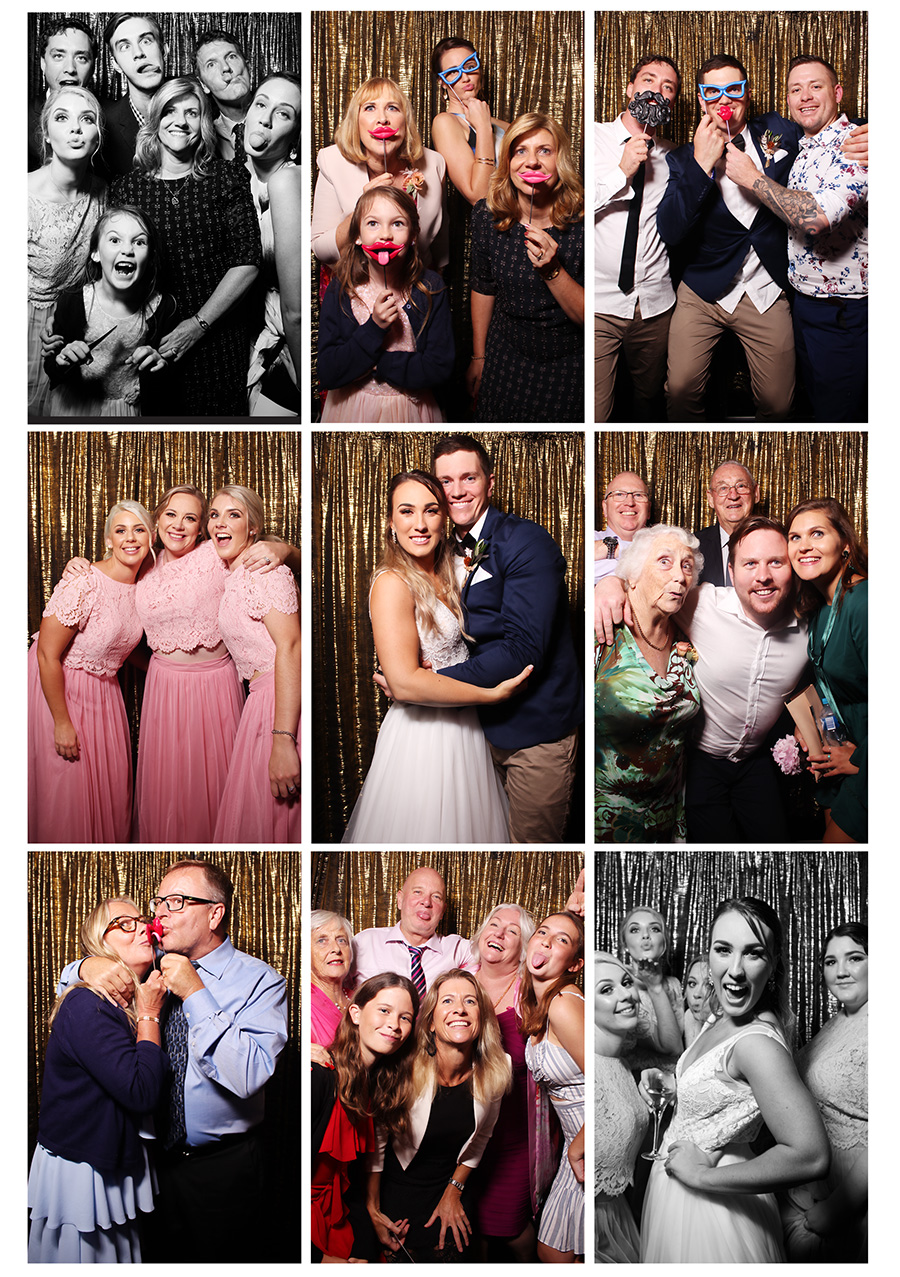 Sunshine Coast Wedding Supplier Dream Team
Venue: Novotel Twin Waters Resort
Photography: Wild Visual
Light Up Letters: Event Letters
Entertainment: G & M Event Group